Posted on
Vidalia Rotary Announces New Leadership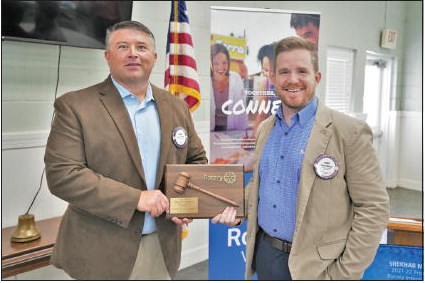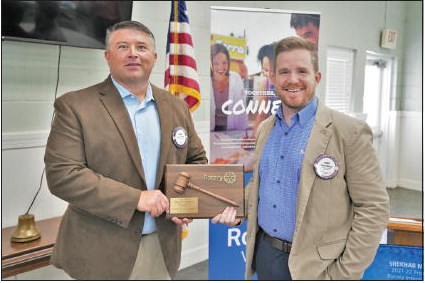 Newly-installed President of the Vidalia Rotary Club, Chad Ritchie, assumed his new position at the club meeting on June 29.
Immediate Past President Travis Absher addressed the room and expressed his excitement about Ritchie's leadership. "I am very grateful for my time served as the President of the Vidalia Rotary Club. I am honored to serve with such a great group of individuals who care about their community and are always willing to put service above themselves. "I am proud of what we accomplished this year, and I look forward to continuing to serve in whatever capacity is needed. I am confident that Chad will do an outstanding job as our President, and he will lead us in serving our community."
Ritchie, a native of Vidalia, spent time in the Chicago area in college and worked in Indiana before returning to Georgia. He admitted that upon his return to Vidalia he was not sure he wanted to stay long, but his involvement in Rotary and the Toombs/Montgomery Leadership Class gave him a new perspective on the community. Ritchie is the Director of Advancement at Brewton-Parker College.
At every meeting, Rotary recites a promise that is
President Chad Ritchie.
called the Four-Way Test: "Is it the TRUTH? Is it FAIR to all concerned? Will it build GOODWILL and BETTER FRIENDSHIPS? Will it be BENEFICIAL to all those concerned?" Ritchie shared that this guide helps him in his everyday life as a Christian and a Rotarian. He believes that "generosity begets generosity" and seeing others serve makes more people want to serve as well.
"The main goal for the coming year is to increase membership in the club by focusing more on an individual's potential rather than their current vocational position." He ended his address by stating, "For the community to thrive in Vidalia, I believe the table needs to get bigger and our club must encourage having members from all areas of our great community to grow and serve together."
During the meeting, it was announced that the club was awarded the Gold Club Distinction and ranked 7 out of 61 clubs in their district. Through their many service projects this year, the Rotary Club of Vidalia impacted lives locally and internationally.
Rotary International is a humanitarian service organization which brings together business and professional leaders in order to provide community service, promote integrity, and advance goodwill, peace, and understanding in the world. Rotary is a nonpolitical and nonreligious organization. For more information on the Rotary Club of Vidalia, visit them on Facebook.