Posted on
Heroes Helping Heroes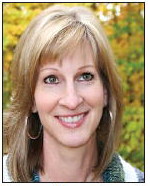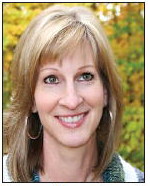 I had made the short journey across the countryside to take a few photos at an 82-acre farm in Northwest Georgia. A nine-year-old boy wearing overalls and work boots met me at my car and escorted me to a barn where over a dozen folks were gathered waiting patiently for a concrete truck to arrive. I scanned my surroundings looking for a familiar face when I noticed a young man leaning against a tractor. He extended his hand toward me and introduced himself.
"I'm Mike Reynolds," he said. Mike is the founder of HERO Agriculture, an organization that helps veterans reintegrate into civilian life and introduces them to various types of farming. With the help and support of HERO Agriculture mentors and volunteers, veterans learn the skills required to create and run their own agriculture business.
It's such a basic concept, yet, it's a brilliant one. Farming is hard work, but it instills a peace in individuals like no other profession. It delivers a sense of purpose to those who choose to work with their hands, alongside others, to reach daily goals and objectives. Some even describe the experience of working with animals and nature as somewhat divine.
Mike pointed to a veteran standing at a nearby fence. "He has some social anxiety, and he has really taken to working with the animals, and he's really great at working with them," Mike said. "Another veteran here has discovered beekeeping, and he's excited about a future working with bees. Others may be perfectly content driving a tractor around all day. They come here and we help them get exposure to different types of farming and learn about the business of farming."
He held up his phone so that I could read a recent text message. The message read, "Going to the bank tomorrow for a loan and I need a business plan. Can you help?"
"That message came in at 1:30 a.m., but you know what? I helped him draft a basic business plan," Mike shared. "We'll need to work on it more in the next few weeks, but it helped him at the bank the following day. I knew how to do that, so I helped him. And if I can't help, I usually know someone who can, and I help connect them to that person. It's about relationships, connections and sharing knowledge."
He paused for a moment then explained why his mission is so important.
"There are 22 veteran suicides each day in the United States," he said. "We are trying to change that statistic here. Suicide is preventable."
Many times, veterans return to their hometowns after active duty and find that they don't know what to do next. They have too much time on their hands. They don't have a plan. Some flounder for a while before finally finding their footing. Others spiral into a deep, dark depression.
"They've lost their connection to community," Mike says. "But continued from page
they can become part of our community. We help them, and as they learn, they help others, and so on and so on."
Mike's personal struggles led him to start HERO Agriculture. While deployed to Iraq in 2009, Mike sustained multiple injuries and was forced to retire after being found "Unfit for Duty." His long road to recovery was riddled with setbacks, frustration and alarming, selfdestructive thoughts.
"Up to that point, everything I had chosen to do in my life had revolved around helping people," he said. "I was a lifeguard. I was a paramedic. I was a firefighter. After I was injured, I couldn't do those things any more, and that was devastating. But then I found farming, and it saved me. And now I have found a way to help others, and maybe, save others."
HERO Agriculture is Mike's vision. Many people supported his recovery and successful transition to farming. He created HERO Agriculture to support other veterans in the same way.
The concrete truck was late that day, but it finally showed up, and with Mike's father as a "project manager," several veterans and volunteers learned how to rake out, level and smooth sections of concrete to form a walkway. It was hard work, but afterwards, each face in the barn area beamed with a look of accomplishment and pride. Mike Reynolds and HERO Agriculture volunteers are doing meaningful work that lifts up others. What if we all did something for people in our lives struggling to find their place in the world again? How many lives could we save?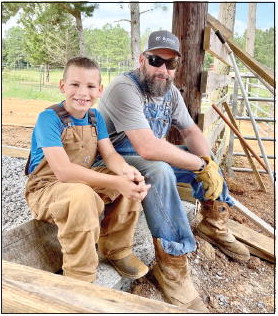 Mike Reynolds and his son, Camden, taking a break at the farm where he runs HERO Agriculture.