Posted on
Toombs Central High Class of '65 Reunites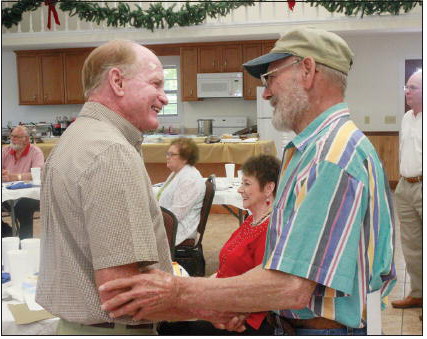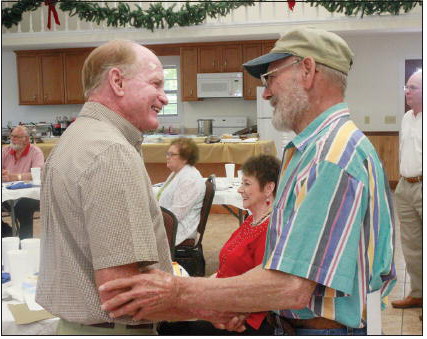 The Toombs Central High School Class of 1965 reunited on April 30, 57 years after their high school graduation, to catch up and reminisce about old times in Santa Claus. The class has not lost many classmates, which is a blessing according to Reunion Coordinator Larry Wynn. "Most of our class is still here, which is incredible," he said. "It makes it so nice and so much fun when we are all able to get together and catch up. It's been a while since the last time we were all together, so today is very important." Many laughs and memories were shared, as the class reunion began with the telling of jokes and stories of the group's youth by Gary Toole. At a lunch, each classmate took turns to formally update the rest of their classmates on their current status.
"High school back then was a lot different from school now," Paul Hubert Neesmith said with a laugh. The group told stories of their experiences with the Future Farmers of America (FFA) Club, old teachers, and normal teenage scenarios.
Those fun-loving kids from the Sixties shared who they had become, as they told tales of grandparenthood, retirement, entrepreneurship, and more. "The best part of these events is always just being together," Wynn summarized. "That's what I miss the most sometimes: just being with people who came from the same place that you did and enjoying them. I'm very proud to see who we have all become."
The group said they plan to continue to reunite throughout the years and hope to continue to remain in contact with each other. One thing is for certain: the Toombs Central High School Class of 1965 has great pride in their roots, and hold great memories of their younger years, which has given the class a truly unbreakable bond.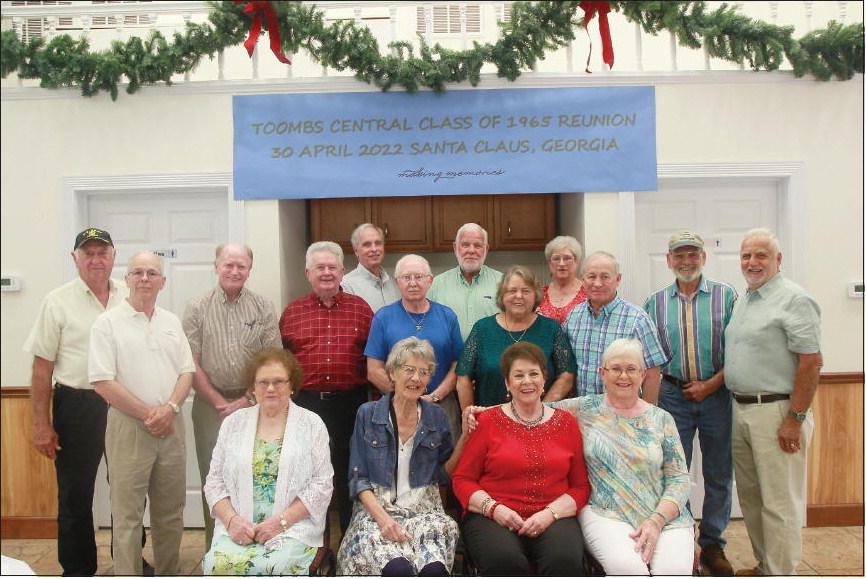 TOOMBS CENTRAL HIGH CLASS OF 1965 – The Toombs Central High School Class of 1965 gathered to catch up and see old friends at their reunion on April 30. The group has not lost many classmates, which many shared is "a blessing." Back row, L to R, Charles Thompson, Larry Dees, Larry Powell, Gary Toole, Willard Wiggins, Robert Bruce Sanders, Edwin Dees, Gail Pittman, Jenelle Thigpen, Danny Harrell, Paul Hubert Neesmith, Larry Wynn; front row, L to R, Janice Foskey, Joyce Rollins, Jackie O'Neal, and Susan Rustin.Photo by Makaylee Randolph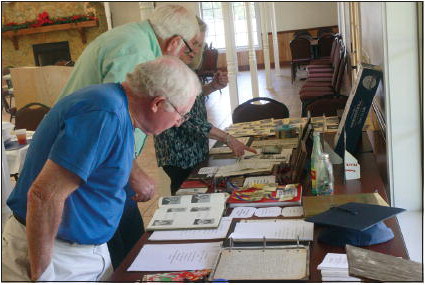 LOOKING BACK ON THE PAST – Classmate Gary Toole organized a display of yearbooks and other memorabilia from the era of the Class of 1965.Photo by Makaylee Randolph