Posted on
Toombs County 4-H'ers Attend Annual State 4-H Council
Hundreds of 4-H youth from across Georgia converged at Rock Eagle 4-H Center for the annual Georgia State 4-H Council held June 24-26, 2022. State Council is constitutional meeting of the Georgia 4-H Organization. This year's theme "Family Reunion at the Rock," focused on the original purpose of State Council and civic engagement. This is the constitutional meeting of Georgia 4-H, where 4-H youth vote on proposed amendments to the 4-H Constitution and elect Georgia 4-H State Officers. The 4-H'ers spent three days leading community service workshops, attending educational programs, participating in a citizenship ceremony, studying ideas and issues, attending dances and exchanging ideas with new friends. The weekend attendees participated in the annual Iron Clover competition representing the Southeast District. Toombs County 4-H had several members in the spotlight during the weekend. Grace Holt ran a successful campaign for election to the Georgia 4-H State Board of Directors. She will be installed as the Georgia 4-H Southeast District State Representative at State 4-H Congress on July 21, 2022. Brittney Bryant, was installed as the Vice President of the Southeast District Senior 4-H Board of Directors. Both Grace and Brittney were also recognized for their work as Georgia 4-H Healthy Living Ambassadors for the 2021-22 4-H year. Toombs County was represented by seven 4-H'ers. Local delegates to the annual meeting were: Brittney Bryant, Grace Holt, Gregory Huston, Bailey Hutchins, Riya Patel, Kingston Ryals and Mary-Laura Tippett. Toombs County 4-H Educator Riley Wimberly and 4-H Volunteer Carol Hester accompanied the group. They joined over 450 other 4-H'ers and leaders representing almost every county in the state.
Georgia 4-H empowers youth to become true leaders by developing necessary life skills, positive relationships and community awareness. As the largest youth leadership organization in the state, 4-H reaches more than 175,000 people annually through the University of Georgia Cooperative Extension offices and 4-H facilities. For more information, visit georgia4h.org or contact the Toombs County Extension office at 912-526-3101. The local program is coordinated by Cheryl Poppell, 4-H Coordinator and Riley Wimberly, 4-H Educator.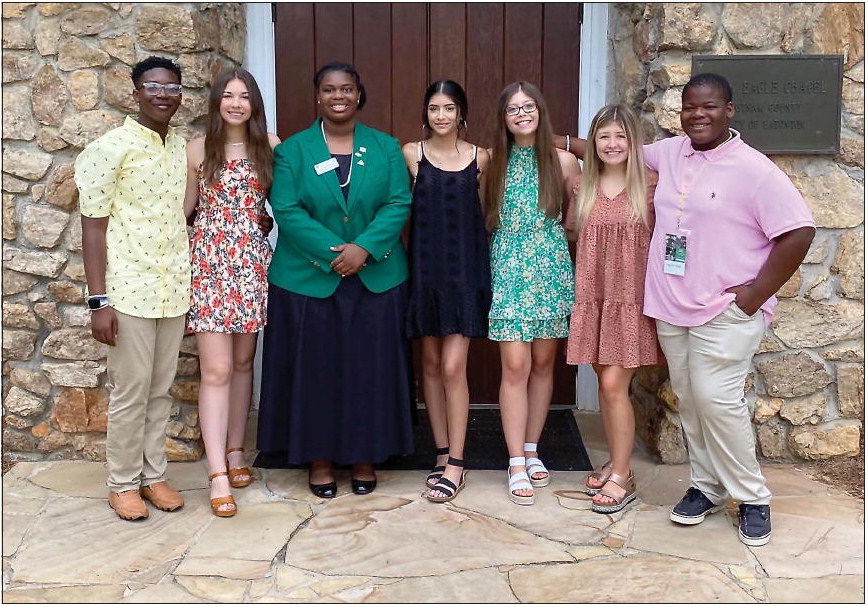 2022 STATE 4-H COUNCIL DELEGATES — L to R: Gregory Huston, MaryLaura Tippett, Brittney Bryant, Riya Patel, Bailey Hutchins, Grace Holt and Kingston Ryals.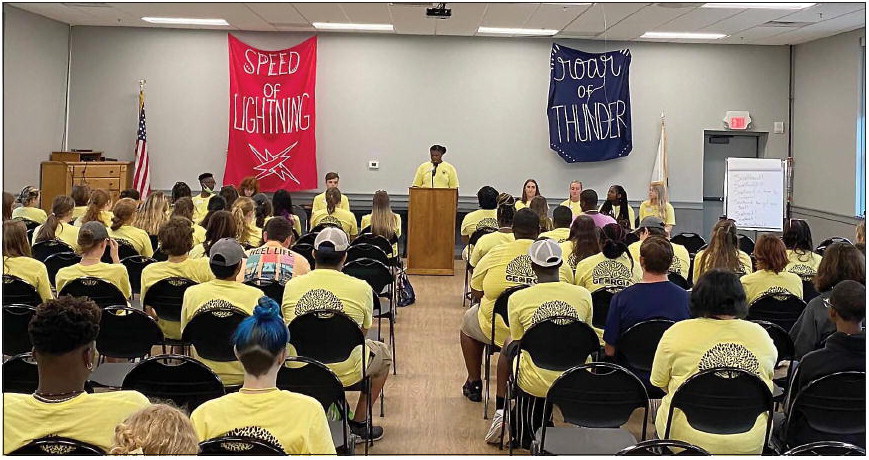 Brittney Bryant, 2022-23 SE District Senior Board Vice President, presides over the SE District Assembly.