Posted on
Vidalia Man Charged in Armed Robbery, Active Shooter Case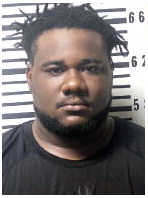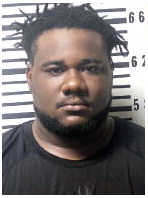 A Vidalia man has been charged with multiple offenses following an armed robbery at a local pawnshop that escalated into gunfire and a chase across a city neighborhood on Wednesday, September 15. Vonnie Marquise Harris, 22, was charged with armed robbery, possession of a firearm during the commission of a felony, aggravated assault on a peace officer (five counts) and aggravated assault (four counts).
Vidalia police responded to the Vidalia Pawn Shop at 410 North Street West in Vidalia at approximately 4:02 p.m. September 15 in reference to an armed robbery that had just occurred, according to a press release issued Thursday, September 16, by the Georgia Bureau of Investigation.
The GBI was called in to assist in the case by the Vidalia Police Department.
When officers arrived, a Vidalia Pawn employee told them that a man entered the business brandishing two knives and demanding firearms. The man, later identified as Harris, took the firearms, along with ammunition and magazines, and ran from the business. Harris was confronted by Vidalia Police Department officers a short time later in the area of Peachtree Street in Vidalia, which is located behind Vidalia Pawn.
continued from page
Harris fired multiple rounds from a handgun at officers, striking two patrol vehicles. The suspect was taken into custody without incident at the intersection of Montgomery Street and North Street in Vidalia. No officers or citizens were injured during the incident.
Harris was booked into the Toombs County Detention Center and in his first court appearance was denied bail. Booking records indicate that Harris is also wanted in Richmond County on simple assault charges.
The investigation is active and ongoing. If anyone has information regarding this investigation, they are asked to contact the GBI at 478-374-6988 or the Vidalia Police Department at 912-537-4123. Tips can also be submitted by calling 1-800-597-TIPS (8477), online at https://gbi. georgia.gov/submit-tipsonline, or by downloading the See Something, Send Something mobile app.

CRIME SCENE — Police block off the area around the Vidalia Pawn Shop following an armed robbery that escalated into gunfire and a chase across a city neighborhood on September 15. Vonnie Marquise Harris, 22, (inset photo) was charged with multiple offenses in the incident and is being held in the Toombs County Detention Center without bond.Photo by Mike Branch