Posted on
Indians Over Richmond Academy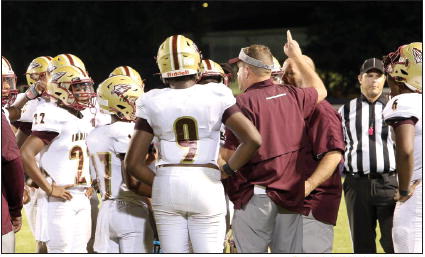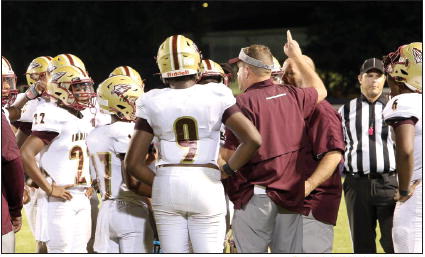 A young and agressive Vidalia team ignored the high grass in Frank Inman Stadium in front of Richmond Academy, also called the Academy of Richmond County, in Augusta and outhit and outhustled the Class AAA Musketeers to claim their first win in 2021. The Indian defense allowed Richmond Academy some yardage; but when the Musketeers got into the shadow of the Vidalia goal line, Vidalia just shut them down. After two weeks on the road, the Indians will host the Stockbridge Tigers, a team out of Region 4-AAAAA that enters the game with a 2-2 record. The Tigers own victories over Southwest Dekalb and Locust Grove. Their losses were to Douglas County and Jones County last Friday night. Jones County beat the Tigers 42-9; but the Tigers turned the ball over five times, three times while driving into Jones County territory. Stockbridge certainly has good athletes.
Friday's game will be the first meeting between Vidalia and Stockbridge in each school's football history.
Vidalia got on the scoreboard first when quarterback Bryce Davis weaved his way through the Musketeer defense to make it 6-0 with just 29 seconds left in the first quarter. A trick play on the PAT failed when running back A.J. McLendon was tackled short of the goal line.
Vidalia's defense forced consecutive fumbles in Richmond Academy territory on the Musketeers' next two possessions; but a combination of penalties and tough defense by the home team stopped Vidalia's offense.
The Indians scored a second time late in the second quarter, this time by air.
Davis hit sophomore receiver Antonio Barron on a tunnel screen at the Musketeer 23 and raced untouched into the end zone. Tate McDaniel's extra point sailed left of the goalpost to keep the score at 12-0.
Richmond Academy scored on their next possession. Junior QB Jack Murphy, who led his team to a region champoinship last year and gave the Indians trouble in Vidalia, started hitting his receivers on flat passes and drove his team into field goal position, where Reid Barfield kicked a 25-yarder to cut Vidalia's lead to 12-3 at halftime.
After Vidalia linebacker Zach Howard drew an audible "Ooohhh" from the crowd after scoring a big hit on a Richmond running back, the Indian defense came up big again.
This time they stopped ARC on fourth down by pressuring Murphy into an errant pass on fourth down that fell incomplete inside the Vidalia 5-yard line.
Vidalia responded with a time consuming drive that ended midway through the fourth quarter with Tate McDaniel's 36yard field goal to increase the lead to 15-3.
The Indians put the game away on their next drive. After forcing a Musketeer punt to midfield, Darrell Brown put the finishing touches on the victory when he scored Vidalia's final TD on a short run. McDaniel's extra point made the final 22-3.