Posted on
Vidalia Council Recognizes Recently Promoted Public Safety Employees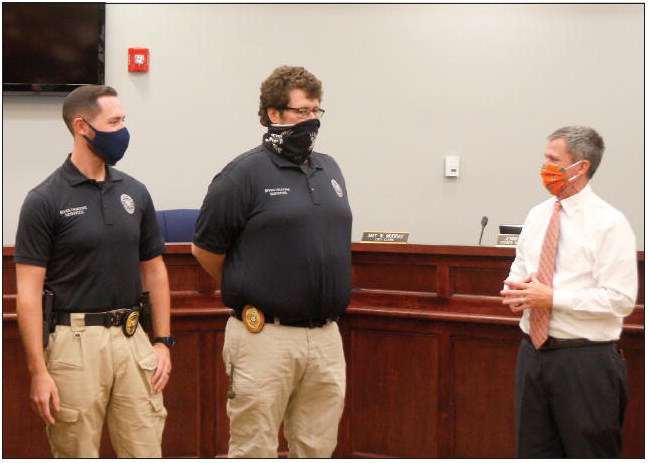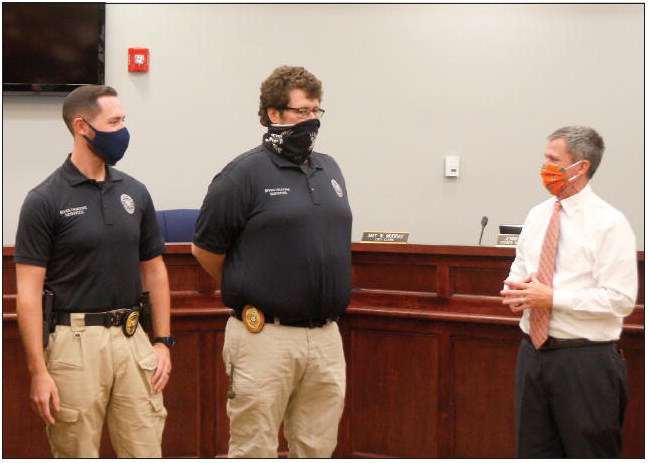 The Vidalia City Council, during its monthly meeting on August 16, honored three recentlypromoted public safety officers. The City congratulated Timothy Coursey, who was promoted from sergeant to lieutenant, and Matthew Bell and Micheal Howell who both rose from corporal to sergeant. "These men work hard to ensure safety in our community, and I hope they know how truly appreciative we all are," City Manager Nick Overstreet said.
Housing Authority
During the meeting, the Council also voted to approve the reappointments of two Housing Authority members for five-year terms: Brandon Boston, until August 2026, and Darren McClellan, until August 2024. The Council also approved the appointment of Fred Godbee to fill the unexpired term of the late Hughes Threlkeld until August 2022. Housing Authority Executive Director Josh Beck praised Godbee's abilities. "Fred has great leadership skills. He is communityoriented and has a servant's heart." Beck added that Godbee has served on numerous boards throughout the community, and he has a special desire to help the area's low to moderate income citizens. "His leadership qualities will be a huge asset for our Authority and our community as a whole." Beck also shared his thoughts on Threlkeld. "Mr. Threlkeld was instrumental in turning this Authority around from a troubled Authority in the early 1990s to what it is today."
Onion Festival Committee The Council also approved the addition of a new Vidalia Onion Festival Committee chairpersons and members. These individuals are: Chairman Andy Woodruff, Past Chair Josh Giles, Chair-Elect Jake Cleghorn, Memberat- Large Greg Hudgins, Advisor Dustin Booth, Convention and Visitors Bureau-Marketing and Advertising Alexa Britton, Vidalia City Manager Nick Overstreet, Financial Director Amy Murray, Entertainment Director Tim Jones, Chair of Events Flora Torres, Chair of Merchandising Liza New, Chair of Operations Billy Goodwin, Chair of Vendors Kaitlyn Macker, and Chair of Airport Operations Billy Ragan.
The Chair of Entertainment position remains vacant; also, several subcommittees will be formed in the future.
Walking Events
Two events were approved during the meeting: the 9/11 Patriot Walk and Memorial Service at the City Park and the Big Boy Walk/Run on October 1. The 9/11 Patriot Walk and Memorial Service will begin at 8 a.m. on September 11. Durden Street and Jackson Street will be closed between Highway 280 East and West from 7:30 to 10:30 that morning. The location of the Big Boy Walk/Run has not been disclosed and will be shared closer to the event.
Resurfacing Streets
City Manager Overstreet presented the list of streets to be resurfaced with the 2022 Georgia Department of Transportation Local Maintenance Improvement Grant (LMIG). This list of streets must be provided to the GDOT now that they are approved by the Council to initiate the road work. These resurfaced areas include: the entirety of Hannah Circle; Old Vidalia/Lyons Road from Highway 292 to Rigsbee; Linda Lane from Highway 292 to Sharon Drive; Estelle Drive from Hwy 292 to Jerry Street; Washington Street Extension from North Street East to the Dead End; and Brice Drive from Hwy 280 to Highway 292.
City Projects
Overstreet provided the Council with an update on several ongoing city projects. The roof repair at the Pal Theatre has been completed by Hollis Construction; the Ladson Library repair will be completed September 2. Work will begin on the renovation of the Municipal Annex in October or November depending on the availability of supplies.
He also told the Council of his findings when reviewing the 2020 Census results. He has only reviewed the preliminary numbers but has found that Vidalia's population appears to have increased by 312 people while the Toombs County Unincorporated Area's population has decreased by 193. Overstreet plans to appeal these findings to ensure validity and accuracy in the report. The Council authorized the purchase of 21 six-foot holiday scrolls and hardware for the City. This purchase is a part of a series of four purchases to provide holiday lights for all 84 light poles in city limits. With the addition of 21 more scrolls, the project is halfway completed. This purchase costs $9,856 and will be paid for using SPLOST money. The addition of a game room to the Pine Gift Store at 111 Pine Street was approved through the Council's issuance of an amusement machine license to Dilipkumar Patel. The Police Department, Fire Department, and Zoning Board all approved this endeavor.