Posted on
Gubernatorial Candidate Vernon Jones Wants to Take Back Georgia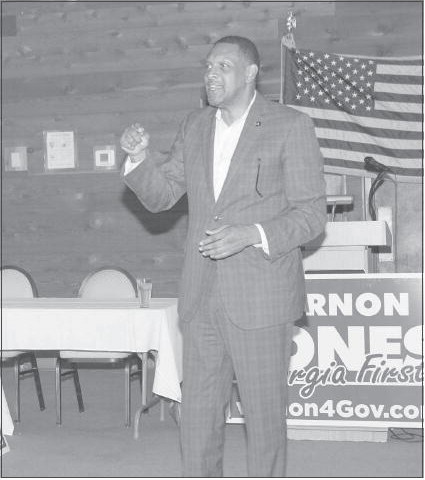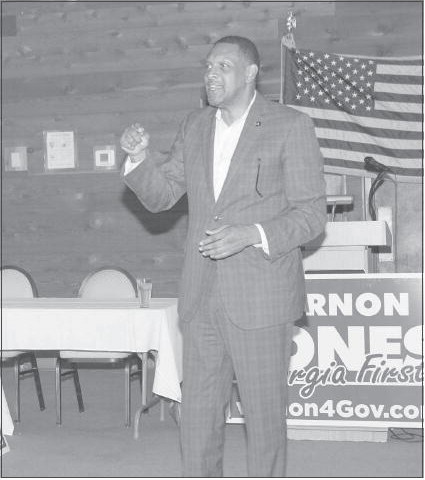 "I am going to draw conservative Blacks to the Republican Party. Liberals destroyed the Black community, and it's going to take the Black community to destroy the liberals," Jones asserted, adding, "Kemp can't beat Stacey Abrams but I can."
"Why am I running for governor? To take back Georgia," declared candidate Vernon Jones who stopped in Wheeler County last week on his campaign swing through the state. He spoke to members of the Wheeler County Republican Party on August 17 at Little Ocmulgee State Park.
The former long-time Democrat who switched to the Republican Party in January served for 12 years in the Georgia House of Representatives, from 1993 until 2001 and from 2017 until this year. He was Chief Executive Officer of DeKalb County from 2001 until 2009, and launched unsuccessful bids for the U.S. Senate and U.S. House of Representatives before returning to the State Assembly.
Jones, 60, joins a field of contenders including two other Republicans, Jonathan Garcia and Dr. Kandiss Taylor, and Libertarian Shane Hazel, who will face off with Republican incumbent Governor Brian Kemp in 2022. Jones lamented, "In 2020, we lost two good (U.S.) Senate seats. Trump lost the election. I even look today at what's going on in Afghanistan. We're losing there, too." An ardent supporter of President Trump, Jones said, "When I was campaigning for Trump, I was on the front lines. Kemp and the rest of the Republican leadership were on the sidelines. I said then: as Georgia goes, so goes this country. When we lost Georgia (in that election), we lost this country." Brought up on a farm in North Carolina, Jones comes from a conservative, faith-based, patriotic family with a long record of military service. His father fought under Gen. George S. Patton in World War II and his four brothers are military veterans. "I believe in hard work. I am not a victim," he said of his work ethic. As an African-American he admits he does not fit most people's idea of a traditional Republican. "But it has more to do with who you are and your core values."
Jones earned a bachelor's degree in Business Administration from North Carolina Central University in 1983 and graduated from Harvard's John F. Kennedy School of Government's Executive Program. Although he began his political career as a Democrat, Jones realized that the Party had changed so radically from the days of President Kennedy that it was barely recognizable. "It was the difference between night and day. I didn't leave the Democrat Party, it left me." He asserted that despite all of the hype to the contrary, the Democrat Party is not doing Black communities any favors. He cited the Party's embrace of the tenets of Black Lives Matter as an example. "Black lives don't matter to Black Lives Matter. Green matters to Black Lives Matter." He scoffed at the idea that Blacks were being discriminated against because it was difficult for them to obtain voter IDs. "It is an insult to say the Blacks can't afford a free voter ID. It's free!" He also addressed the Democrats' contention that Blacks are impeded by voter suppression reminiscent of the mid-nineteenth century Jim Crowe era. "Jim Crowe…really? In the past, Jim Crowe meant going to the polls to vote and being told the polls were closed, or putting a tax on you to vote, or setting the dogs on you if you voted. This is nothing but "Joe Crowe," this is Joe Biden."
Jones rose to prominence in Republican circles as an African-American Democrat who endorsed Donald Trump's reelection campaign. Jones has been vehemently supportive of Trump's claims of election fraud, appealing to Republican voters in Georgia who might be unhappy with Kemp. Trump has repeatedly attacked Kemp but has not so far endorsed Jones.
Jones asserted, "Don't let anybody fool you. There was fraud in the 2020 election." He accused Kemp and other state officials of cutting a deal with Democrat Stacey Abrams to allow drop off boxes to be used during the health pandemic. He emphasized this move favored Democrats and Joe Biden. "The Constitution says that only the Legislature can change the election laws. Brian Kemp caved in."
Kemp this year signed and has championed an election law that Democrats have attacked as discriminatory, but Jones insists that Kemp should have done more, including calling a special session to try to block Georgia's electoral votes from going to Biden.
Jones also cited the failure of the controversial Dominion voting system, noting, "We saw what was going on in Fulton County. We need some questions answered. What is wrong with a 159-county independent audit?" He said one of his immediate goals as governor would be to authorize a statewide forensic audit of the 2020 Presidential election. "I will form a committee to immediately explore replacement of the current Dominion voting machines."
Jones noted, "When I put my country before my political party, the Democrats said I didn't share their values. Doggone right I didn't share their values. I am going to draw conservative Blacks to the Republican Party. Liberals destroyed the Black community, and it's going to take the Black community to destroy the liberals," Jones asser ted, adding, "Kemp can't beat Stacey
—Vernon Jones
Abrams but I can." Jones said he is an unapologetic admirer of President Trump. "He has done more for this country than any Democrat in the last 40 years. He stood up to those foreign countries and said you are going to pay your fair share. He built the wall and sealed the borders. He stopped the catch and release and started catching and returning them. He told Mexico, you are not going to get any money unless you stop those caravans from coming through here, and those caravans stopped. And, look what he did for small businesses. He put America first. If you are going to call him a nationalist, call me a nationalist," the candidate said of Trump. "Look at where our country is going: handcuff the police and let the criminals go, outlaw guns. When you outlaw guns, only outlaws have guns," he said of his support of the Second Amendment. "On Day 1, through executive order, I will make Georgia a Second Amendment sanctuary state. I will also work with the General Assembly to pass legislation making Georgia a constitutional carry state."
Jones also plans to seek to dramatically reduce, if not fully eliminate, state income tax. He will work aggressively to pass comprehensive legislation that would, in part, ban political and social indoctrination in the state's schools and ban health care professionals from performing transgender medical procedures on minors. He would also require all public schools in Georgia to recite the Pledge of Allegiance daily.
His platform also includes a commitment to make it a hate crime to commit an act of violence against an individual due to his or her political ideology or affiliation. He also pledges to protect peaceful protesters while enhancing penalties for those who commit violence or incite riots.
"It's time to fight. Are you just going to cut bait or fish? The Republican Party is still the majority in Georgia. It's still a red state. I want to take back Georgia and when we take back Georgia we take back the rest of the country."