Posted on
Sen. Warnock's Rep. Meets with Toombs Co. Leaders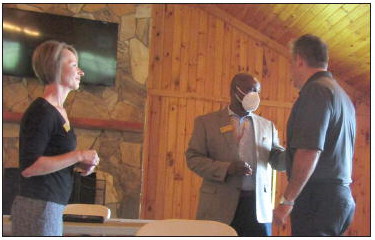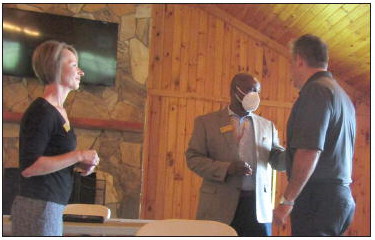 Andrew Young II, a field representative for Georgia Senator Raphael Warnock, met with several Toombs County community leaders on July 29 as a part of an effort to meet with leaders in all 159 counties of Georgia to learn about constituents' concerns. Toombs County was one of the last counties visited by Warnock's team, as
Young
11A continued from page
Young explained the project was originally expected to be finished by October but will now be completed by the end of July.
Members of the community ranging from Chamber of Commerce leadership, to law enforcement leaders, to education representatives were in attendance. The topics of concern revolved around the need for funding for the continuation of afterschool programs, housing, and crime reform.
Vidalia City Schools Director of Communications John Koon shared with Young that the afterschool program, which combines students from Toombs County Middle School and J.R. Trippe Middle School, had run out of federal funding and is now primarily funded by local contributions. "We are making the program continue to happen because we believe in the change it brings to youth's lives," Koon explained, "But to continue to ensure the existence of it, we need that federal help."
Young was very interested in the effect this program had on the community's youth. Toombs County Sheriff Alvie "Junior" Kight reiterated the positivity of this program by explaining it gave students a place to go afterschool which kept them from being left to "find trouble on the streets" as well as to interact with law enforcement on a positive spectrum. Sheriff Kight and Lyons Police Chief Wesley Walker shared their greatest challenge in the community is lack of training and personnel. Both individuals reported their offices have not received any applications recently, which is an oddity for the departments. "We need for the federal government to support our law enforcement and let the public know all police are not bad so that individuals will not be afraid to enter into the law enforcement field," Sheriff Kight said. Chief Walker added, "But we also need the appropriate training to ensure that our officers are equipped for any situation."
Vidalia and Lyons City Managers Nick Overstreet and Jason Hall shared that another way to reform crime and law enforcement in the county is to increase the amount of housing available for individuals. Both men reported waiting lists of over 30 individuals for available housing and explained that this shortage causes families to either pay a large amount of money for a subpar rental or to congregate into apartments, which leads to an increased rate of crime. Overstreet cited the recurring crime in Raymonia Apartments as an example of this phenomenon. Young said he plans to stay in contact with Overstreet to see if there is anything he or Senator Warnock may do to mitigate the situation.
Young shared that Senator Warnock's three focuses for his political agenda are rural development, housing, and health. Young took notes on each of the concerns mentioned by the leaders and plans to discuss them with Warnock. Other concerns included improved transportation, the upkeep of rural roads, mental health resources, and secondary education funding resources.