Posted on
the SCOUTING REPORT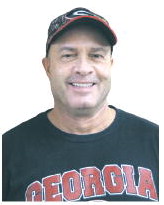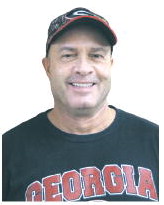 New Friends Save The Day
Have you ever seen the old movie, "Sargeant York"? The film, starring the great actor, Gary Cooper, playing the role of Sgt. Alvin York, the Medal of Honor winner who turned out to be the most decorated American hero in World War I. Several times in the movie, Cooper would say, "The Lord sure does work in mysterious ways." On February 13 of this year, I was afraid that I had run out of options. Barbara was undergoing the first of two major Chemo treatments in the hospital at Emory in Atlanta to treat a surge in the Multiple Myeloma that has been plaguing her for 8 years.
A couple of weeks before, we had discovered a small leak from upstairs that had damaged part of the ceiling in our living room.
We didn't know at the time that there was a possibility of mold in some of the walls near that small leak.
Our insurance adjustor came over, and checked, and brought in someone to sample the air in the area of the leak. Yes, we had mold. The adjustor told me that,"You can't stay here. You'll have to get a hotel, especially with the state of your wife's immune system."
I started frantically looking for a room. None were available. I had known that two new hotels were under construction. And one, the new Holiday Inn Express just behind Ruby Tuesday was open.
I pulled up, walked in, and thank goodness, "there was room at the inn". In fact, I think I was their first or second customer.
And from February 13 until last Sunday, we were there. In Barbara's condition, we needed isolation, a comfortable room, and access to the numerous restaurants of Vidalia.
I want to give a special thank you to Alysa Marsicano and her staff at the new hotel, because they made sure that our every need was met. They saved the day and the next two and a half months for us. Thank you. The Lord sure does work in mysterious ways.
The Falcon Draft
While we were working our way through our problems, I spent the last part of last week forcing my wife to watch the NFL Draft. She's a good sport; and I think she actually enjoys seeing youngsters and their family celebrate. It was good to see something happy on TV.
This was a deep draft for the Falcons, who took 9 players in this year's draft after trading down.
I want to believe that the Atlanta Falcons have drafted a transitional player in Kyle Pitts with their first pick in the 2021 draft.
The 6'6", 245 pound tight end can line up at tight end or wide receiver. He runs a 4.3 forty and he is a big play waiting to happen. He was probably the best player in all of college football last year.
Imagine what Matt Ryan will be thinking when he comes to the line of scrimmage, glances left to see Julio Jones, and then glances right to see continued from page
Kyle Pitts split out and Riley Ridley outside of him. I think Matt will be smiling a lot next year.
With their second pick, Atlanta picked Richie Grant, a ballhawking safety from the University of Central Florida. Grant, 6'1", 195, is considered to be a high character, hard nosed player who sees the field who can stick it to running backs and receivers.
For several years, Atlanta has been searching for help on their offensive line. They may have filled one of their slots at guard by choosing Jalen Mayfield, a 6'5", 328-pound tackle from the University of Michigan. Mayfield has what the scouts are calling "light feet", especially for a guy of his size.
Turning back to defense, Atlanta turned to the defensive backfield of San Diego State in the fourth round, and found All-Mountain West cornerback Darren Hall, 6'0", 190. Hall is quick off the edge on blitzes and recorded 31 solo tackles and three interceptions.
Atlanta's second pick in the fourth round was Drew Dalman, a 6'3", 300-pound center from Stanford. Dalman, whose father played on San Francisco's offensive line for 7 years and is now an accomplished NFL assistant coach. Needless to say, Dalman is wellschooled on line-play. He is NFL ready. The Falcons turned back to defense again, and picked defensive tackle Ta'Quon Graham, 6'4", 294, in the fifth round. He was All-Big 12 honorable mention at the University of Texas. Sticking to defense, the Falcons picked Notre Dame's Adetokumbo Ogundeji with their first pick in the fifth round, a 6'5", 270-pound team captain for the Irish who has the height, weight, and speed to play in the NFL on the defensive line. According to the scouts, he's a great pick who has great upside.
The third fifth-round pick was Avery Williams, a great story simply because he was a college walk-on at Boise State. He was a 4-year starter at cornerback and one of the best special teams players in college football. In four years, he had 5 punt returns for TD's, 3 kick returns for TD's, and one blocked kick return for TD.
The final pick of this season's draft for Atlanta was Frank Darby, a 6'0", 200 pound wide receiver from Arizona State. The former Sun Devil has the potential of going deep at any time to bring verticality to the Falcon offense. Despite the starpower at receiver, the Falcons still need depth at the position.
Atlanta made several moves to improve their team. Even though I hate to see the competitive Eto Smith go, he was released, they also signed former Alabama QB A.J. McCarron, who has been a backup for the Bengals, Raiders, and Texans as a free agent.
They also signed Duron Harmon, a starter at safety with the Detroit Lions last season, and Cordarrelle Patterson from the Chicago Bears. Patterson has earned first team All-Pro as a kick returner four times in his career.