Posted on
Two Indians Sign Scholarships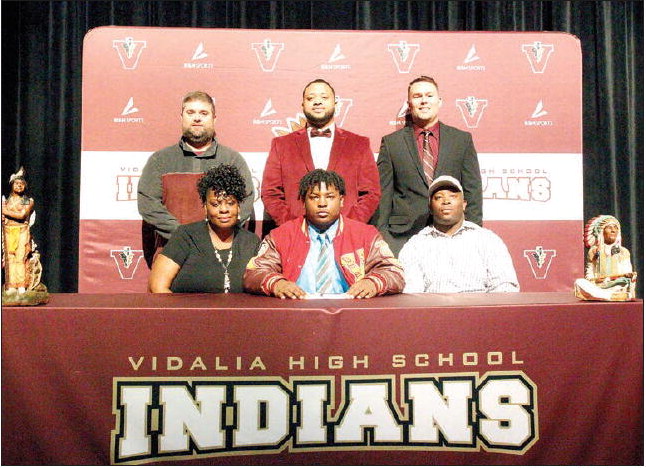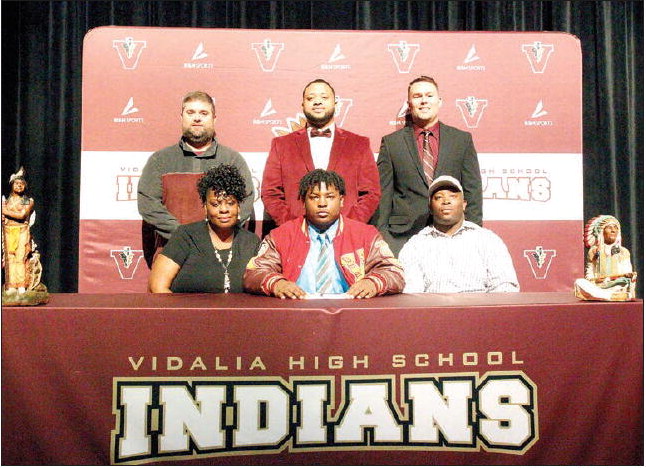 Two Vidalia High School Indians are headed to Kentucky to continue their education and football careers. Jaylin Burns and Antrevion Williams signed with The University of the Cumberlands in a ceremony held in the Vidalia High School Auditorium on Tuesday, February 16.The school, which is located in Williamsburg, Kentucky, is the current home of former Vidalia Indian, Jaylen Clements, who is in his 2nd year at the NAIA school.
Burns, a two-time All-State Selection, and Williams, who was named to the 2AA All-Region team in back-to-back years, both said that having Clements at the school was a factor in their selection.
"Just having a familiar face on campus is a bonus for me," said Burns. Williams echoed his teammate's sentiments, "having two guys there who I played with in high school makes it even more special."
Burns, the reigning 2AA Defensive Player of the Year, was recently selected to the GACA All- State Team and says playing college football has long been a dream of his. "This is what I have worked for, the opportunity to take my talents to the next level has been my goal for a long time, and I want to thank the coaches at Cumberlands for giving me that opportunity. I also want to thank our coaches here for believing in me and always pushing me to get better."
Williams, who had a team-leading 25 pass break-ups over the past two years, said the opportunity to further himself as a football player and get a degree is exciting. "I am truly blessed to have this opportunity and excited about my future. My coaches over the years have always pushed me to get better so I could have this chance, and now I do."
Burns, who won a GHSA AA State Wrestling title at 285lbs, is the son of Jerome and Kesha Burns. Williams, who ended the year with 40 total tackles, including four for a loss and a sack, is the son of Jade Williams.

(L to R, Front): Jade Williams (mother): Antrevion Williams, Antrell Williams (brother); (Back): Defensive Coordinator Coach Dan Ligon, and Head Coach Jason Cameron.Photo by Mike Branch