Posted on
Three Bulldogs Sign With Tigers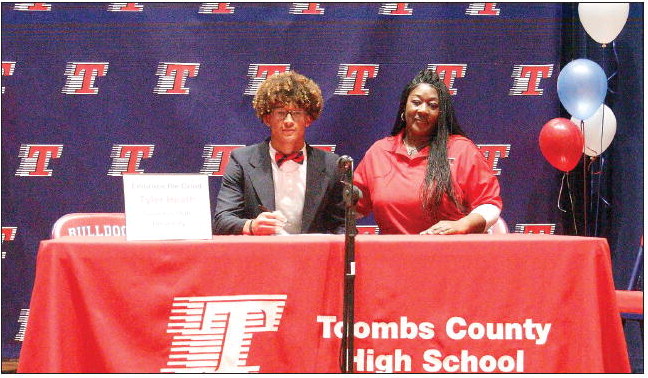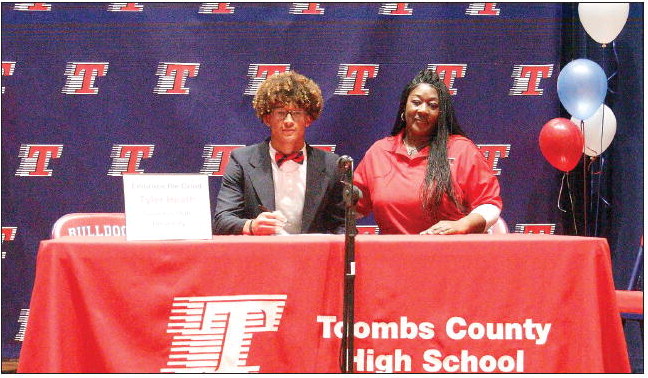 On Friday of last week three Toombs County High School football players signed their letters of intent to play at the next level. Chandler Lynn, Tyler Health, and DJ Mincey all signed to play for the Tigers of Savannah State University. Lynn has played multiple positions for the Bulldogs. He has played defensive back, quarterback, running back and wide receiver. He has been selected as an All-State and All-Region player.
Heath has played wide receiver and defensive back for the Bulldogs and has also gotten All-Region honors.
Mincey has been a staple in the backfield as a running back for Toombs and has also played in the defensive backfield and has earned All-Region honors. Heath said, "This means a lot. Not too many people got this opportunity this year and this is just unbelievable. I have to thank my mom for helping me through all of this. I like the school and think that I can compete and get a chance to play. His mother Tomara Nichols stated, "Very, very proud of him. I am so glad that I raised a good son, hard working, and respectful. Excited that it is close by and I will get to support my baby and Savannah State."
Lynn said, "After taking the visit I am excited to get this opportunity. The coaches and staff are all good people and I think that I will fit in well. I want to thank Coach Marsh and all of the other coaches. I have to thank my dad for all that he has done and to make sure thatIdidn't go without. My mom who has been my rock and never let me be down or think about quitting."
Matt Lynn added, "Big shoutout to the entire school system from the superintendent down. They really support their athletics here at Toombs County. We were blessed to move here several years ago and Chandler has really thrived here. I asked him when he was 9 what he wanted to do and he said then he wanted to play Division I football and here we are today. He has committed every day to doing what he needed to do and he is living out those dreams."
Mincey said, "I feel good about this. I really like the coaches, and that I will have a couple of my Bulldog teammates coming with me. I look forward to being in Savannah, with all there is to do, and to get this experience. I really want to thank my family, all of the coaches and the staff, Ms. Renee, and just looking forward to getting back on the field."
Derrick Mincey stated, "As a father, anytime that your son gets this opportunity you are just so proud. I am overwhelmed here today just seeing the hard work that he has put in, the drive, and to see this today is just so wonderful. It won't be a long drive and I am looking forward to getting to see him play at Savannah State."
TCHS Coach Richie Marsh said, "Just very proud of these guys. In a year like this when so many kids are staying in college with the extra year they have been given, to get three to sign at this level is just a blessing. We are thrilled for all three of these guys. We are looking forward to heading to Savannah on Saturdays to get to see these guys play, because we know they have the skills to do so."
"They have really shown those coming up that if they work there are opportunities out there. This should be motivation for our team."

The J.R. Trippe Competition Cheerleaders took second place at the Region Meet.


(L to R): Matt Lynn (father), Chandler Lynn, and Amanda Keelin (mother).Photo by Mike Branch


(L to R, Front): Derrick Mincey Sr. (father), DJ Mincey, Tasha Eason (mother); (Back): Latonya Griffen (aunt), and John Hatten (uncle).Photo by Mike Branch