Posted on
Appling Healthcare Welcomes Wright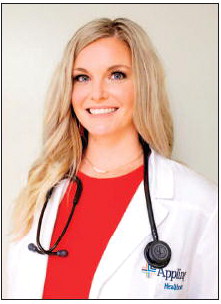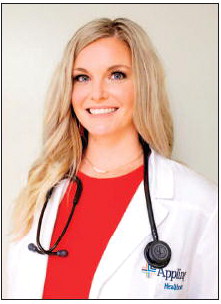 Appling Healthcare in Vidalia welcomes new primary care provider Mandi Wright, FNP-C, has joined the team of expert providers at Appling Healthcare and is now seeing patients in Vidalia on Meadows Lane. Mandi is a Family Nurse Practitioner who treats patients 2 years old and up. Her primary care services include chronic disease management, health maintenance screenings, acute care, w o m e n ' s health, physical exams, weight management, patient education, sick visits and disease prevention.
Mandi received her Master of Science in Nursing from Walden University and is certified as a Family Nurse Practitioner. She previously served as a Registered Nurse in Laurens, Toombs and Candler counties, developing patient relationships throughout the various communities. Her experience includes emergency medicine, pain management, wound care and medical/surgical hospital care.
Mandi and her husband, Will, are from Toombs County and have three children: Kash, Abigail and Lillian. Mandi loves to travel with her family and she is always planning their next family adventure together. As a family, Mandi and Will are passionate about serving military veterans. Their family established the Dustin Michael Wright Foundation in 2017 to aid warriors through the challenges of serving the nation.
To schedule an appointment with Mandi at Appling Medical Group of Vidalia, call (912)705-4905. The office is located at 1702A Meadows Lane.
To find out more about the Dustin Michael Wright Foundation, visit www.ssgdmwf. org.
Paid Advertisement