Posted on
Mrs. Annie Lou McGahee Edge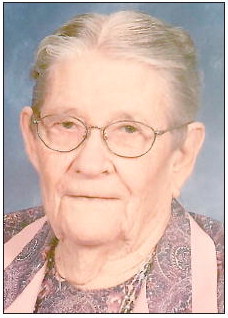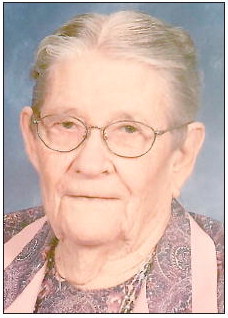 Mrs. Annie Lou McGahee Edge, age 96, of the Kibbee Community, died on Monday, August 31, 2020, at the Oaks Bethany Health and Rehabilitation Center in Vidalia.
Mrs. Edge was a lifelong resident of Montgomery County. She worked at Oxford Textile in Vidalia for approximately 15 years. She then worked as a bus driver for the Montgomery County School System until she reached the age of 65, when she started working in the Cafeteria in Mt. Vernon. She was a longtime member of Vidalia Church of God, where she taught the seven and eight year old Sunday School Class for 61 years. She was preceded in death by her parents, Willie and Becky Brantley McGahee; her husband, Ervin Edge; 2 sisters, Jeweldean Hutcheson and Pauline Hutcheson; 1 brother, James Richard McGahee; 2 nephews, Paul McGahee and Wayne Marsh; and 2 sons-inlaw, Gary Osborne and Floyd
Wilcox. Survivors include 2 daughters, Faye Wilcox, Alston, and Barbara Kersey (Leroy), Kibbee Community; 4 grandchildren, Scarlett McDaniel (James), Calhoun, Chris "Taco" Osborne (Amy), Alston, Lisa Miller (Ed), Savannah, and Brian Kersey (Delores), Kibbee Community; 6 great-grandchildren, Emily Osborne, Alston, Morgan Osborne, Alston, Spencer Mc-Daniel, Calhoun, LillyAnna McDaniel, Calhoun, Hunter Kersey, Kibbee Community, Haleigh Garcia (Gabe), Crestview, FL; 1 sister-in-law, Merle Williamson (Kenneth), Tarrytown; 1 brother-in-law, Harold Edge (Elder), Kibbee Community; and several nieces and nephews. A graveside funeral service was conducted on Thursday, September 3, 2020, at 11:00 a.m., in Braddy Cemetery, with Rev. Wayne Merritt, Rev. Kevin Collins and Rev. Nathan Pittman officiating.
Sammons Funeral Home in Soperton was in charge of arrangements.
Mrs. Annie Edge