Posted on
Tributes Paid to Late Mayor Ronnie Dixon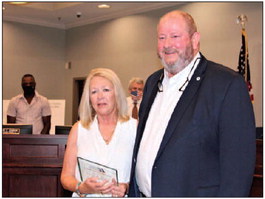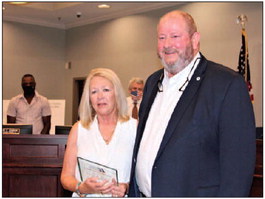 The room was packed at Monday night's meeting of the Vidalia City Council at the Municipal Complex where tributes were paid to late Vidalia Mayor Ronnie Dixon. As Mayor Dixon's family, friends and others looked on Sen. Blake Tillery (R-19) read a proclamation from the Georgia General Assembly praising the late leader's dedication to his community and long years of service. Additionally, scholarships honoring Dixon were presented to local high school graduates Caiden White and Jha'Deya Rhymes. Clay Sikes and Dan Graselle, cofounders of ESG Operations, Inc., presented the inaugural Mayor Ronnie Dixon Legacy Memorial Scholarships. Sikes announced that the continued from page
scholarships are perpetual and would be presented annually to two deserving graduates who are "good representatives of the city of Vidalia."
A highlight of the evening was the presentation of the Georgia Municipal Association's Lifetime Service Award which posthumously honored Dixon. The award took note of Dixon's 42 years of service on the Vidalia City Council, with 26 years as mayor. The award was presented to Dixon's wife, Sandy, by GMA Immediate Past President Phil Best, mayor of Dublin. A message from the GMA praised Dixon as a faithful servant to the city of Vidalia through his roles as a council member from 1978 until 1999 when he was elected mayor. He was an active member of the GMA, serving on the board of directors and numerous policy committees. He also served on GMA's Risk Management and Employees Benefit System Board of Trustees from 2001 until 2013. In 2009 Dixon was inducted into the GMA Municipal Government Hall of Fame which recognizes municipal officials who have made extraordinary contributions to municipal government and have been strong supporters of GMA.
"Dixon demonstrated his love of Vidalia through his many years of generous service to its city," said GMA Executive Director Larry Hanson. "Vidalia is fortunate to have had that kind of dedicated leadership and GMA and Georgia cities are also grateful to have seen the example he set for all city leaders."
Dixon was serving as mayor at his death on April 1 at the age of 77.
GMA is a volunteer, nonprofit organization that provides legislative advocacy, educational, employee benefits and services to its 537 member cities.