Posted on
Mrs. Daisy Osborne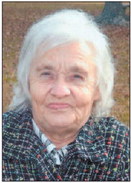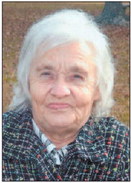 Mrs. Daisy Osborne
Mrs. Daisy Mae Cannady Osborne, age 81, of Vidalia, died on Sunday, August 9, 2020, at Southland Health and Rehab in Dublin after an extended illness. Mrs. Osborne was a lifelong resident of Toombs County, was employed at Federal Pacific in Vidalia for many years and was Pentecostal by faith. She was preceded in death by her husband, Clifford Lee Osborne; 1 daughter, Sheila Dixon; her parents, Ephriam Calvin Cannady and Janie Missouri Halligan Cannady; and 5 siblings, Maudie Womack, Laura Bell, Florence Dexter, Buddy Cannady and Nellie Lofton.
Survivors include 3 children, Faith Osborne Faircloth and husband David, Treutlen County, Michelle L. Toole and husband Hilbert, East Dublin, and Clifford Osborne, Jr., and wife Carolyn, Soperton; 3 sisters, Eva Harden, Lyons, Frances Bourghtlzer, Jacksonville, FL, and Sue Toole and husband Ivy, Johnson Corner; and numerous grandchildren, great- grandchildren, nieces and nephews.
A graveside funeral service will be held on Wednesday, August 12, 2020, at 11:00 a.m., in Sharpe Cemetery, with Rev. Hilbert Toole officiating.
Pallbearers are Wayne Harden, Wendell Harden, Joe Harden, Johnny Osborne and Jonny Negron.
Memorial contributions may be made to Integrity Cares at Integrity Hospice, 101-A West Jackson St., Dublin, GA 31021.
Ronald V. Hall
FUNERAL HOME
'Memories, of a Lifetime of Love'