Posted on
BPC Returning to In-Class Setting August 17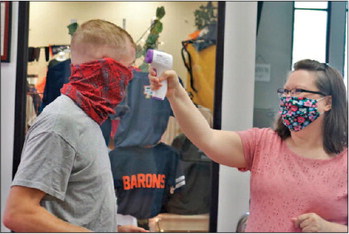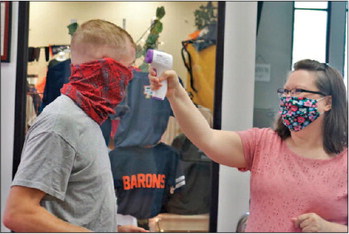 New Technology and
Precautions in Place
Out of adversity comes opportunity. This saying, attributed to Benjamin Franklin, can be applied to the changes at Brewton-Parker College because of—or in spite of—a pandemic. On Monday, August 17, the college in Mount Vernon will reopen its main campus to in-seat classes. Like every other educational institution in the country, because of the outbreak of the novel coronavirus the school interrupted its 2020 spring semester on March 19 and sent students home to finish courses via virtual learning. In the five months while the students were away, the college staff was hard at work. They not only accommodated the changes due to COVID- 19, they were planning for the future.
"Our faculty was heroic this spring. They had to turn on a dime when we closed (to in-class instruction) and they worked endless hours and got everything up online those last five weeks," BPC President Dr. Steven Echols said of the abrupt transition. He added that during those five months the staff kept pushing ahead. "They transformed the campus. There were no staff layoffs; in fact, we did some hiring."
Ironically, in the midst of a continued from page
national pandemic, the school just finished one of the strongest financial years it has had in years. "Our enrollment growth at the Mount Vernon campus was 31% in the last five years. This fall, we expect to be up another 5-10%," Echols said.
As they return to campus, students and staff will be dining in a larger, newlyrenovated cafeteria with both inside and outside seating, classes will be equipped to offer both in-seat and enhanced virtual learning, dorm space is being expanded and reconfigured, and other changes will enhance safety in the face of a still-present health crisis.
The way students were welcomed back to campus looked very different this year. The transition from virtual learning to a campus setting meant spreading out. "It has taken a lot of planning. We had students come back in stages," Echols said, elaborating that the students started moving into dormitories on campus this week. Only one person was allowed to accompany a student moving into a dorm.
Additionally, athletes did not report to school early, as is usual at the beginning of a new semester. In fact, the course of the sports program at the college is dependent on the path the virus takes and will be in sync with the direction of the National Association of Intercollegiate Athletics (NAIA), which governs BPC's sports program. "It's a slow process. Essentially, we will be pushing back fall sports about a month and limiting the games," Echols said, noting he believes the school will be able to accommodate the health protocol dictated by COVID-19.
At BPC, the new normal requires heavy emphasis on social distancing. Class size will be limited to 12 to 15 students, depending on the size of the room. "We have gone through and measured every class to make sure desks are spaced six feet apart," Echols noted. Masks will be required in classes and in all campus buildings.
The pandemic also required some reorganization of the school calendar. The fall semester was compressed into 14 weeks, all within Southern Association of Colleges and Schools (SACS) guidelines. Instruction will end on November 19, one week before Thanksgiving and students will take finals online. "It was not sensible to let students go home, scatter, and come back with a possible infection," Echols noted.
The innovations brought about by the pandemic actually spurred new technology at the school, Echols said. BPC invested in new equipment that will allow every class to be recorded and shared online. Students in small groups will be alternated between in-class and online participation. "While Group A is in class Group B will watch the recorded class online," Echols explained. He emphasized, "Probably 90% of classes will be hybrid. The pedagogy on those types of classes is very strong. Virtual instruction is a tool that actually enhances learning if done properly."
Echols said that the faculty is excited about this new technology. "The hybrid model is not something we are going to lose tomorrow. We would like to have everyone in class but retain hybrid as a supplement." He pointed out the rewind and search component value in the hybrid model. "It is an opportunity in a crisis."
Regarding the Student Services component on campus, Echols said there is a very careful plan to follow state guidelines on occupancy and spread people out. Unfortunately, for the time being, the cafeteria will not be able to offer the traditional in-facility dining for visitors. The only option for now is take-out. Last year, the college invested $1 million in upgrading its student center, adding 105 chairs with optional outdoor dining both upstairs and downstairs. The renovation not only increased seating, it added new décor. "This was planned pre-COVID but was providential," the president said.
Echols said the school's COVID-19 task force has been working diligently to follow the governor's guidelines in preparing policies and procedures for this fall. "We have also been working with local health officials and consulting with other health agencies and higher education institutions," Echols said. COVID policies and guidelines are posted on the school's web site.
Echols added that available information indicates that COVID-19 carries a far lower mortality risk for the college age group than for the elderly and at-risk populations. "In fact, over the last four months many more young adults have died from automobile accidents than from COVID-19, even among those who have pre-existing conditions. However, just as we urge our students to wear seat belts and drive safely, we must take every precaution to minimize any threat of COVID- 19 to our students, faculty and staff – some of whom may be in at risk groups – and to those with whom they may come in close contact. One life is too precious to risk, and nonlethal infections, especially among older persons, can still bring serious symptoms and lifelong disability." BPC has taken several proactive measures to ensure health safety such as hiring a full-time nurse practitioner, Dr. Rennie Bailey, along with a fulltime LPN to assist her.
The school has also doubled its cleaning staff, installed plexiglass shields in office areas, and installed numerous sanitation stations.
The school also has protocol in place for students who present symptoms. Isolation areas have been established for students who live on campus. One such area is a recently-refurbished maintenance building and another is located in the college-owned Briscoe Center across the street from the main campus.
Another opportunity afforded the school in the crisis was the fact that the summer activities on campus came to a halt. Ord inarily, BPC has up to 2,000 campers on campus in June and July. The Southern Baptist Lifeway cancel led its Centrikid program and the customary bridge program for incoming BPC students was not held. Summer residency was also limited. Although the summer activities offer multiple, valuable opportunities for connections to Georgia churches and children, the cancellation of activities provided more time and space for making changes and improvements on BPC's campus. Next summer, hopefully, it will all come back, and in the days ahead, the school may able to fully resume its famous music program with appearances by its musicians and singers. "Did you know they make special masks for singing?" Echols quipped.
In the meantime, BPC will continue its forward momentum. "We will be expanding our fiber optic capabilities so we will have the capacity to live stream all of our classes. That is the goal," Echols said. The school just signed a State Authorization Reciprocity Agreement (SARA) enabling it to have the right to cross state lines with online instruction. This means students could come from anywhere in the world. "We don't have the bandwidth to send out our instruction live, but in the next phase next year with an $800,000 upgrade, we will be able to live stream."
"COVID sort of spurred us to be able to do this. COVID pushed us along. We realized we have to do this now. We had a strong financial year that enabled us to do this," Echols avowed. Also, the school's new prenursing program will be launched this fall. Along with its good financial news, the school just received the best review it has ever had from SACS.
"There are a lot of critics of colleges reopening, but on the other hand, we have to move forward with prudence. There is a very low risk for this age group; nonetheless, we treat it with the utmost seriousness," Echols said, adding, "We are trying to find balance of living in the basement or engaging with safety. I can't tell you what is going to happen. We may end up with quarantines out here, but we just did not feel like there was any other avenue. We can show we are being prudent and not ignoring the gravity of it. We have done everything we can possibly do." But it is still a wait and see situation dependent on what happens with COVID-19.
Echols admitted that the challenge of COVID-19 requires flexibility to maximize safety and that the school's procedures may require review and modification as the situation changes. "Please be assured that we will keep students, parents, and all constituents informed, and through God's grace, we will strive to do everything possible to ensure a safe environment at BPC."
"There are a lot of critics of colleges reopening, but on the other hand we have to move forward with prudence. There is a very low risk for this age group; nonetheless, we treat it with the utmost seriousness."
– Dr. Steven Echols, President, Brewton-Parker College
R e sur g a m

Dr. Steven Echols, President of Brewton-Parker College