Posted on
continued from page "guilty" or ….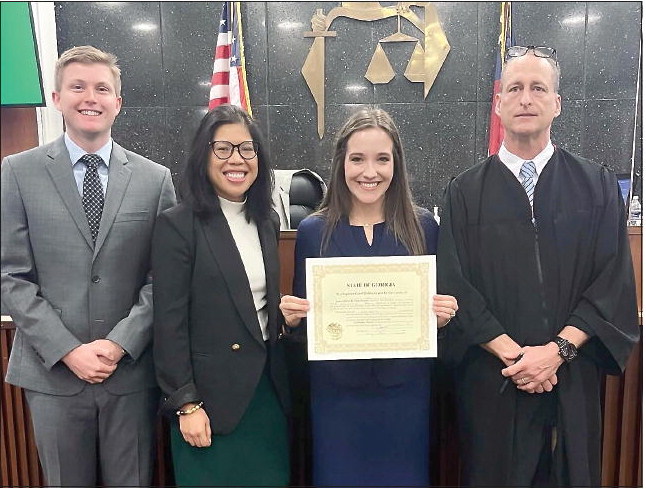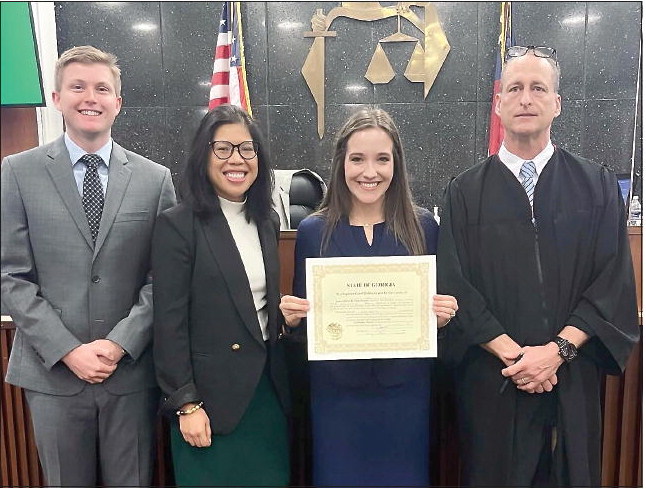 continued from page
"guilty" or "not guilty" to determine their next route to trial or sentencing.
Tomason Murder
Aaron Nicholas Coleman, 20, of Lyons, was indicted on charges of felony murder, criminal damage to property in the 1st degree, and possession of a firearm during the commission of a felony in the case of John Tomason's murder.
At approximately 11:12 a.m. on December 1, 2022, the Toombs County Sheriff's Office received a call reporting that a person had been shot at a residence located at 124 Moore Road outside of Lyons. On arrival at the address, deputies found a deceased white male, later identified as John Tomason, 36, the home's resident. The suspected shooter was not in or around the premises, so investigators and deputies immediately canvassed the area to locate and interview witnesses and gather evidence.
The Georgia Bureau of Investigation (GBI) Region 12 Office was brought in to assist in the investigation when the offense was determined to be a homicide.
The GBI, Toombs County Sheriff's Office, and Vidalia Police Department worked together to locate and arrest Aaron Coleman at a home on Cadillac Drive in Vidalia. At the time of his arrest, Coleman was charged with felony murder, but later charged with 2 counts of aggravated assault and 1 count of possession of a firearm during the commission of a crime, which after further investigation, have transformed into the charges listed above.
Coleman was denied bail at his first appearance before Middle Judicial Circuit Chief Superior Court Judge Robert Reeves on December 2, 2022, as District Attorney Tripp Fitzner told the Judge that the DA's office had no intention of providing a bond opportunity at that time.
Burkett Murder
Megan Ann Osborne, Emily Elizebeth Walker, and Jeremy Likki Bell were all indicted on malice murder, felony murder, and armed robbery charges in the case of Ricky Martin Burkett, whose body was found under a Vidalia residence on April 5, 2022.
On April 5, 2022, the GBI, Vidalia Police Department, and Toombs County Sheriff's Department were dispatched to 111 West Jenkins Street at 1:11 p.m., after an individual discovered Burkett lying on the ground partially beneath the house. Detectives later identified the body of Burkett, but continue to probe the case after defining the death as a homicide.
Residents on the scene were stunned to hear of the incident, with most noting they did not hear or see anything suspicious prior to the arrival of police. A motive was never released.
Milbern M. McRae, 26, of Vidalia, was arrested first on April 8, 2022, on a felony arrest warrant and charged with tampering with evidence and felony probation violation. He was placed on a $10,000 property bond at his first appearance. His suspected role in the crime has not been discussed further.
Osborne, 22, of Cobbtown, was captured next on April 12, 2022, followed by the arrest of Walker, 20, of Ailey, on April 13, 2022. Both women were denied bonds by Toombs County Magistrate Judge Jack McMillan.
Bell was arrested later that same month by the U.S. Marshals Service in Jacksonville, Florida, and was extradited to Toombs County. Bell faces an additional charge of possession of a firearm during the commission of a felony. Smoke Cave Burglar
Jack Malone Kelly, 30, of Vidalia, was indicted on burglary charges for his suspected burglaries at the Smoke Cave in Vidalia.
Between May 28 and June 16, officers have responded to multiple instances of burglaries that occurred in the early morning hours. Upon further investigation, authorities were able to identify Kelly as the suspect and charge him with such offenses.
Kelly was arrested in early August on one count of burglary in the 2nd degree and two counts of criminal attempt to commit burglary in the 2nd degree.
Currently, Kelly remains an inmate at the Toombs County Detention Center due to his previously being arrested by the Vidalia Patrol Services Division on June 30 for charges of Theft by Shoplifting, Criminal Attempt to Commit Robbery, and Fraudulent Attempt to Obtain Refund that occurred at the Dollar General store on East First Street. Other Arraignments
Several other indictments were made, including: Deante Erika Canty; Jesse James Trujillo; Jarvis Jenell Watson – Kidnapping (all); Aggravated Assault (all); Possession of a Firearm by a 1st Offender Probationer (Canty); Possession of a Firearm During the Commission of a Crime (Canty) Selena Alice Grace – Theft by Taking; Possession of Methamphetamine Tiffany Marie Turbyfill – Possession of Methamphetamine; Possession continued from page
of a Firearm During the Commission of a Crime Brian Leon Sanders – Possession of Cocaine Michael Ivan Ouler – Possession of a Firearm by a Convicted Felon Marilynn Tabitha Danielle Aeger – Cruelty to Children in the 1st Degree Michael John Guin A.K.A. John Michael Guin – Rape; Child Molestation John Benjamin Hamilton – Exploitation and Intimidation of a Disabled Adult or Elderly (6 counts) Johnathan David Traughber – Rape; Aggravated Child Molestation (4 counts); Aggravated Sexual Battery (3 counts); Aggravated Sodomy; Incest Kenya Markeece Paulk – Possession of Methamphetamine Tony Williams Jr. – Possession of Methamphetamine with Intent to Distribute; Possession of a Firearm During the Commission of a Crime; Possession of a Firearm by a First Offender Probationer Trevor Shaw Cartrette – Possession of Methamphetamine with Intent to Distribute; Possession of a Firearm During the Commission of a Felony; Possession of an Illegal Weapon Jackson Cody Graham – Terroristic Threats; Criminal Trespass (Family Violence); Aggravated Stalking Rabul Valdez, Jr. – Aggravated Assault (Family Violence)(2 counts); Battery (Family Violence) Arnold Edgar Wright, IV – Possession of a Firearm by a Convicted Felon Corinne Renee Holder – Identity Fraud (2 counts); Criminal Attempt to Commit Theft By Taking (2 counts) Howard Verdine Hammonds; Shannon Derrick Wyche – Burglary in 2nd Degree (2 counts) (all); Theft By Taking (Hammonds); Theft by Taking (Wyche)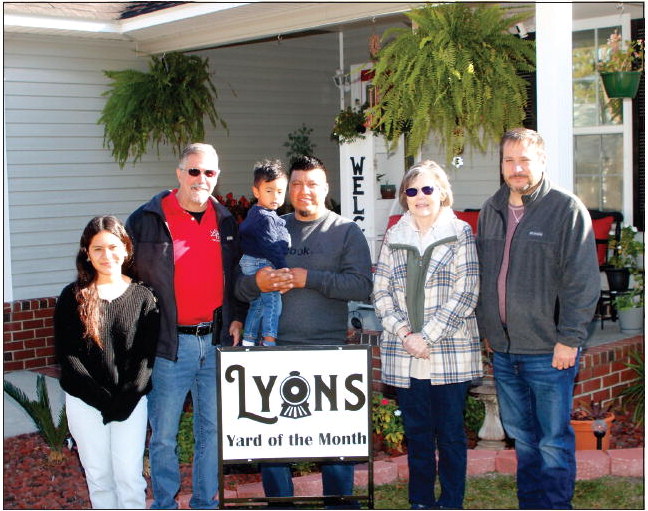 NOVEMBER LYONS YARD OF THE MONTH – Birzabit Gonzalez and Fabiola Solorzano, who live at 148 Academy Drive, were awarded the Lyons Yard of the Month on Thursday, November 2. The couple and their 3 children have lived at the residence for 3 years and take pride in the landscape and beauty of their yard, as Gonzalez works as a landscaper and Solorzano has a passion for plants. L to R: Betzaida Gonzalez-Solorzano, Code Enforcement Officer Chris Failla, Fabian Gonzalez-Solorzano, Birzabit Gonzalez, City Clerk Lynn Rowland, City Manager Jason Hall. Not pictured: Fabiola Solorzano, Aranza Gonzalez-Solorzano.Photo by Makaylee Randolph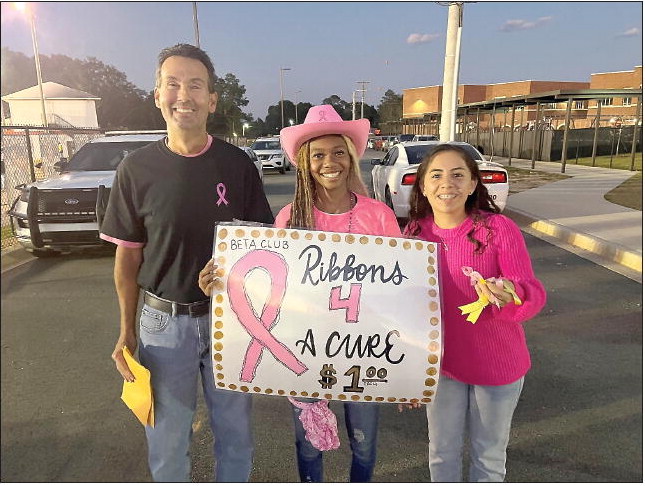 BETA CLUB OCTOBER SERVICE PROJECT — The Wheeler County High School Beta Club conducted an October service project to raise money for the American Cancer Society. Students created and sold pink ribbons (for Breast Cancer Awareness) and yellow ribbons (for Childhood Cancer Awareness) throughout the month, including at the "Pink Out" football game vs Telfair on October 20. In 2022, the club raised $223 for their annual donation, so they set a goal of $250 for 2023. They announced that they have raised and will be donating just over $330 to the American Cancer Society this year. L to R: Teacher and Beta Club Sponsor Philip Parker, and students Nikita James, and Marcy Delgado.