Posted on
TCHS Cheer Takes 1st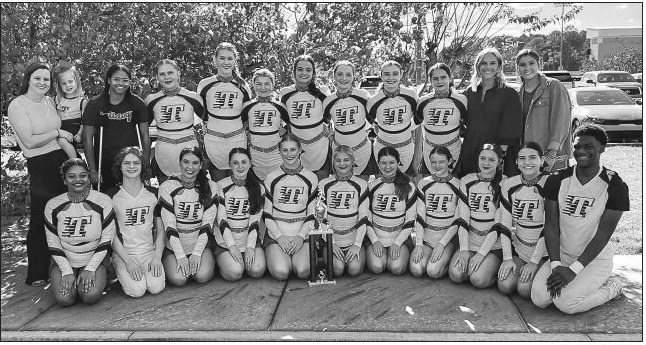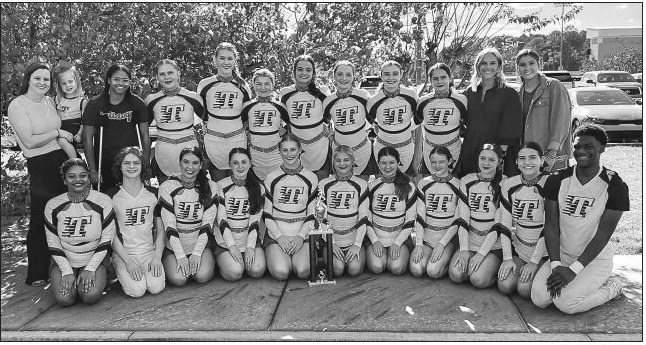 Courtesy of TCHS
Over the past two weeks the Toombs County High School competition cheerleaders have competed in Statesboro and in Swainsboro. Toombs came away with second place in Statesboro, and then came home with a first place finish in Swainsboro. All of this is leading up to the Regional/Sectional Meet which will be held this Saturday at Ola High School in McDonough.
At Statesboro
Two weeks ago, the Competition Cheer Dawgs competed at Statesboro High School in the Battle in the Boro Competition. TCHS brought home second place out of four teams that competed in the coed division.
Coach Tilly Christian said this about their performance, "We had a lot of small victories from our performance this past Saturday. The athletes were focused and in control of their routine. They performed with a lot of energy and were fun to watch! Right now it's not about a 1st or 2nd place for us, it's about maxing out our potential and scoring the highest score we can. We are getting better and better each weekend we compete and with the amount of adversity our team has experienced this season, it's incredible to consider just how far we have come. We haven't hit our best routine yet, but our athletes are eager and willing to work so I know our time is coming! We have one chance to get everything right when we perform and we haven't done it yet. That's our goal for this week!"
At Swainsboro Varsity The Competition Cheer Dawgs had an exciting weekend at the Rumble in the Jungle Cheer Competition at Swainsboro High School. The team brought home a first place finish and a new school record for highest score in program history.
While both of these things are exciting, Coach Christian said the thing she is most proud of is the fact that the team met two of their season goals on Saturday. Since the start of the fall season, the Competition Dawgs have been aiming to score in the 100's and to perform their routine with little to no mistakes. Bringing home a score of 104.5 achieved goal number one and as for goal number two, find a video of the performance and see for yourself, she added.
Next up for the Competition Cheer Dawgs is Sectionals at Ola High School this coming Saturday, November 4.
Middle School
The Toombs County Middle School Cheer Dawgs brought home an impressive second place finish at Swainsboro. They faced some last minute adversity with an athlete injury occurring Friday afternoon but quickly came together to adjust their routine and sub in an alternate. They were behind the 1st place team by only one point.
Next up for the Middle School Cheer Dawgs is their Region Competition on November 7, at Screven.