Posted on
MEET DR. Reuschling:
As Tri-County Clinic of Chiropractic celebrates its 15-year anniversary, Dr. Heidi Reuschling, D.C. says helping people achieve greater health never gets old.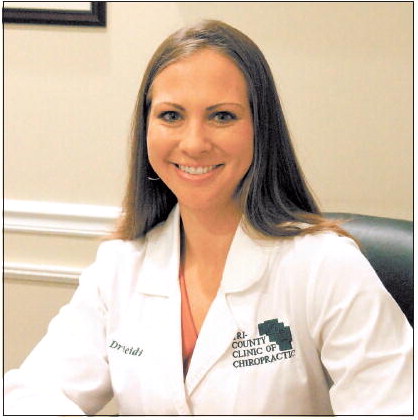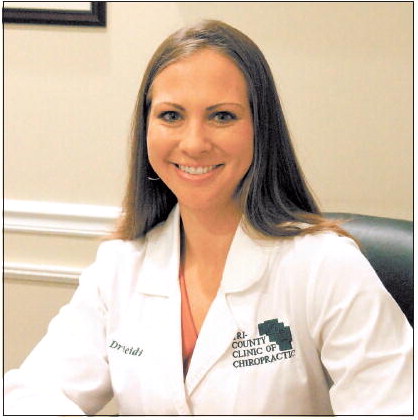 In 2008, in the weeks leading up to her graduation from an intensive four-year doctoral program at Life University College of Chiropractic in Marietta, Heidi Reuschling faced the decision of where to open her chiropractic practice. She reviewed a list of the "100 Best Small Towns" in America, and the "Sweet Onion Capital of the World" was on that list.
"I visited at least 30 towns, but when I got to Vidalia, I was immediately drawn to the people here," says Reuschling, who grew up in a small town in Michigan. "Everyone was so friendly and welcoming, and I could see myself living here. I moved here two days after graduation and have never looked back."
Shortly after opening the doors to Tri-County Clinic of Chiropractic, she began looking for opportunities where she could make a positive impact and weave herself into the fabric of the community. When she was a student in chiropractic school, she mentored underclassmen in human anatomy and volunteered at Kanley Chapel and the Boys & Girls Club, earning her the prestigious Harvey Lillard award for extensive community service.
So it was no surprise when she found her footing volunteering with a local Girl Scout troop, and because she's quite the athlete (she's a Cross-Fit fanatic) and loves to work with youth, she also found herself coaching soccer, even leading a coed travel team to a Georgia State Championship.
"Apparently, in Augusta, they hadn't heard of Lyons, but we showed them who we were!" she says, showing her fun, competitive side.
Reuschling also became very involved with the Greater Vidalia Chamber of Commerce.
"I started helping coordinate the Business Expo—something I really enjoy," she says. "But it's grown, and there's so much work involved that I've had to step away from some of my other volunteer duties for now."
She's quick to say that helping people along their journeys to better health and wellness is her true calling, and that it was her destiny to become a chiropractor.
"I've always believed in the power of the human body to heal itself," she says. "Once I learned what a subluxation of the spine could do to interrupt the nerve flow of the body, I knew my mission was to remove as many subluxations from the world as possible—making patients' bodies feel better."
The spinal column contains 33 bones called "vertebrae." A spinal subluxation refers to a misaligned vertebrae within the spine from its normal position. When a vertebra becomes misaligned, the pressure put on the nerve roots within the spine can decrease the function of nerve signals between the body and brain.
"Our nervous system controls every cell, gland, tissue, and organ in our bodies," Reuschling continues. "Spinal subluxations often interfere with this control leading to sickness and disease— not just musculoskeletal pain. There is so much more to chiropractic than just treating neck and back pain."
She points to research conducted in 1921 by Henry Winsor, a medical doctor from Pennsylvania.
"The object of Dr. Winsor's study was to determine whether any connection existed between minor curvatures of the spine and diseased organs, or whether the two were entirely independent of each other," she says. "He dissected [75] human cadavers to see if there was a relationship between any diseased internal organ discovered during autopsies and the vertebrae associated with the nerves that went to the organ."
Winsor and his team uncovered compelling evidence suggesting that spinal misalignments had far-reaching effects beyond physical discomfort— creating problems with the stomach, lungs, liver, spleen, uterus, kidneys, etc. His work unraveled the delicate interplay between spinal health and the intricate tapestry of overall human health.
"That study is a big reason I chose to be a chiropractor," she says. "Every day, a patient tells me something completely unrelated to their back pain has also improved, and I know why, because I understand how the body is built and how it works."
In her hands, through every adjustment, she nurtures the well-being of patients (her oldest current patient is 95 years old, by the way).
"I always enjoy seeing those patients who are bent-over and can't walk well be able to ditch their canes and function normally again, but it's most rewarding to see patients stay healthy over several years," she says.
"About ten years ago, I saw a patient who had come in due to some back discomfort, but I also learned he had severe acid reflux—eating 15-20 TUMS and a prescribed medication each day," she says. "We found a midback subluxation during our examination, and after just six adjustments, he was down to only taking two TUMS per day. After a month of care, he didn't have to take any at all."
Ten years later, Reuschling's patient comes in once each month for a spinal "tune-up" and still has no acid reflux.
She's made "believers" out of "skeptics." Take for example a mother who accompanied her son to the clinic.
"She made it clear that she didn't believe in chiropractic care, but she was willing to try anything," she recalls. "Her straight-A, athletic son had deteriorated over the previous year to not even being able to get out of bed to go to school a couple days per week, and when he did, he would call her to come get him before the day was over. He had seen several medical professionals with no luck in treating his condition. Upon examination, we found multiple subluxations throughout his spine and recommended that we do a 90-day course of treatment to correct his spine and see how he responded."
She says that it took almost the full 90 days, but when the young man began improving, it was miraculous.
"He's active, healthy, and getting on with his life now," she says.
Chiropractic care is more affordable than most people realize, and some health insurers cover some of the costs.
Reuschling feels that the health insurance model needs an overhaul. Insurance is so important to have to avoid the threat of losing everything one has earned due to a catastrophic medical event, but she believes insurance has become less effective for wellness visits and things like chiropractic adjustments.
"If it's cheaper to cut off a leg than to save it, the insurance company wants to amputate," she says. "It's becoming more difficult to send a patient for an MRI and get it approved by insurance, despite obvious medical necessity. Insurance companies are fighting tests because they're expensive."
But though Reuschling is somewhat critical about the state of insurance in today's world, she praises the network of medical professionals in the area, noting that they work well together to improve patient outcomes. She says that she and her staff have sent patients with back pain to the ER when they recognized that the patients were having heart attack symptoms.
"A lot of problems present as back pain— heart, kidney, gallbladder, stomach and bladder issues can feel like back pain," she says. "But during our examination, when we realize what's going on, we don't hesitate to send them to another doctor. I want to give a shout out to the local medical providers who get our patients right in when we send them over to assess an urgent medical issue. Together, we've saved lives."
For fifteen years, through the gentle art of chiropractic care, Heidi Reuschling and everyone at Tri-County Clinic of Chiropractic seize opportunities to heal patients' bodies and spirits, making a lasting impact on the lives they touch.
"We are only given one body," she says. "We have to do what we can to keep it healthy. We can help."