Posted on
continued from page Edwards, we ….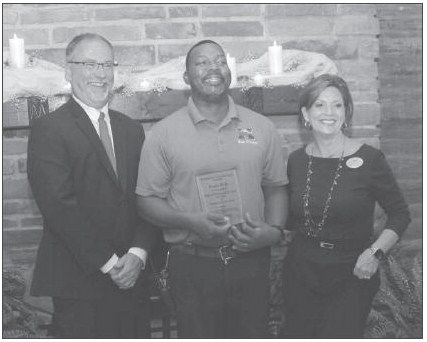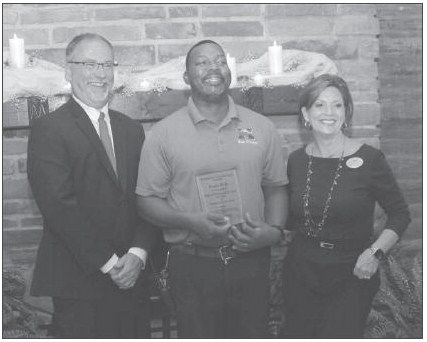 continued from page
Edwards, we are a better school because of you and our community is a better community because of you and your family. Thank you for your service."
Edwards was selected by her peers as the Montgomery County Middle School Teacher of the Year prior to the ceremony. Once having been selected, she completed essays which were judged by three administrators from outside the school system, who also observed Edwards teach a lesson during the school day. These observations and judging were converted into scores – the highest score determined the System Teacher of the Year. Other Teachers of the Year Jessie Jarrard
The Montgomery County Elementary School Teacher of the Year is Kindergarten Teacher Jessie Jarrard. During the ceremonial breakfast, Montgomery County Elementary School Principal Eric Burns spoke on Jarrard and her enthusiasm for her career.
"Kindergarten is pretty tough, but Mrs. Jarrard is a wonderful teacher," he began. "For the past couple of years, she has had the opportunity to have exceptional learning students mixed in with her class, and days when I walk by passing her classroom, she always says, 'Come on in to the circus!' But, you know, when she says that – there is a lot of different things that take place in a circus, but there is normally that one major big ring that everybody is watching. Well, although her classroom is a circus, there's that one major thing going on – she's teaching those kids and loving those kids day in and day out regardless of where they're at."
He continued, "If she has students that are at different levels, she is meeting them at their level and encouraging them to continue forward and do their very best. Through all of that, those students know that she loves them and that she cares. She does an excellent job at building relationships with our students, our parents, and our community as well."
Burns went on to share that Jarrard's coworkers refer to her as the "Techno-Teacher" for Kindergarten, because she is always looking for new technology and programs to help keep students enthusiastic and involved in their education.
Ashley Lynn
Montgomery County High School 9th and 10th Grade English Language Arts Teacher Ashley Lynn was selected by his peers as the Montgomery County High School Teacher of the Year.
"Mr. Lynn has been with us 15 years – that is awesome to be in the same school system for 15 years, and to know that he is driving from a county over that has a teacher shortage where he could work closer to home. He even passes a couple schools while coming to our place," Barrow emphasized. "We need to hold on to people like that. I think you are doing that because you're dedicated to our students and you're dedicated to our school. We appreciate you."
Barrow went on to share how he admires Lynn's calm demeanor. "If you've ever been in the classroom, you know that students can press your buttons. But he's always going to be calm; he's not going to let things escalate or get worse." Support People of the Year Beginning last year, Montgomery County Schools also celebrates the Elementary School, Middle/High School, and District Support People of the Year within the schools. These individuals are announced and honored alongside the Teachers of the Year at the annual breakfast ceremony.
Harold "Boo" Quarterman Jr.
Harold Quarterman Jr. – known to most as "Boo" – was selected as the Montgomery County Elementary School Support Person of the Year. "Boo is the right hand to me at the elementary school," Burns explained. "There is a lot of times when I will call Boo and say, 'Hey, Boo, I need you to do this,' and he'll tell me, 'What are you talking about? It's already done!' A lot of times, he finishes the sentence before I even have the opportunity to. He goes above and beyond – there is not a day that I don't ask him to do something and he doesn't do it with a smile on his face."
Burns continued, "He left us for a short while – we thought he'd graduate and go to the high school, but he wanted to come back to the elementary school. We are very blessed to have him. He does an excellent job. He's fulfilling some big shoes behind his father, Mr. Harold [Quarterman Sr.]."
Christy Hudson
Montgomery County Middle/High School Paraprofessional Christy Hudson was selected by her peers as the school's Support Person of the Year.
Hudson works with the school's department of exceptional learners, where she often goes above and beyond her call of duty. "It takes a special person to do what you do, Mrs. Hudson," Barrow remarked. "If y'all knew half the responsibilities she handled, you would be amazed she doesn't run away from that position."
He added, "Just what she does from 7:30 a.m. to 3:30 p.m. every day is enough to be here as Support Person of the Year, but it doesn't stop there – it is what happens after 3:30 p.m. and the responsibilities she's taken on, whether it be making sure students have food and clothes, a ride, or somewhere to stay, it is going above and beyond. You can tell she really loves her students."
Barrow also highlighted Hudson's dedication to working the football concession stand for every home game, which he said requires planning and preparation throughout the week, as well as extensive work on game days.
"Our school is taken to another level because of what you do every day and because of your volunteering and your recruitment of your family that live with you – we get a lot of bang for our buck with you. Thank you so much," he concluded.
Reggie Ricks
Montgomery County Schools Transportation Director Reggie Ricks was selected by the Montgomery County Board of Education office as the District Support Person of the Year.
Ricks was unable to attend the ceremony because of working to help a school bus, which was stuck in a ditch on Joe Hilton Road due to heavy rain. "This is exactly why he is our Support Person of the Year. What can't be said about Reggie that people don't already know? The hard worker he is and the time that he puts in – just everything that comes between those two things are incredible," Assistant Superintendent Brian Barnhill commented. Barnhill went on to share a quote from President Harry Truman, which read, "It is amazing what you go on to accomplish when you do not care who gets the credit." He emphasized the truth in this statement that has been seen through Ricks' work, as he labors not for his own glory, but the wellbeing of the school. Barnhill also shared a personal story about the character of Ricks, as Ricks came to Barnhill's house on a Saturday afternoon to help install a ceiling fan without having been asked or desiring any thanks.
"He is a tireless worker, he has a caring nature about him, and a can-do attitude. We are so grateful for all that he does for this school system," Barnhill concluded.
Comments
During the event, a video was shown of Dr. Manny Scott speaking on a time when he told an audience, "You can bring a horse to water, but can't make it drink." After telling the audience this cliché, Smith explained that a Texan had told him that you could not make a horse drink water, but it could be given a salt lick to make it thirsty.
This concept has become the driving force behind the Montgomery County School System's mission, according to Superintendent Stan Rentz. "You heard Dr. Manny Scott talking about staying salty – we knew immediately that we wanted that to be our school system's theme," he explained. "We challenge our teachers to find that salt – what is it that makes our students want to be thirsty for knowledge? That is a complex task – it is an individualized task. Every student has different needs and different wants. Our teachers have definitely met that challenge."
He went on to congratulate the teachers and support people for their accomplishment and honor, highlighting the importance of their job by sharing, "teaching affects eternity."
Board of Education Chairman Henry Price concluded the ceremony with his thoughts. "Montgomery County is a great place to live and a great place to send your children to school," he shared. "I am extremely happy God saw fit to put me here in this county."
He continued, "I was thinking this morning about Daniel [in the Bible], and how Daniel's faith was strong and he did not stop what he was doing. That reminds me so much of the staff here at Montgomery County Schools. They do not stop or waiver for anything. They continue on for the best efforts of the children in this community. We have a great county and a great school system. We are a family – we work together when we're happy and hurt. You cannot find that in other school systems. Be proud of where you are and who you are, and we are proud of who you are and all that you've accomplished."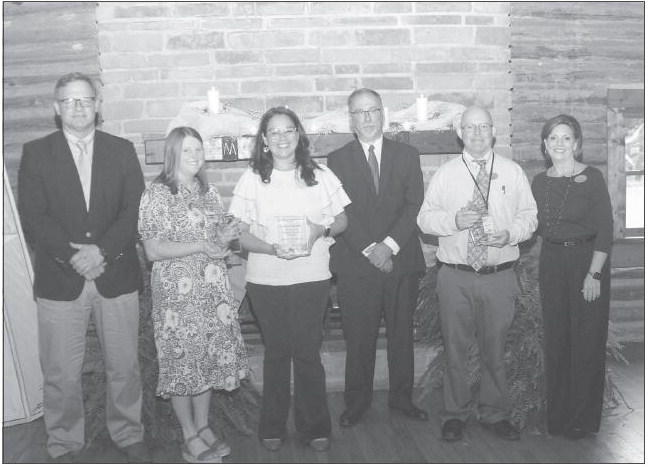 TEACHERS OF THE YEAR – The celebration breakfast also highlighted all Teachers of the Year within the school system, who were chosen at each level by their colleagues. L to R: Assistant Superintendent Brian Barnhill, Montgomery County Elementary School Teacher of the Year Jessie Jarrard, Montgomery County Schools System Teacher of the Year Carlena Edwards, Superintendent Stan Rentz, Montgomery County High School Teacher of the Year Ashley Lynn, Assistant Superintendent Beverly Faircloth.Photo by Makaylee Randolph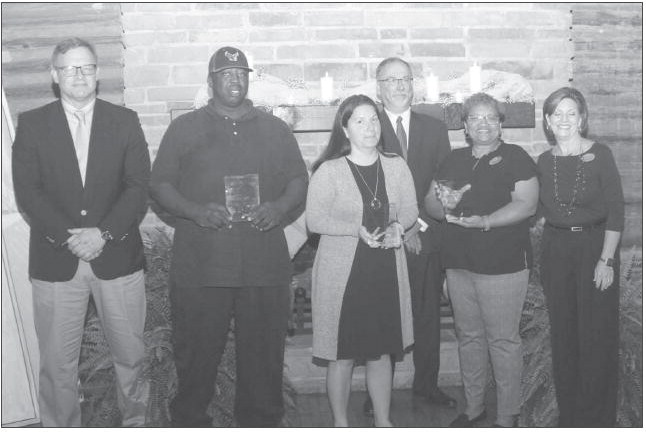 SUPPORT PEOPLE OF THE YEAR – The celebration breakfast also highlighted all Support People of the Year within the school system, who were chosen at each level by their colleagues. Because of Ricks' absence due to a bus emergency, his wife accepted his award. L to R: Assistant Superintendent Brian Barnhill, Montgomery County Elementary School Support Person of the Year Harold "Boo" Quarterman Jr., Montgomery County Middle/High School Support Person of the Year Christy Hudson, Superintendent Stan Rentz, Sherelle Ricks, Assistant Superintendent Beverly Faircloth.Photo by Makaylee Randolph