Posted on
VHS Rolls Over Tattnall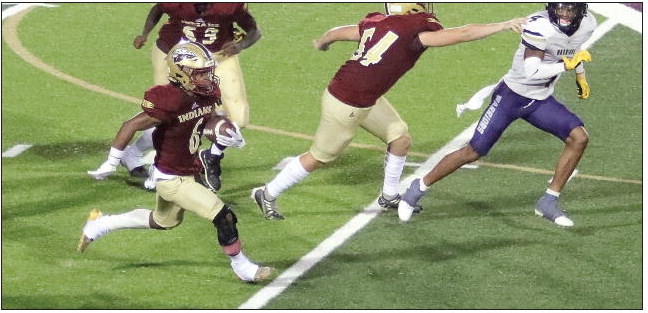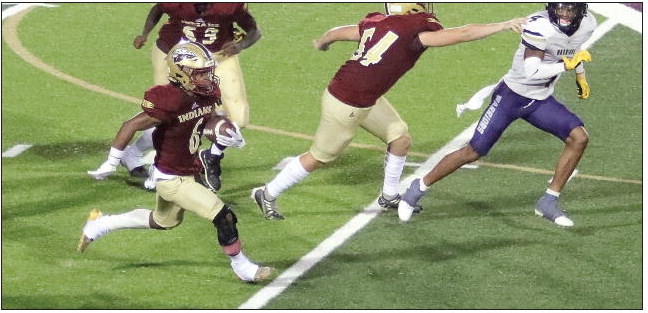 Courtesy of VHS
The Vidalia High School Indians football team used some old school power football Thursday night as they rolled over Tattnall County, 29-7, at Buck Cravey Field. The Indians, with the win move to 4-2 overall and 2-0 in Region 3AA play.
The Indians started in good field position following the opening kick as AJ McLendon playing in his first game of the year, took the kick and returned it to the 42-yard line. From there, the Indians went into the wishbone formation and pounded the Tattnall Co. defense for a 13 play 58yard drive that took 7:01 off the clock, and was capped off on a Jackson Berry 1-yard run to give the Indians a 8-0 lead following a 2-point conversion run by Jamarion Phillips.
Vidalia held Tattnall to just one first down on their opening drive, and following a 33-yard punt took over at their own 49-yard line with 28 seconds left to go in the quarter. From there it took the Indians only 5 plays to put points on the board, when Jackson Berry hit Antonio Barron on a 42-yard pass play to put the Indians up 15-0 following an Adam Crutchfield PAT.
Vidalia's defense, which held Tattnall to just 40 first half yards, forced a three and out and a punting situation on 4th down. The Indian special teams got the next score for Vidalia, when Ronald Pointer blocked the Tattnall punt and recovered the ball for a touchdown, giving Vidalia a 23-0 lead following another successful 2-point conversion.
Vidalia's final score of the half and the night came with 54 seconds to go in the half when Antonio Barron took a toss and swept around the right side for the score to give the Indians a commanding 29-0 lead at intermission.
Tattnall County's only score came on the first possession of the 2nd half when Xavier Friendly took it in from 1-yard out to make the score 29-7. Vidalia had a couple of chances to add to the total, but two potential scoring drives were stopped by penalties and a turnover.
On the night the Indian offense totaled 317 yards with 245 of those coming on the ground. Antonio Barron had 12 carries for 122 yards, while Jamarion Phillips broke the 100yard mark for the first time this year with 115 yards on 15 rushes.
On the defensive side Sam Sapp led the way with 9 tackles and a fumble recovery, followed by Pointer with 5 tackles the blocked punt for a TD and a batted pass.
The Indians are back in action Friday as they travel to Nahunta to take on Brantley County at 7:30 p.m.