Posted on
Toombs Rolls Over Brantley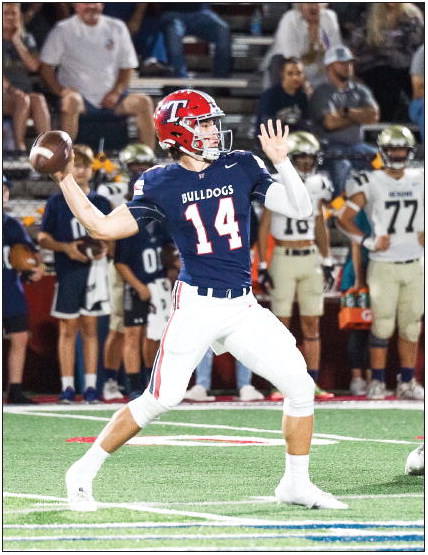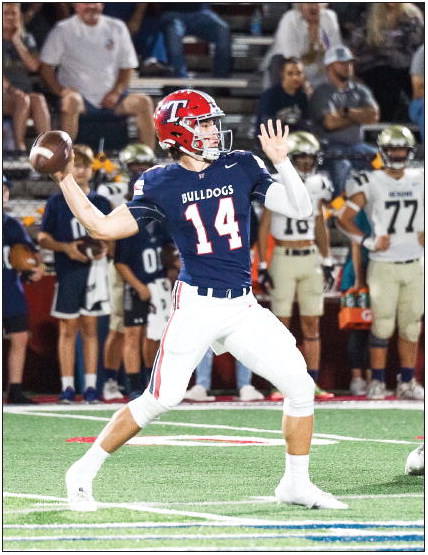 Courtesy of TCHS
On Friday, Toombs County High School's Bulldogs football team hosted Brantley County in Region action. The Dogs cranked up the offense early, utilizing the run game to pave the way for a potent aerial assault.
Hayden Roy ignited the crowd early on, scoring two rushing touchdowns in the first quarter on runs of 8 yards with 6 minutes to go and again on a 3-yard run with 1:39 remaining in the quarter. Braylen Dietrich showcased his reliability, converting both point-after tries, propelling the Dogs to an early 14-0 lead.
In the second quarter, the Dogs continued to rack up the points. TJ Stanley and Mike Polke combined for a dazzling 44-yard touchdown pass, and it didn't take long before Stanley connected with promising sophomore, Gavin Fletcher, on a precise 24-yard strike with 4:52 left in the half. Freshman standout Alex Scott completed the scoring, sprinting 32-yards for his first Varsity touchdown with 2:59 left in the half. Dietrich, true to form, maintained his perfect PAT record for the night, establishing a commanding 35-0 lead at intermission.
The second half raced by, courtesy of a running clock — marking the fifth consecutive game the Bulldogs have invoked the mandatory GHSA rule. Yet, the highlight reel wasn't complete. Stanley connected on a 71-yard touchdown pass, finding senior Keshon DeLoach, who extended the Toombs lead to 42-0 with 7 minutes remaining in the third quarter.
The "Red Bullet" Defense delivered their fourth consecutive shutout, restricting Brantley to just 4 first downs and 66 yards of total offense. The defense was led by Brock Nobles, Hayden Johnson, and Roy, all of whom registered sacks in the game. Additionally, Fletcher further showcased his prowess with a 21-yard interception return.
The Dogs are gearing up to face their most formidable challenge of the season as they travel to Appling County this Friday. With Appling currently ranked #1 in most AA polls and fresh off a thrilling 17-14 victory over Pierce County, anticipation is high. Meanwhile, the Dogs hold a respectable 8th spot in most AA rankings. Kickoff is scheduled for 7:30 p.m. in Baxley.