Posted on
Every Day Is an Adventure for Elementary School Principal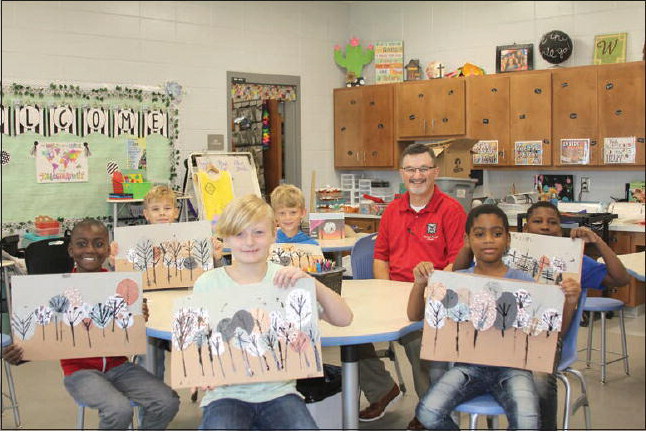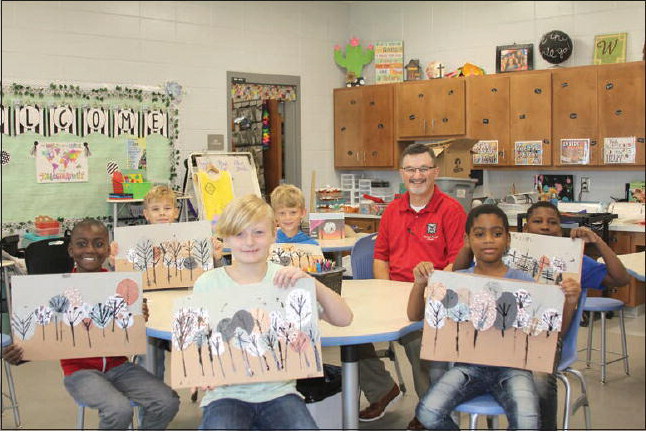 Every day that Dr. Quent Floyd walks into his office at Wheeler County School is a good day. That's not because his job as an elementary school principal is without the issues or problems that everyone faces, but because he knows he works in a positive and supportive environment where there are always paths to good outcomes. Dr. Floyd joined the staff at Wheeler's K-12 school this year, and he felt an immediate connection with not only the staff, but with the community. Having grown up in nearby Bleckley County, the career educator is accustomed to small, Southern communities where everyone knows everyone. In his opinion, that is a plus. In Wheeler, he felt right at home. He has to commute 52 miles from his home in Bleckley County to and from Wheeler County, but he said that is not a problem since the weekday trips offer time to reflect.
Dr. Floyd's first foray into the real world after graduating from high school was the U.S. Navy where he served six years as a fire control technician/ weapons system operator on a fast-attack, nuclearpowered submarine. He was based in Charleston at a duty station which has since been closed. After his tour of duty was up, he decided to study to become an educator. Why? He had seen his younger brother struggle in school and as he and his parents helped his brother with his studies "that planted the seeds for something that would sprout later." He was drawn to the idea of helping children build on a solid educational foundation.
He earned an associate degree from Middle College at Cochran and a bachelor's degree from Georgia College and State University at Milledgeville. He later earned a doctorate from the University of the Cumberlands based in Kentucky. His Career in education began with a teaching position at Middle Georgia Wilderness Institute, a private facility in Bleckley County for troubled youth. He taught middle school math and science in Houston County until 2005, and then took on the jobs of assistant principal and principal in Bleckley County, where he retired after 16 years of service.
He had retired when the opportunity to teach in Wheeler County surfaced. "I was unsure as to what to do once I retired. I felt young enough to keep working," he said. Dr. Floyd and his wife, Christy, a dental hygienist, have a 13-yearold son, Jake, who is a seventh grader, and Dr. Floyd wanted to work until his son got through college or out on his own.
Dr. Steve Smith, executive director of Heart of Georgia RESA, knew of the need for an elementary school principal in Wheeler County and he knew his recently-retired friend, Dr. Floyd, was looking for a part-time position. "He was the catalyst," Dr. Floyd said of Dr. Smith. Superintendent of Wheeler County Schools Suzanne Couey offered Dr. Floyd the opportunity to return to education as a "49 per center." When an educator retires and is drawing a Teachers Retirement System pension, they are allowed to work part-time, or at 49% of their original salary.
Dr. Floyd is supported by two assistant principals, Kim Stinson and Brandon Pope. Pope was previously a high school economics instructor and Kim Stinson served as an academic coach. "They know the area and the folks, and they provide me great information. It is obvious that they pour their hearts into the kids. I think the school is in great hands for the future," Dr. Floyd said.
Dr. Floyd doesn't care to spend his entire day in his very pleasant office with windows that look out on the student playground. He would rather be walking through the halls, poking his head into the classrooms, and interacting with staff and kids. He brightens up in the presence of children, and they respond to him as he bends down to admire an art project or kneels next to a pint-sized table surrounded by prekindergarteners enjoying a snack. It is apparent that he is enjoying his day and that he is meant to be in this role. "I love to see the magic between the teachers and kids. The kids need to know how much we care about them, or they are not going to give us their best. There is an old saying: 'They don't care how much you know until they know how much you care.' I firmly believe in that. I believe that all of the faculty and staff believe that."
He reflected, "As a leader at Wheeler Elementary my job is to provide teachers what they need to so they can help children grow, and to make sure we are in a safe environment."
He said of communicating with staff, "I listen to the teachers. Can I help them communicate with parents? I am here to support them and the children."
His aim is to involve all of the assets at hand in decision making. "I like to involve lots of other folks in decision making; that is the best approach for getting feedback from others. I am not the one in the trenches, the ladies and gentlemen in the classrooms are."
He also believes in involving parents in their child's education. "I feel that you are not taking advantage of all of your assets without involving the teachers and the parents in the decisions that you make to do what is best for kids. Is everyone going to agree? No, certainly not. But we will know where everyone stands and move toward making the best decisions."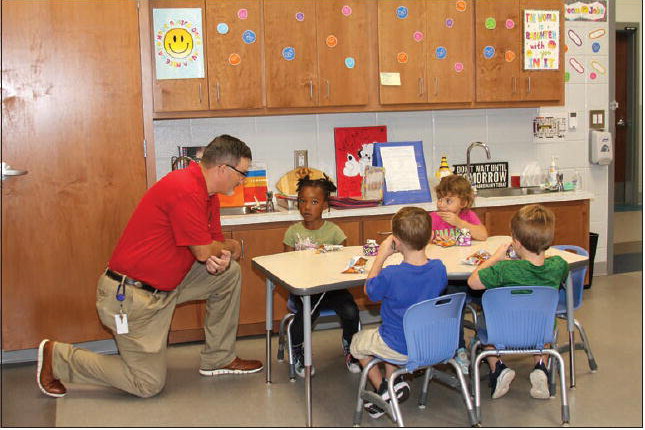 INTERACTING WITH KIDS — Dr. Quent Floyd would rather be in the classroom visiting with students and teachers than anywhere else. Here, in Mrs. Megan Stokes's classroom, he chats with prekindergarten students who are taking a break to enjoy morning snacks.