Posted on
continued from page lot of ….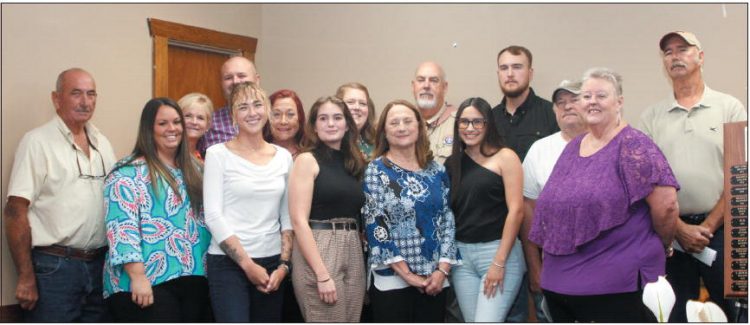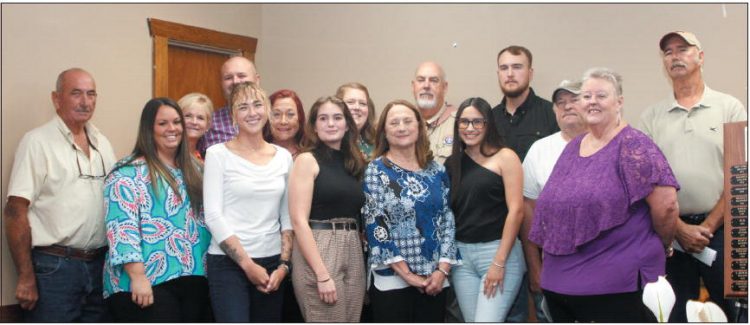 continued from page
lot of people in this room that deserve this a lot more than I do."
Members of the Boy Scout Troop 939, of which Stephens serves as Scoutmaster, along with 14 members of Stephen's family were in attendance in the crowd to witness him receive the award, along with the ceremonial Key to the City, which is given by the Lyons Mayor in recognition of the Citizen of the Year awardee.
"You are very deserving of this and we all know it," Mayor Willis NeSmith Jr. emphasized.
"[He is] a hard worker, both inside and out – inside for monetary value and outside for passion," 2022 Lyons Citizen of the Year Lucretia Nobles shared regarding Stephens. "He loves the land because he was raised on a farm and had work to do – he was a steward of the land. He is a family person – a dear husband, a loving father, and a superhero to the grandchildren. He is a father to many boys who are not his own, and spends a great amount of time with them [through the Boy Scout troop]."
She continued, "He is a gentleman and a friend to all. He cares about others, as he has been a continuous blood donor for many years. He believes in the American way of life by the actions he is involved in and carries out. He is a person that believes that one should leave this world in a better place than he found it. A person in need would love to have him on their side – he would give the shirt off his back to help someone in need. He is an enthusiastic person and loves the environment, survivorship, and friendship."
Nobles shared about Stephens' life in Lyons, as she explained he was born on July 2, 1960, to Jack and Elaine Stephens. He has four siblings, who all worked on the family farm near Adrian. His father had a full-time job and managed the farm in the spare time, and his mother split her time between a fulltime job, parenting, and chores around the farm. The Stephens family was very active in the community and church, which is evidenced through Stephens' value of those two things, according to Nobles.
Stephens attended a diesel mechanic school in Nashville, Tennessee, where he earned a Master's Technician Degree. After working a few years at a diesel shop, Stephens decided to open his own mechanic shop, which he has had in Lyons for 43 years. In the past five years, he has opened two new businesses outside of Lyons involving parts sales.
He has three children – Jessica, Cheyney, and Martin – along with two grandchildren – Cheville and Cash – and a wife of 30 years, Brenda. He is an active member of Lyons First Methodist Church.
Stephens also serves as a faithful supporter of youth within the area, whether it is support and/ or coaching during Martin's involvement with recreation and travel baseball during his childhood, or through his commitment to Toombs County Schools athletics as an athletic booster, even after Martin's graduation from the school system. He is a known supporter of the Toombs County Future Farmers of America (FFA), as he values both youth and farming.
He continues to work on the family farm in his free time, and the space serves as an excellent hunting location for him and his family. Stephens also utilizes the land to raise cattle – a family tradition passed down through generations.
One of Stephens' greatest contributions is through his work with Boy Scout Troop 939, with which he became active when Martin became a cub scout. He helped encourage and support his son until he reached Eagle Scout status and continues to support numerous Scouts as they work to reach the same achievement. Stephens enjoys his work as Scoutmaster and is even working to create a new Cub Scout pack in Lyons. "He organizes hiking and other excursions monthly and is a great role model for boys within the troop," Nobles emphasized.
She gave an example of this. "Kim and his troop went down to Madison, Florida, over the weekend of September 16 to help several families with debris clean-up and removal when Hurricane Idalia swept through," she told the audience.
In addition to all of this, Stephens further mentors youth through a partnership with local school systems in the work-based learning program, which helps to prepare students for future employment.
Nobles wrapped up her biography of Stephens, sharing he had been a sponsor of organizations, such as the National Rifle Association and National Wild Turkey Federation, and local events such as The Real Squeal BBQ & Music Festival.
"Kim feels that giving back to his community is the right thing to do," she summarized. "He who is persistent in his work toward success will wear a crown. As President Gerald Ford said, 'Boy, do we need Scouting.'" Keynote Address
Toombs County Magazine owner and Greater Vidalia Chamber Chair-Elect Stephanie Williams presented the keynote address of the evening, as she highlighted the importance of community.
She explained that the criteria for the Citizen of the Year evaluated the character, commitment to the community of Lyons, civic involvement, cooperation with community leaders, enthusiasm for the city, and contribution to the lives of other citizens. "When I look around this room, I see many of you who could easily fit into that category because there are a lot of unsung heroes," Williams emphasized. "I mean, I see people that have affected my life for the last 45-50 years. Maybe you volunteer at The Real Squeal. Maybe you help with blood drives. There are a lot of ways that people serve every day."
Williams continued, "I saw Jane Benton here, and thought 'Bless her heart.' When I was in high school, she used to have all of the United Methodist youth group over to her house every night and would feed us and teach us about Jesus. People like that are real leaders in the community continued from page
because they're making the community what it is.
"A Citizen of the Year is really just an ordinary person doing extraordinary things in their community," she summarized.
Williams connected the importance of the Citizen of the Year with the importance of community. "What is community?" she asked the audience. "Is it just a geographical area? Is it defined by city or state policies? Is it a number of people? What really defines community? To understand that you have to understand the value of people within the community because that is where community starts."
She reminisced on when she first moved to Lyons in elementary school. She explained that upon first learning she was moving, she protested the situation to her parents, as most children do. She said that she was happy with her life in Lawrenceville, where she spent her days in an air-conditioned school and taking biweekly trips to the mall.
"We moved during spring break, and one day, my dad told us all to load into the car and ride around town so he could show us our new home town," she recalled. "I thought the place was very beautiful, but I said, 'But, where's the Burger King, Dad?' He told me there wasn't one but there was a Weenie Bird and a Tasty Freeze, and that he thought I'd like both."
She continued, "We continued riding and I asked where the mall was. He told me that we probably wouldn't get to go as much as we used to because it was in Savannah. Then, we drove by my school and I asked why there were so many windows, and he explained that the way school used to be, you just had fans and you would open the windows for ventilation, but he told me that I would be fine.
"At that point, I remember being in the backseat, and I busted out crying and said, 'I want to go back to Lawrenceville,'" Williams said. "Now, my Dad said, 'Give it time.' What I didn't realize as an 8-year-old is he was so right because what community is about is not buildings or whether or not you have Burger King or any of that, what I would learn is that community is about the people. It's all about the people, and it's about nothing but the people."
Williams explained that this concept had grown truer to her throughout the years of her life. "The heart of the community is how people connect and bond, and how they grow together and support each other. Do we want growth? Of course, we want growth – we have people moving into this community all the time. Growth is good because we can offer resources to people if we have growth. But what really makes a community stronger is the ability to provide stability, security and peace to people that live here."
According to Williams, community is similar to a quilt, in that it is several different people with different backgrounds coming together to make something beautiful. "We all come from different backgrounds. We all have different thoughts on life. We raise our kids differently. We go to different churches – we have different belief systems. We all look different. But when you knit us together, we make the most beautiful tapestry which is a unique, complete object that can serve a purpose," she told the crowd. "Separately, we can still do things we need to do. But when we're woven together, we are strong – we are beautiful, and we serve a purpose together. We are unified."
She emphasized, "It takes every bit of material to make a quilt complete. If you leave a square out or a piece out in the middle, you have a hole, and it's not serving its purpose. Having us all knitted together allows us to thrive. We all have to be willing to do that; it takes all of us playing our part."
Other Aspects of the Night
The 51st Citizen of the Year event was hosted by Lyons Lions Club President Christian Burton, who entertained the crowd with his comedic banter and his unique performances of "Onionville" and "I'm a Believer."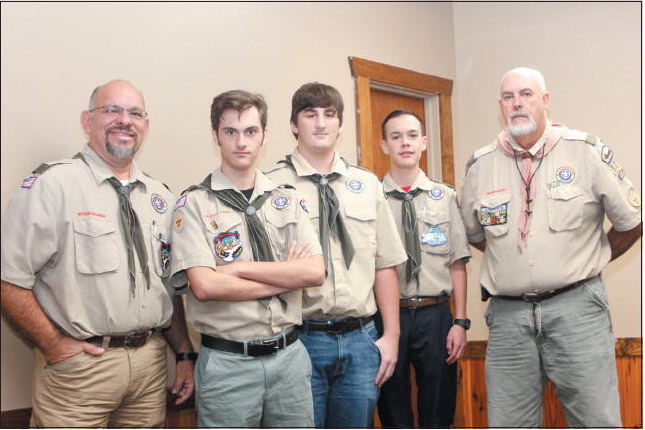 A SELFLESS MENTOR – Raymond Kim Stephens is known throughout the community for his mentoring of youth, as he serves as the Scoutmaster for Boy Scout Troop 939 of Lyons. L to R: Scout Leader Win Tippett, Nicholas Matthews, Tyler Cook, Isaac Fontaine, Scoutmaster Kim Stephens.Photo By: Makaylee Randolph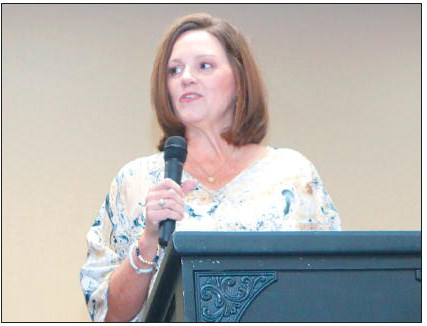 COMMUNITY IS A QUILT – Greater Vidalia Chamber Chair -Elect Stephanie Williams spoke to the attendees at the Lyons Citizen of the Year banquet and explained the importance of working together as a community.Photo By: Makaylee Randolph