Posted on
VHA Falls To Stallions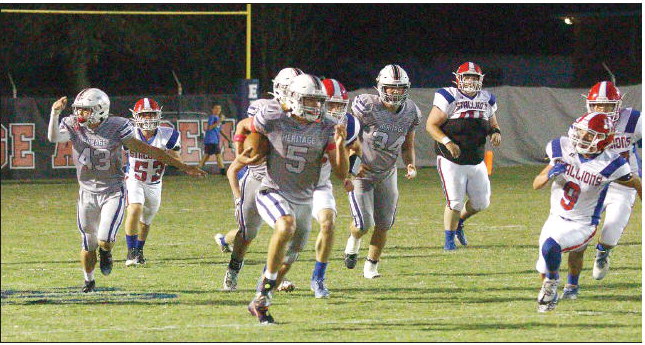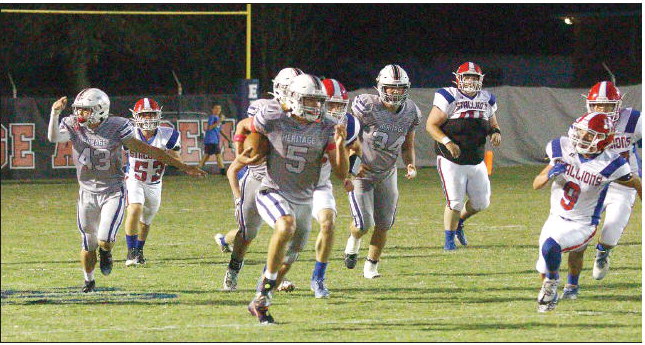 The Eagles football team of Vidalia Heritage Academy suffered their first loss of the season last Friday night as they hosted Holy Ground Baptist Academy. It was a close, high scoring game, but VHA came up just short.
Heritage put the first points of the game on the board in the first quarter with just over six minutes on the clock. Trevor White took it in from three yards out for the touchdown. The did not get the twopoint conversion, but VHA was up 6-0.
Heritage added another touchdown on a big 65-yard run by Dalton Price with less than a minute to play in the first quarter. White added the twopoint conversion to put Heritage on top 14-0. The Stallions of Holy Ground quickly answered as they broke a big run to close the lead to 14-6 at the end of the first. Early in the second quarter, Price took it in from 10 yards out to increase the Eagle lead to 200. The Stallions added a touchdown with just over three minutes left in the first half to make the score 20-12, with VHA on top.
Holy Ground tied the game at 20-20 with just over a minute left in the first half on a passing touchdown. They tacked on the two-point conversion for the 20-20 tie. They then got the ball back and just before the end of the half the Stallions found the end zone again, this time on a 70-yard run. They didn't get the two-point try, but that gave them their first lead of the night, 26-20.
In the third quarter, VHA went back in front with a touchdown pass from Jake Adams to Dylan Green. White went in on the two-point conversion to put VHA on top 28-26. VHA extended the lead to 34-26 with a two-yard touchdown run by White with just over a minute left in the third quarter.
But in the fourth quarter of the game with nine minutes to play, Holy Ground found the end zone on a pass to close the lead to 34-32. They took the lead, 38-34, with seven minutes to go on a rushing touchdown.
Less than a minute later, Heritage was back on top with a run by Hardy Franklin and a two-point conversion by White. Heritage led 44-38.
But with less than one minute to go in the game, Holy Ground got back into the end zone on a pass play to take the lead, 44-42. They tacked on the twopoint try to lead 46-42. And that was the way the game ended with Heritage falling, 46-42.
This week VHA looks to bounce back at Sherwood Christian on Friday night at 7:30 p.m. in Albany.