Posted on
Indians Run In Two Meets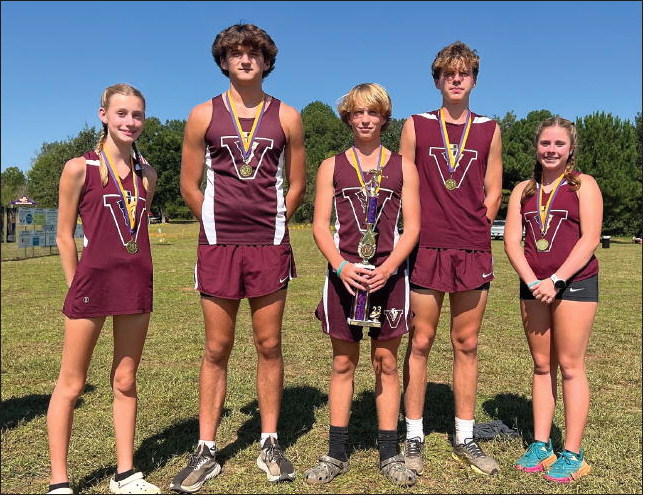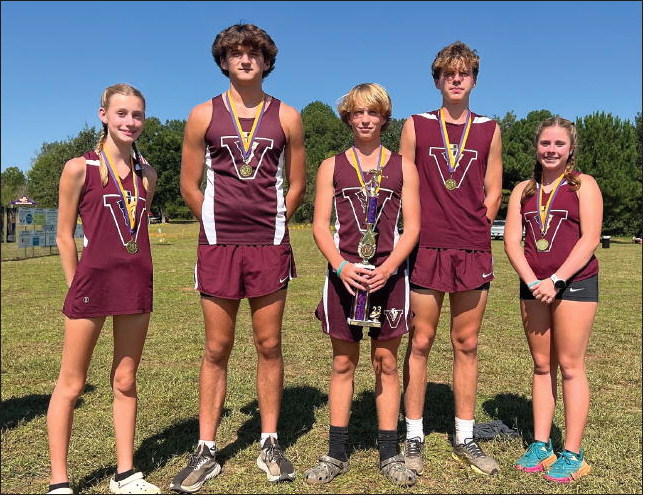 Courtesy of VHS
It was a busy week for the cross country team from Vidalia High School. They kicked it off with a trip across the county to the Bulldog Invitational held at Toombs County High School on Thursday. They then traveled to Jones County for the Greyhound Invitational on Saturday.
Toombs County
The Indians hit the trail at the Toombs County Bulldog Invitational and came away big. The boys had 6 medalists and came away with the team victory while the girls had 2 medalists.
Andrew Hodges led the pack with a 2nd place finish while Jude Owen was just behind him finishing 3rd. Other top placers for the boys were Chamlee Evans placing 7th, Cash Driggers placing 11th and Liam MacGregor placing 12th and Abrien Anthony finished16th. Freshman Simon Collins ran a significant personal best and was the team's 6th finisher.
The girls were led by Judith Hussey, who finished with an outstanding personal best race as she placed 9th and Sadie Siegmund placed 15th.
Coach Mandy Godbee said, "The whole team continues to grow and develop. Each and every day they set the standard higher and put forth effort to achieve their goals. They are a very talented and focused group of athletes and it is such a joy and honor to coach them."
Jones County
The Vidalia High School Indians cross country team traveled to Jones County to compete for the second time in 48 hours. They came up big bringing home 5 medalists, 6 personal best performances and a third place finish for the boys.
Leading the pack for the ladies was Georgia Meredith with a 6th place finish. Georgia continues to compete and race with some of the best runners in the state. Judith Hussey put in another huge personal best performance knocking off 40 seconds from her previous personal best on Thursday, finishing 25th.
The boys team rallied to finish 3rd to Jones County and Veterans High School with the combined efforts of Andrew Hodges, Jude Owen, Cash Driggers, Chamlee Evans and Liam MacGregor. Hodges placed 12th and Owen placed 13th in a large, competitive group of runners. Owen busted through a barrier he has been chasing all season as he ran under 18minutes with a time of 17:37. Liam MacGregor surpassed a barrier as well, running under 19 minutes for the first time with a time of 18:54. Freshman Gabe Cleghorn also had another personal best in the JV race with a time of 22:43, finishing 20th.
Coach Godbee stated, "This meet was a gut check for these athletes as they knew it would be difficult to run on tired and sore legs, but they were certainly up for the challenge. Back to back meets show you how badly they want to run fast and how tough they can be. They did not disappoint."
The Indians hit the road again for the Night Run at Bleckley County this Thursday.