Posted on
Next
NEXT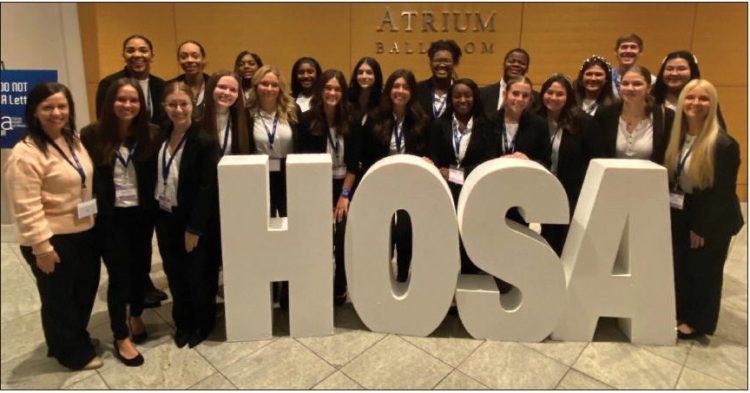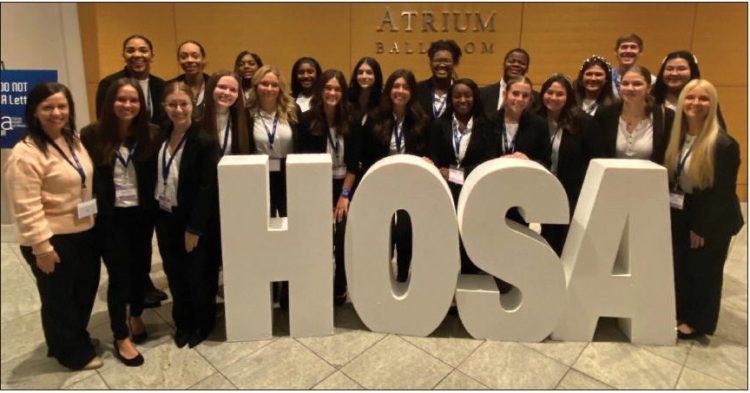 continued
come. "I help guide them in what they can do to get a positive experience," he explained.
Noting that VHS has a robust health sciences occupation program, Harden said the community is lucky to have this program and its instructors. "We need to reach out to young people early because that is our best opportunity to encourage their interest in a health care profession."
Investment in Health
Care
Meadows and its parent company, HCA, offer multiple tuition reimbursement opportunities for colleagues who join their health care team in entry level positions and who wish to pursue education in health care. "Once they become part-time or full-time employees, we can support their higher education. We want them to know if they come here they will have the opportunity toadvance," Harden said.
The program is not so much a scholarship as a complete payment for education, Harden said, noting the program is part of Meadows' and HCA's continual effort to reinvest in its workers. HCA owns Galen College of Nursing, which, with 19 campuses plus online studies, is one of the largest educators of nurses in the country. Since 1989, the college has graduated over 30,000 nurses. Employees of HCA-connected facilities who have an associate degree can earn a bachelor's degree there completely free. The criteria is that the student has to be an employee in good standing of an HCAconnected facility and pursuing a nursing degree, and also must commit to working for HCA for a certain period of time following graduation.
Harden, who has degrees in nursing and business, has combined his education and experience to work in a unique position at Meadows, and emphasizes that employment opportunities in the field of health care go far beyond the traditional roles people usually think about. Among these roles are: medical lab technologists, physical therapists, radiation therapist, dosimetry (personnel who calculate doses of radiation), imaging specialties, medical billing and coding, supply chain management, customer service, supplying medical equipment after discharge, social work, and administration.
A majority of students involved in programs at Meadows are female and show an interest in becoming nurses. Nationally, only 18% of nurses are male, but this is beginning to change, Harden said, emphasizing, "Our percentage of malefemale ratios is starting to balance in the clinical field." In the programs at Meadows, students are often placed in areas that are not nurse-driven so they can see there is much more to health care.
Dr. Meredith, whose daughter just completed an experience as a Volunteen, said, "It is special to see my child awaken to the love of health care." She advocates starting the process of introducing students to the profession of health care even earlier than high school. "We have got to go back to middle or elementary school to capture and nurture younger people."
She enthused, "With the Volunteen program the sky is the limit! I would like to see some non-medical health care fields integrated into this program. We have tons of people here who could make this work."
Having students on site is the real deal, she said. "It goes beyond the public perception and what is on TV — Grey's Anatomy or Scrubs — it is a different reality. As these students are exposed to different aspects of the hospital it shows how effective the health care system is."
Hasbrouck summarized, "We have seen a reduction in national health care employment. COVID did us no favors. It put up barriers and created fear. People were retiring and fewer people were going into health care. But we are going back in the right direction now. Programs like this are really important. We are now on the rebound and it's exciting to see."
For more information about the Volunteens Program, call Hillary Thompson at 912-535-5519, or email her at: Hillary. Thompson@HCAHealthcare. com.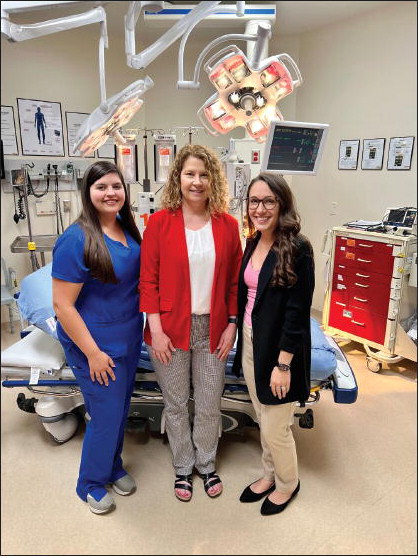 MYAB GRADUATES – Stella Fulford, left, and Haley Powell, right, flank Karen Claxton, Director of Medical Staff Services at Meadows. Both Fulford and Powell are graduates of the Medical Youth Advisory Board. Fulford is now working as a registered nurse in the Meadows Emergency Department where Powell is the Director. Powell said the MYAB program gave her the insight she needed to pursue a career in nursing.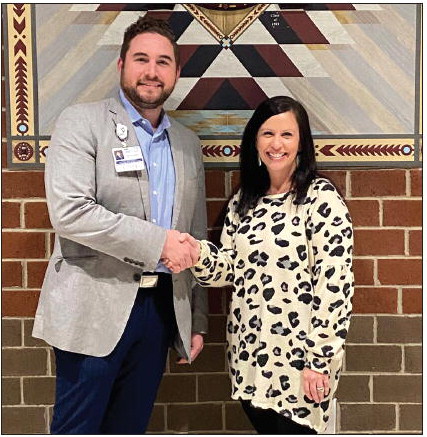 PARTNERSHIP – Jeff Harden, Chief Nursing Officer at Meadows, left, and Shellie Cleghorne, Vidalia High School science/health pathway instructor, shake hands at VHS after officially forming a partnership to bring students to Meadows as part of an innovative educational program.