Posted on
continued from page He ….
continued from page
He also shared that during his time at the Police Academy, Morgan excelled, never failing a single test. "Next time you see [Officer Morgan], you will probably see him in a vehicle by himself serving the citizens in the City of Vidalia. If he carries the mindset like I think he does – the mindset like every other police officer – he's going to drive by your house at night and say, 'Nothing is going to hurt you – not on my watch.'
"Take it to heart when I say it – when these officers stand on that wall [between you and danger], nothing is going to hurt you during the night or day," Jermon emphasized.
Corporal James Clubb is new to the City from North Carolina. "He had to go through an abbreviated course because he was already certified [in North Carolina]. He had a lot of experience – investigative experience. So, when he came to us, it was like God heard my prayer," Jermon added. "We want officers to come in. I like to keep people around me who are smarter than me – it makes my job a little easier."
He continued, "He had to sit in front of a computer to complete 16 hours of training, plus some firearms training. Just to show you what kind of individual Corporal Clubb is: he got over 100 hours of logged training. This is what we are hiring now. To me, the Council, the citizens of this city – this is what y'all deserve. We don't need someone who has been everywhere; this is what we need right here. This is what is going to make Vidalia stronger, [and] this is what is going to make Vidalia better."
In addition to these officers, the Department's new Police Behavior Health Specialist Mekelia Jinks was also introduced. "She has come and hit the ground running," Jermon commented. "We do have an issue with mental health. So, if you know someone who is suffering from things like suicidal thoughts, or if you know someone who is in a dark place, don't blow it off. Send them to Mrs. Mekelia. She's not here just for the police – she's here for the city of Vidalia and Toombs County."
This position was first introduced in December 2022, as both the Vidalia Police Department and Lyons Police Department received a grant through a partnership with Leigh-Anne White and Company to hire social workers to help respond to crises caused by mental health diagnoses, substance abuse, or family matters in Toombs County. These specialists serve to help address not only the mental health issue within the county, but also the issue of homelessness.
New Department Chaplain Pastor Carl Wardlaw, III, was introduced during the presentation. "I don't need to tell y'all that we all need Jesus – especially the police," Jermon began. "Police have the highest rates of divorce, alcoholism, and suicide."
He added, "Before we ever went to the Chaplain's Academy, he stood by me [at a call] and I had to lean on him. I'm proud to have him as my friend and our chaplain. If anyone here needs him – you may have a death in your family, you may get to a point where you say 'I just can't do this today – if you call, he's coming. Just the other day, he was giving victims water while we were out there with the deceased male. That's big because you have police officers out there standing in the heat – standing in the gaps – and he stood up and said, 'I will.'" Presentations
Also, during the meeting, Toombs County Probate Judge Tina Lindsey issued the official oath of office to new City Finance Director Patricia Glover. Glover was hired at last month's Council meeting, where her employment was unanimously approved. Prior to coming to Vidalia, she served as the Assistant Budget Director for the City of Savannah. She also was the City Manager of Blue Mountain, Mississippi, for over four years, and acted as the Director of Internal Audit at American Contract Bridge League for over five years.
Member Services Consultant Artiffany Stanley recognized Councilman Loyd Mobley for his completion of training with the Georgia Municipal Association.
Public Participation
Pastor Ronald Miller and local business owner Matthew Bright each addressed the Council about their concerns over street and grounds keeping issues in the City during the public participation portion of the meeting.
Miller requested that the City seek grants for improvements on street lighting, sidewalk repair, and other elements of the infrastructure. He emphasized that the City is doing well and that he is proud to be a citizen of Vidalia, but that a few changes could make it even better. Miller offered his help in seeking grants, stating he has experience working alongside municipalities to gain funding.
Bright addressed the Council about his frustration with water that remains in puddles behind his business, A Taste of Philly, located on McIntosh Street. He noted that the water has been there for over five months, and also asked the Council about how often a street sweeper cleans the street near his business.
The Council assured the men that they had heard their concerns and would discuss possible solutions to the issues.
Tourism/Chamber Updates Sweet Onion Golf Authority Chairman Andy Woodruff informed the Council that the final erosion control plan was completed for the construction of the course, meaning that progress may move forward with the creation of the facility. Woodruff said that timber will now be cut in several areas of the course.
Vidalia Onion Festival Chairman Jake Cleghorn told the Council that the Committee has submitted several proposals to talents for the 2024 Vidalia Onion Festival Concerts and hoped to hear back soon. Greater Vidalia Chamber Executive Vice President Debbie Evans shared several dates for upcoming events sponsored by the Chamber, including: the Summit – September 28; the State of Industry – October 5; and, the Business Expo – October 12.
Downtown Vidalia Association Executive Director Tonya Parker notified the Council that she has submitted the Rural Zone Application for Downtown Vidalia and hopes to hear the result of the application soon. She also announced the dates of upcoming events sponsored by the Association, including the Coffee Before Hours at Accessorize It! on Wednesday, October 4, from 8 a.m. until 9 a.m. and the Food Truck Fest, which will be held from 11 a.m. until 8 p.m. on Saturday, October 14.
Action Items
Council Members approved to contract Progressive Landscaping & Irrigation to mulch 14 acres of airport property and 3 acres of city property. The project will cost $33,788.90: $26,640.00 for the Airport property; $6,648.90 for the city property; and $500 for trash removal. The cost for the mulching at the Airport will be covered through the Airport Funds, while the General Fund will pay for the mulching of city property and the trash removal.
The Council also agreed to advertise for bids for two acres of land after the completion of a final survey.
Sacred Heart Catholic church was authorized to hold a Toombs County Life Chain event on Sunday, October 1.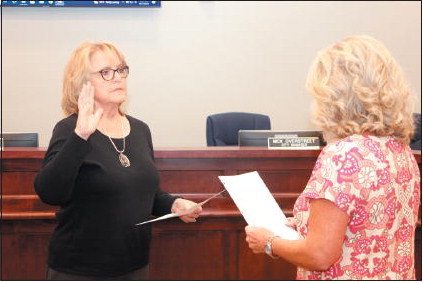 SWEARING IN – Toombs County Probate Judge Tina Lindsey administered the official oath of office to new City Financial Director Patricia Glover. (left)Photo by Makaylee Randolph