Posted on
Vidalia Survives Idalia
Winds & Rain Ravage Area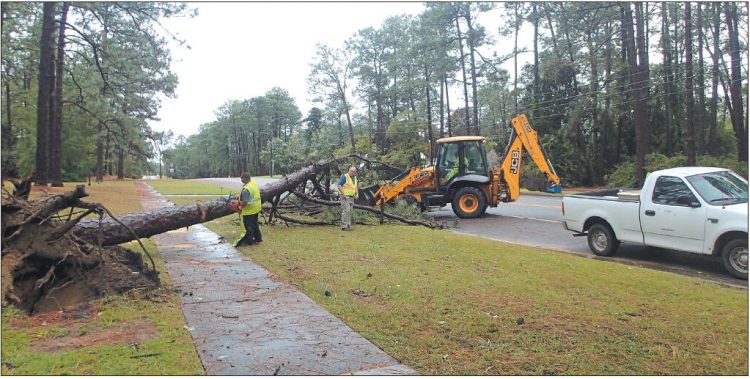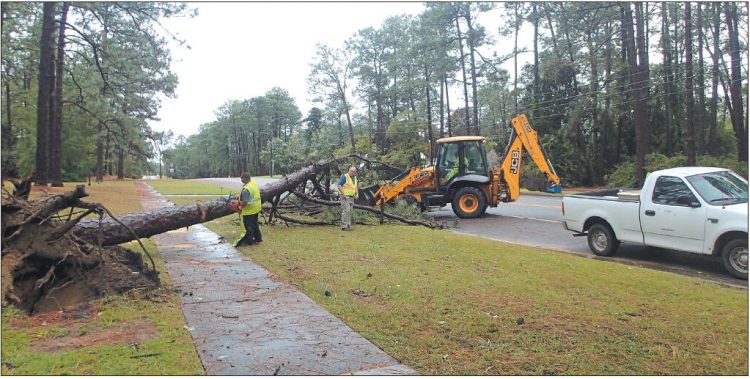 Hurricane Idalia slammed the area with high-speed winds, power outages, and rain on Wednesday, August 30, as the storm ripped through the area.
According to Altamaha EMC, a total of 10,345 meters experienced disrupted service after the strongest part of the storm. Georgia Power had a similar amount of disturbances, reporting just over 11,000 customers without power, most of which lost service during the last hour of the storm's moving out of the area.
Montgomery County Emergency Management Agency Director Donnie Daniels shared that over 55 trees were reported down, and local fire departments and other fire responders were dispatched to continued from page
clean up the mess. Daniels thanked Ailey Fire, Alston Fire, Higgston Fire, Mt. Vernon Fire, Tarrytown Fire, Uvalda Fire, Montgomery State Fire, Montgomery Co Sheriff's office, Montgomery Co Road Dept., City of Mt. Vernon, Mt. Vernon Police Dept., Toombs/ Montgomery EMS, County Commissioners, and many others who came to help the crews and the EMA office.
Daniels also spoke of his gratitude to the First Baptist Church of Mount Vernon and Better Together Ministries for opening temporary shelters for those that needed a safe place to ride out the storm. "Our county is blessed with great citizens who come to the aid of their fellow man in a time of need," he remarked.
Several power lines fell into roadways and other areas, and the Montgomery County Sheriff's Office landline was disconnected for a few hours due to difficulties caused by the weather. "Our 911 dispatchers worked hard to keep the lines of communication open even when the phone landlines went out," Daniels explained. He went on to share that the area received 5-6 inches of rain and over 40 mph winds as the hurricane passed through the area.
Many businesses and offices throughout the County closed for the storm, including the Montgomery County Courthouse, which closed at noon on Wednesday before reopening the next morning. The Montgomery County School System initially closed for the storm on Wednesday, but because of the amount of rainfall and downed trees, continued to be closed on Thursday, August 31.
Toombs County Emergency Management Agency Director Lynn Moore reported that most of the damage within the County came from the hurricane's high winds, which he said sustained at 29 mph, and gusted up to 49 mph. "We got a few calls to help remove trees, and one that fell was so big we had to call in the county road department to push it off with a backhoe," he said. "We also got some calls about downed trees but they were entangled with power lines and if they are, we can't touch them."
The exact number of downed trees was not recorded, but Moore shared that a total of 5 inches of rain fell in the area.
Vidalia Heritage Academy, Vidalia City Schools, Robert Toombs Christian Academy, and Toombs County Schools all closed on Wednesday to allow the students to safely ride out the storm at home, but because of the amount of wind and rain, Toombs County Schools closed for an additional day, Thursday, August 31.
In Wheeler County, the southeastern side of the county was left without power following the storm. As of Thursday morning, Little Ocmulgee EMC crews were still working to restore electricity to homes along Georgia Highway 19 — including the communities of Springhill and Shiloh — and elsewhere throughout the multicounty area served by the electrical cooperative.
Wheeler County Emergency Management Director Steve Adams said he and first responder crews were kept busy as the storm raged with trees and limbs falling onto over 54 roads. He said three vehicular mishaps occurred as drivers ran into trees that had fallen across highways. He said two persons were transported for medical attention, but he did not believe their injuries were serious.
Adams said, according to the National Weather Service, winds gusted to 68 miles per hour in some areas of the county. He said he was aware of some structural damage to two mobile homes, but no injuries were reported other than those of the victims of the vehicular mishaps. "The good Lord was looking out for us," he said.
Several county roads experienced washouts and county crews were busy making repairs Thursday. "We are pretty stretched out right now. Everybody we have on (public works) staff is working," said Wheeler County Commission Chairman Keith McNeal. He said that county crews were not only repairing roads, but clearing debris, and he expected their work to continue through Friday.
Wheeler County Superintendent of Schools Suzanne Couey said classes were cancelled Wednesday ahead of the storm due to its projected path across the region, and schools remained closed Thursday since about half of the county was without power. Some roads in rural areas that were compromised by flooding or debris were also an issue.
Overall, the counties were spared from the most brutal parts of the storm, sustaining only wind damage and heavy rainfall. Yet, with the continuation of Hurricane Season until November 30, more storms are possible.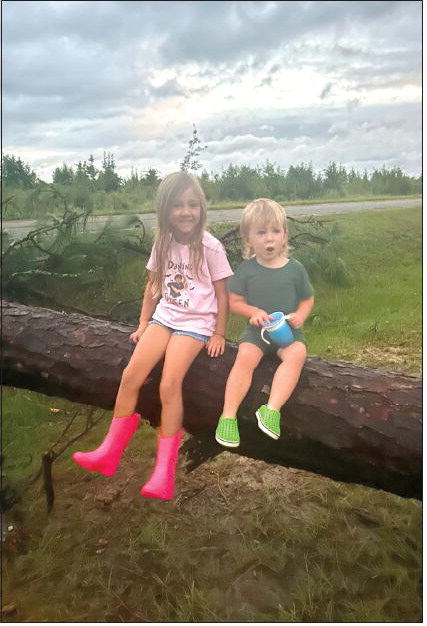 CALM AFTER THE STORM – After the storm vacated the area, Saylor and Laine Ledford relaxed on a downed tree that had blocked traffic on busy highway 280 in Higgston.