Posted on
MoCo Commission Explores Funding Options to Address Aging Facilities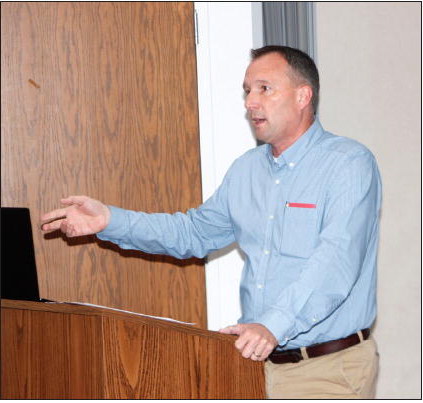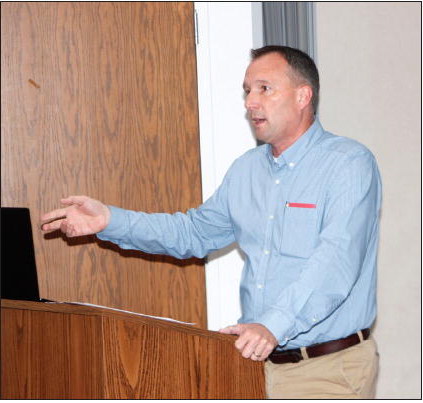 mrandolphadvance@gmail.com
The Montgomery County Commission listened to a presentation on the current state of their facilities and possible funding options to improve these facilities during a presentation by ABM Industries Bundled Energy Solutions (BES) Account Manager Greg Icard.
ABM Building Solutions is a contracted agent that provides services to thousand of clients in industries such as aviation, banking, life science, commercial office buildings and real estate, education, food and beverage, government, health care, manufacturing, nuclear power, parking, retail, sports, technology, warehousing, and more. The goal is to offer assistance and solutions for improving conditions within their clients' spheres. The group serves over 62 governments, school systems, colleges, and churches in Georgia, including the Johnson County government, Jeff Davis County School District, and Georgia Institute of Technology.
According to Icard, he was first contacted by Montgomery County Manager Brandon Braddy, who was seeking options for improving a large list of the County's facilities and grounds. After a 3-hour conversation with Braddy on the state of buildings in the County, Icard conducted his own preliminary survey of the County, noting several areas that need improvement or addressing.
Icard said that the most important problems facing local governments right now – in his experience – are aging infrastructure, jobs and economic development, affordable housing, and transportation. He shared that in his experience, local governments struggle with lack of funding for infrastructure, lack of staff capacity, and lack of data on how to proceed.
"That's where we come in," Icard emphasized.
One of the key factors in these issues is the change in the role of property taxes in the local government.
According to Icard's data, between 1977-2017, property taxes decreased from 31% to 26% of total local revenues, which has contributed to an increasing vulnerability to economic downturns. "Local revenues are not aligned with modern economic reality.
The changing economy has challenged the relevance of property tax. Antiquated revenue models impact local governments' ability to provide services critical to the needs of their communities," Icard emphasized.
He outlined the numerous goals that the Montgomery County leadership would like to see ABM Building Solutions assist with. Those objectives are: • Seeking proactive buildings and facilities upgrades with minimal impact to the current budget • Centralized HVAC control or building automation systems • Managing energy consumption and spending • An immediate pre –
ventive maintenance plan • Courthouse infra structure upgrades that need to be addressed as soon as possible • Funding pathway for EMS building • Long-term strategic plan for facilities • Understanding cost of action now versus inaction, which could cause higher future costs and reduced potential success Financial solutions to accomplish these goals include solutions for energy, in-house staff, contracted services, major repairs, parts and materials, administration, lost productivity, and capital.
To address common energy conservation measures and facility solutions, several potential methods were discussed. For example, replacing lighting in facilities with LED lighting could help with energy efficiency in Montgomery County. Right now, around half of the County buildings utilize LED lighting; thus, this change would only involve the half that has not made the switch.
Other energy conservation improvements could include building automation systems, HVAC upgrades, building envelope enhancements, indoor air quality improvements, and water conservation.
During the address, Icard directly reflected on the state of HVAC units in the county, sharing that many are antiquated. In an example of the utility profile and asset gradings that the company will complete for every building in the county, Icard spoke to the Commission on the HVAC units in the courthouse. He stated that many of the units – 10 of the total 14 – received "F" ratings on the ABM scale, meaning that they are past their expected lifetime and could endure catastrophic damage at any time. The other 4 units received "B" ratings, signifying that they had not fully completed their expected lifetime, but are expected to need replacing in 10 years.
He also provided an overview of the grading on unnamed assets throughout the county: 12 assets, equivalent to 20% of the county's total assets, received an "A," meaning that they would not need replacing for 11-15 years; 10 assets, totaling 17% of the total assets, received a "B" rating; 10 assets, totaling 17% of the total assets, received a "C" rating, meaning that they would need replacing in 6-10 years; 2 assets, totaling 4% of the total assets, received a "D" rating; and 25 assets, totaling 42% of the total assets, received an "F' rating, meaning that they would need replacing in the next 5 years.
Overall, Icard projected that the County would need to spend $417,582 on replacements of assets in the next 5 years, $111,357 in the next 6-10 years, and $189,580 in the next 11-15 years.
Icard informed the Commissioners that utilizing ABM Building Solutions' capital planning, the cost of replacing assets would be more streamlined between $800,000 and $400,000 over the next 15 years, rather than spike and fall between $3,500,000 and $1,000,000 over this time. This is done by inventorying and grading all assets, creating a needs-based long-term capital plan, providing solution influence that allows County leaders to make well-informed decisions, and helping to identify operational, maintenance, and repair savings. If the county chooses to contract ABM for these services, repairs will be made to these facilities utilizing leases, which the County will pay over time as it saves money. Because of the verbiage in the lease agreements, ABM at no point in time will have the ability to "foreclose" upon any facility, but will work with the local government to fund the project.
Upon the County's decision to move forward with the company, a request for qualifications will be posted for 30 days to receive offers from other companies. After those 30 days, if the County chooses to select ABM for services, an investment grade audit will be completed and a solution development will be created.