Posted on
Autumn days were meant for Apple Cake with Praline Topping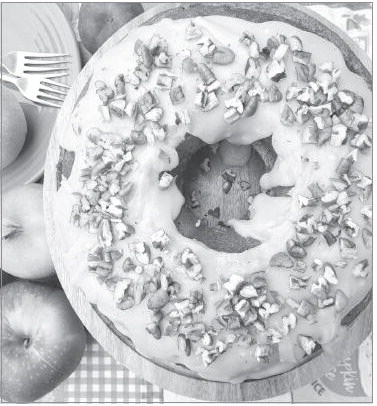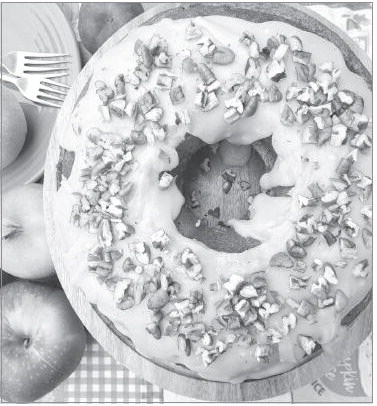 Azure Rountree
Fun, Delicious and Festive
The sweetest aroma to come from a kitchen is fruit baking in the oven, and one of the best ways to usher in this fall is with the Apple Cake with Praline Topping. This moist dessert has tender apples baked in a delicious cake and then topped with a cooked brown sugar frosting and chopped pecans making it truly an Autumn treat.
Apple Cake with Praline Topping
For the cake:
3 cups All-Purpose Flour 1 teaspoon Baking Soda 1 teaspoon Salt 2 cups Sugar 1 ½ cups Vegetable Oil 3 large Eggs 2 teaspoons Vanilla Extract 2 to 3 large Red Delicious or Granny Smith Apples (peeled & diced small) Preheat oven to 350 degrees.
Grease a tube pan, then line the bottom with wax paper and set aside. Combine the flour, baking soda and salt, then sift into a medium size mixing bowl and set aside. In a large mixing bowl and with an electric mixer, beat together the sugar, vegetable oil and eggs. Beat the flour mixture into the wet ingredients, then beat in the vanilla extract. Fold in the diced apples, then add to the prepared pan. Bake on the 3rd (middle) rack for around 1 hour or until a fork comes out clean. Let sit for 25 minutes, then run a knife around the sides and in the center of the pan. Turn the pan over onto a cake plate to cool. Make the praline topping.
For the topping:
4 Tablespoons Unsalted Butter 1/2 cup Light Brown Sugar 1/4 cup Evaporated Milk 1 teaspoon Vanilla Extract 1 cup Powdered Sugar 1/3 cup chopped Pecans In a 2-quart pot and over medium heat, bring butter, brown sugar and evaporated milk to a boil, then cook while stirring for 1 minute. Remove from heat and stir in the vanilla extract, then stir in the powdered sugar until combined. Drizzle the frosting over the cake and sprinkle with chopped pecans.
Kid Friendly Recipes from the Kitchen of Azure Rountree is available at The Advance. A portion of the proceeds from every book sold will go to benefit children with special needs.