Posted on
Toombs Rolls Over Wheeler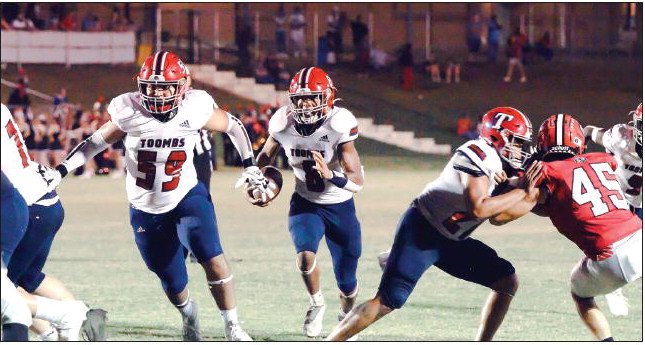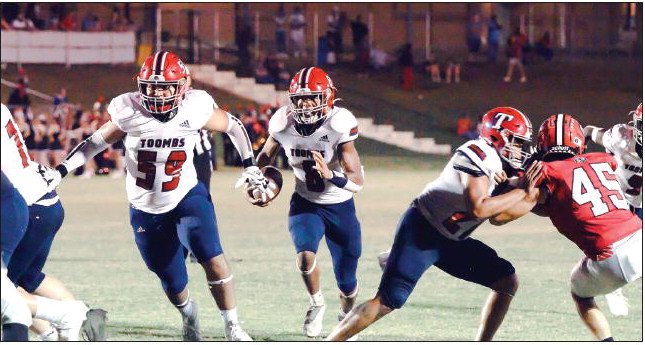 Courtesy of TCHS
On Friday night, the Toombs County High School Bulldog Football team hit the road for the second consecutive week, traveling to Alamo to face off with the Wheeler County High School Bulldogs. Both teams entered the contest 1-0 on the season. The Bulldogs from Toombs County were looking for their second 2-0 start in a row.
Toombs County opened up the scoring on the night in the first quarter when Hayden Roy scored on a 2-yard run with 5:07 left in the quarter. Braylan Dietrich nailed the point-after-attempt to give the Dogs a 7-0 lead. The scoring drive was highlighted by a 29-yard pass from TJ Stanley to Mike Polke on a big thirddown play.
The Red Bullet defense survived Wheeler County's next drive even though they gave up three first downs, all via penalties, before LaGonza Heyward picked off a Wheeler County pass in the red zone to give the Dogs the ball back with 9:50 remaining in the half. The teams exchanged fumbles on their next drives, and then a huge 52-yard punt from Dietrich pinned Wheeler back deep in Toombs County territory. Toombs County forced another Wheeler fumble and recovered it on the Wheeler 18-yard line. Two plays later, Roy punched it in again on a 13-yard running play. The PAT made the score 14-0 with 6:23 remaining in the half.
Wheeler County tried to move the ball through the air on their next possession, but Keyshon Deloach picked off a Wheeler County pass and scampered 32 yards for another Toombs County touchdown. Dietrich's kick made it a 21-0 Toombs County lead with 5:22 remaining in the first half.
On the ensuing kickoff, the Bulldogs caused yet another Wheeler County fumble and took possession on the Wheeler County 21-yard line. After a 12-yard run by Kammari Williams, Roy added his third touchdown on the night with a 9-yard run. Dietrich thumped another point after to give Toombs a commanding 28-0 lead. TCHS added a fourth Hayden Roy touchdown with :39 left before the half to give Toombs a 35-0 halftime lead.
On the opening drive of the second half, TJ Stanley found Sophomore Gavin Fletcher on a 36yard pass play for another Toombs County touchdown. Stanley also scored on the ground on the next drive, giving Toombs County a 49-0 lead with 4:33 left in the third quarter.
Wheeler County did add a touchdown on the final play of the game with a 61-yard run to make the final score 49-6. Prior to the 61-yard run, The Red Bullet defense held Wheeler to 91 yards of total offense.
Toombs County is off this week. Wheeler County will be on the road at Bryan County this Friday night in Pembroke with kickoff at 7:30 p.m.