Posted on
continued from page part of ….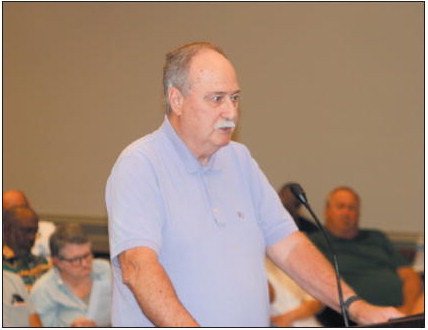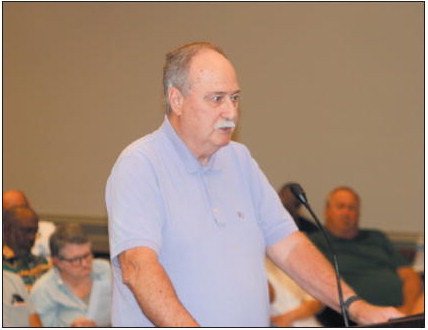 continued from page
part of our community for a very long time," Roper emphasized. "Anyone who went to Vidalia High School will know how much she poured into students for a very, very long time."
Upon receiving the award, Hansley addressed the crowd with a few remarks. "I just want to thank the honorable Mayor Doug Roper, and the honorable City Council, along with my pastor, his wife, and my church family who are all here," she began.
"As I think about serving, I believe it comes from the heart. It is a gift from above that comes from God," she continued. "I do have to lift up the name of my dear mother. Shirley Mae Hansley, who taught us years ago to serve. I can hear her voice now saying to me as a little girl, 'Mrs. Missouri or Miss Macy needs you to come and help them do something', or 'they need you to run an errand,' and she would follow it up with 'and you better not take anything if they offer it to you.' So, I knew early on that service was just like charity – it began at home. It was something you did because you loved and respected everybody."
She added, "I feel that way about the City of Vidalia. I feel like service is something I do because I love this city and I love all the citizens of Vidalia. I do want to make a positive difference in our city. I'll leave you with these words, which I hope will inspire you because it inspired me when we adopted this quote for our Concerned Citizens Coalition motto years ago. Every time I hear it and say it, I'm inspired to continue to serve."
The quote which Hansley shared was from a French-American missionary. It reads, "I expect to pass through this world but once; therefore, any good that I can do or any kindness I can show to any fellow creature, let me do it now. Let me not defer or neglect it, for I shall not pass this way again." Appointment of Glover
During the meeting, Council members also approved to hire Patricia Glover as the new Financial Director for the City.
Glover officially joined employment on Monday, August 21, but prior to coming to Vidalia, served as the Assistant Budget Director for the City of Savannah. She also was the City Manager of Blue Mountain, Mississippi, for over 4 years, and acted as the Director of Internal Audit at American Contract Bridge League for over 5 years.
Citizen Concerns
Bernie Nelson addressed the Council about his concerns with the Vidalia Police Department during the public participation portion of the meeting.
According to Nelson, after a recent article was published on gang violence within Vidalia, he received numerous phone calls from citizens, who all asked him to act as a spokesperson for the public to share concerns about public safety. "When that article broke in the paper about 'Caught in the Crossfire,' and then I hear about the McKenzie truck being shot at on 3rd Street, it rang a bell with me because my wife takes 3rd Street to City Drugs to get her medicine because she doesn't like to drive on a one-way street. I thought about how dangerous that could be, so I stopped her from doing that. At the same time, when that article broke, my phone started ringing off the hook. Everyone from church and Sunday School began quizzing me on things," he explained.
"A lot of people run with rumors, but I try to go out and get the facts," Nelson added. "I think we all agree that we love grants, and we love everything that we're doing [as far as] paving roads and that kind of stuff. But everybody here was hired for the safety of the city – that's the number one goal. When that is not done, all of this other stuff makes us look like New York, Chicago, [or] wherever."
He emphasized that the City did not need to return to the reputation of violence and "Bloody Toombs" that existed in the 1930s and 1940s. "My understanding is that we still have 11 [open positions] for the Vidalia Police Department, and I assume we were budgeted for those 11 positions. Also, I found out that for the past several years, communication between the Vidalia Police Department, Lyons Police Department, and Toombs County Sheriff's Office has been nonexistent," he told the Council. "I don't know why; it's none of my business. But I think when you live in Vidalia, you live in Toombs County, we all are Toombs County. Even though the two cities compete against each other in football, I think we all need to work as a team."
Nelson continued to question why that communication had been cut off. He also shared that the "word on the street" was that no one wanted to work for the Vidalia Police or Fire Departments, and he was unsure why. He told the group that the issue causing that attitude towards the Departments needed to be discovered and solved.
He also praised the work of a councilman and Sheriff Alvie "Junior" Kight in their efforts to form a Gang Task Force to try to deal with the issue within the city that has arisen, as he said that sort of collaboration should be used more within the law enforcement service.
"I love Vidalia – I consider it my home. I hunt and fish here, [and] I will utilize the new golf course as soon as it opens. My wife and I are members of Vidalia Cornerstone Church, and have been since 2004," he clarified. "But we don't need to be New York or Chicago – we need to be Vidalia."
Proclamation
Mayor Doug Roper presented the Vidalia Recreation Department 8U and 10U Girls Softball Teams with an official proclamation that celebrated their recent success in the State Tournament.
"It is a joy, pleasure, and continued from page
honor anytime our youth excel, and we would like to recognize and celebrate that. This past recreation softball season, we had two of our girls softball teams to win state championships; so, we're happy to recognize their accomplishments," he remarked about the occasion.
Action Items
The Council approved to shift the funding source for the Waterline Replacement Project on McIntosh Street from money gained from the Georgia Environmental Financial Authority to funds from the American Rescue Plan Act (ARPA) grants.
Council members also approved to begin a Leaf and Limb pick up service in the Office/Residential zones within the city. Currently, this service is available to residents, but several businesses have shared their interest in the program. Around 30 businesses will be notified of this option, which will cost $4 per month. A hearing will be held in September to hear any concerns, and the service should begin in October or November.
Hofstadler and Associates was selected as the engineering firm to manage the Ezra Taylor Regional Sports Complex renovation. This service will cost 12% of the total cost of the project, which is expected to be completed within a year and a half. Council also approved to execute a grant administration contract with the Heart of Georgia Altamaha Regional commission to administer the grant for this renovation.
Council approved an ordinance amendment clarifying that all properties owned and created prior to new guidelines in the city ordinance section on ministorage units are "grandfathered in" and not required to abide by the new rules.
The Council also agreed to move a stop sign from the Intersection of Poe Street and 5th Avenue to the intersection of Peacock Street and 5th Avenue, as recommended by city officials.
The following purchases were approved: • Vent and Hood Sys tem and Installation for the Senior Center side of the Vidalia Community Center — $55,000.000; funded through Special Local Option Sales Tax (SPLOST) • Replacement of Air Conditioner at ESG Office on Brinson Road $4,653.00; funded through SPLOST • 1 Half Ton Pickup Truck for Public Works — $35,890.00; funded through SPLOST (Approved in 2023 Budget) • 1 Half Ton Pickup Truck for Water/Sewer Department — $35,890.00; funded through SPLOST (Approved in 2023 Budget) Alcohol licenses were approved for General Store 30474, Tappas, and Sip-NSmoke.
Reports
According to City Marshal Chad Phillips, a lot of work is currently being done in attempt to remedy issues caused by the homeless population within the city limits. One of these issues which Phillips directly addressed was the removal of shopping carts from Food Lion. "They say they are having to order almost 30 carts every 3 months," he emphasized. "We may need to look into doing something about this."
Vidalia Police Chief James Jermon informed the Council that 2 cadets were currently at the Georgia Police Academy, and had successfully passed their midterms. He also said that he had 2 interviews scheduled for potential cadets, who would attend the October session of the Academy, along with one recruit who was confirmed to begin his journey to becoming a police officer in July 2024.
During her report, Downtown Vidalia Association Executive Director Tonya Parker told the Council that the last two Coffee Before Hours networking events had hosted over 100 citizens and business owners. The next Coffee Before Hours is scheduled for September 6, from 8 a.m. until 9 a.m. at Homemade On the Go.
She and Mayor Doug Roper also both shared their satisfaction with the recent Touch-A-Truck Sweet Saturday event, which was held downtown on August 12. Next month's Sweet Saturday event will be held on September 9.
Convention & Visitors Bureau Executive Director Alexa Britton announced that this past July marked the second-largest crowd of visitors in history that the City has had in July. She also said that the Bureau was working with City Attorney Justin Franklin to develop a contact with the Savannah College of Art & Design for a new design of the Vidalia Onion Museum. Britton concluded her report by informing the Council that she planned to add the Wild Mustang Ranch, located in Toombs County, to the City tourism information as a part of "Things to Do."
The Greater Vidalia Chamber informed the Council that construction has began on the Center for Rural Entrepreneurship, and is expected to be completed by the 2024 Vidalia Onion Festival. Chamber President Michele Johnson also shared that there is a new position opening within the Chamber, as they search for a Director of Entrepreneur Development.
Vidalia Regional Airport Manager Billy Ragan spoke to the Council on the current runway rehabilitation project, which has limited airport operations to a single runway. He also said that several nuisance animals had recently been removed from airport grounds as a manner to continue to promote safety and efficiency at the facility.
Vidalia Onion Festival Past Chair Andy Woodruff made recommendations to the Council on the 2024 Vidalia Onion Festival Committee Chairs, and informed the Council that the Committee had already begun looking into musical acts to perform at next year's concert.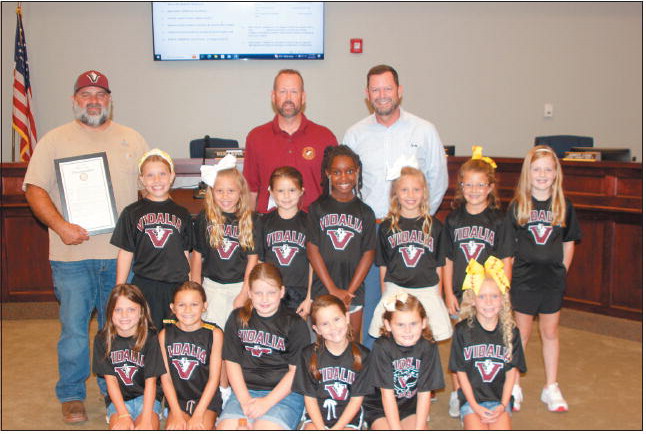 8U GIRLS SOFTBALL STATE CHAMPIONS – Front Row, L to R: Emma Kate Lindsey, Julianna McCaw, Ryleigh Williamson, Mae Morgan, Anna Kate Gay, Payton Perkins. Middle Row, L to R: Mack Lewis, Kenzie Pruitt, Liyla Helmy, Denise King, Maddie Pruitt, Katie Ramsey, Emma Faulk. Back Row, L to R Coach John McCaw, Mayor Doug Roper, Coach Brad Owens.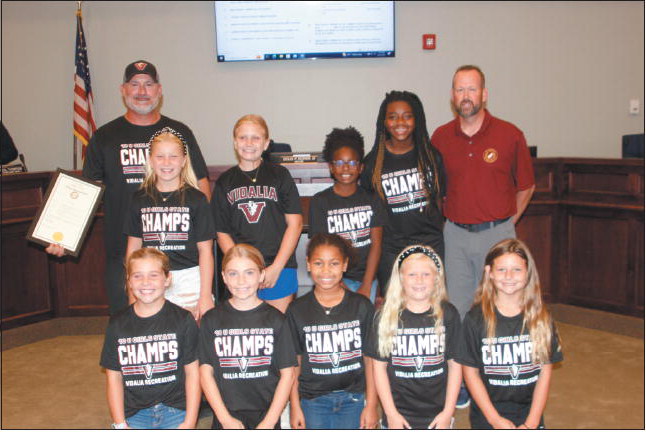 10U GIRLS SOFTBALL STATE CHAMPIONS – Front Row, L to R: James Owen, Annisten Smith, Bailee Fondren, Laurel Wells, Myla Sasser. Middle Row, L to R: Dani Lynn Williams, Quinn Driggers, Hope Williamson, Stevee Phillips. Back Row, L to R: Coach Josh Owen, Mayor Doug Roper.