Posted on
Ann Norris Honored for 20 Years at Alamo Housing Authority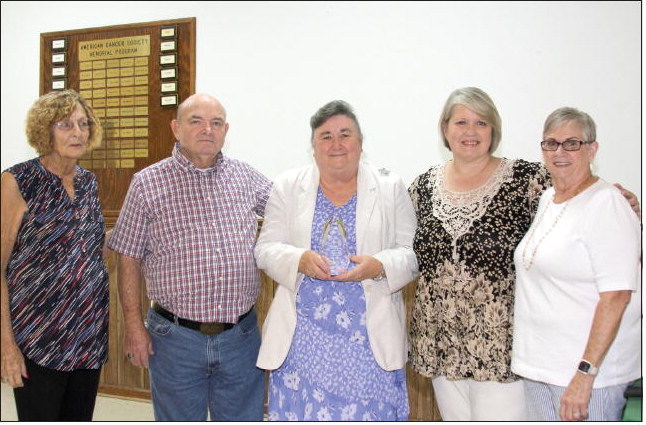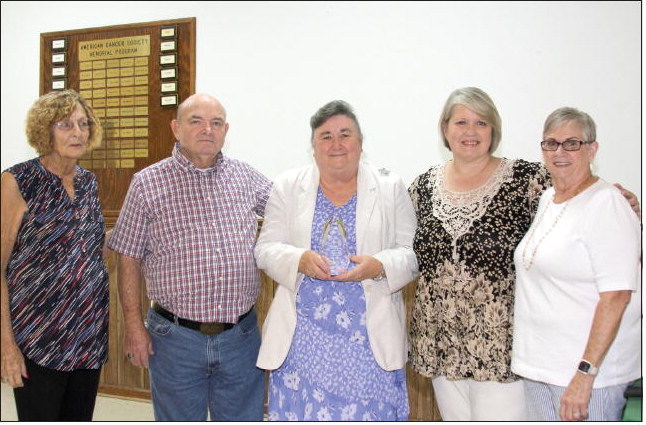 A beloved member of the community was honored at a gathering last week in Alamo. Ann Norris, who is marking her 20th year with the Alamo Housing Authority this month, was honored during the August 16 quarterly local meeting sponsored by the Wheeler County Chamber of Commerce and the Wheeler County Correctional Facility.
"Ann is enthusiastic, motivated, and not afraid to be honest," Housing Authority Director Rhonda Sellers said as she prepared to present Norris with an award. Norris has served as office manager at the Housing Authority since August 19, 2003. In recognition of her service, she was given a pin from the Office of Housing and Urban Development, under which the Housing Authority operates, as well as a $2,000 bonus from HUD. She also received an inscribed prism trophy from the Housing Authority. The inscription acknowledges Norris' years of dedicated service, and praises her as a greatly valued and essential member of the Housing Authority team.
Sellers noted that everyone who knows Norris appreciates that she will do anything she can to help people. "She is most proud of being a Christian lady, and she often asks people if she can pray with them."
Norris is a lifelong resident of Telfair, which is just across the river from Wheeler County where she has worked for 20 years. She chuckled as she reflected on the circumstances under which she assumed her job with the Housing Authority. She was told by Sue Conner, who was Director then, that it might be a temporary position of three months or so. Conner, who had also been serving as Director the Glenwood Housing Authority, was new to her post in Alamo, and that Authority was in a state of reorganization and plans were not firm. Conner was Director oof the Alamo and Glenwood Authorities until her retirement in 2018. "I told her (Conner) that I would take the job however long it lasted. But it went from being (potentially) three months to 20 years," Norris said.
During her tenure, Norris said she has been blessed to help people who needed a good home and a chance to get back on their feet. "I have seen a lot of people housed. It has been like a ministry to me," she said. Norris said she has enjoyed working with the adults who come to the Authority for assistance, "but the children are my heart. I share cookies and candy with them to get their attention and then I share a Bible verse," she said.
Norris, whose husband of 44 years, Kenneth Norris, passed away in 2016, has two daughters, eight grandchildren, and four great-grandchildren. She said she brought the prism trophy to work to sit on her desk, but is going to take it home to share with her mother and sister. "I am blessed," she said of her family and her work.