Posted on
Toole Says Goodbye to Georgia Department of Corrections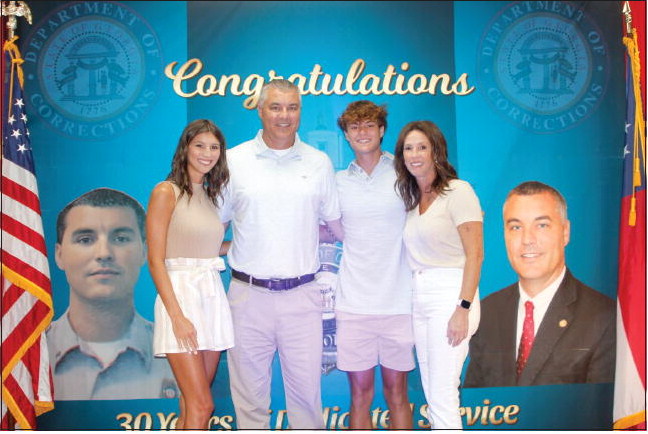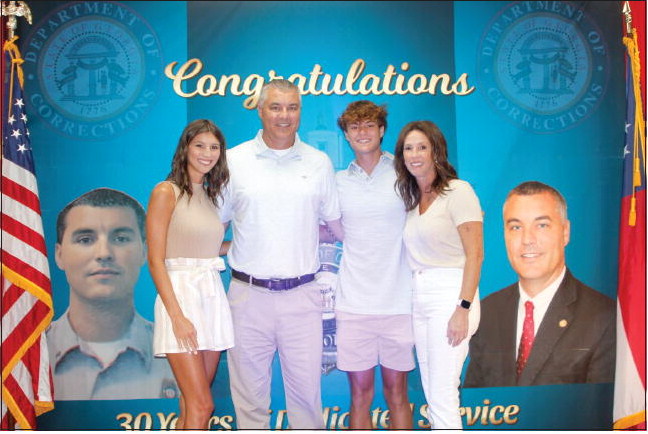 mrandolphadvance@gmail.com
It was standing room only in the Callaway Community Center on Thursday, July 20, as friends, family, and colleagues of Georgia Department of Corrections Director of Field Operations Robert Toole celebrated the end of his long career.
"I have worked in the Department of Corrections for a significant part of my life, and have had a fulfilling career," Toole emphasized. "Over my 30 years with the Department of Corrections, I had the privilege of working with incredible individuals. The knowledge I gained and the skills I developed during my time within this agency have undoubtedly shaped me both professionally and personally."
Toole holds a bachelor's degree in Criminal Justice from Georgia Southern University and a master's degree in Public Administration from Columbus State University. Throughout the years, he gained departmental training through courses of Basic Correctional Officer Training, Basic Management Training, Corrections Leadership Institute, Pre-Command College, and Command College.
He first began working with the Georgia Department of Corrections as a Correctional Officer at Smith State Prison in 1996. Four years later, in 2000, he transferred to Telfair State Prison and served in the roles of Counselor and Chief Counselor. He was promoted to Unit Manager in 2006 before assuming the role of Milan State Prison Superintendent in 2008.
Continuing to build his career in the system, Toole was selected to serve as the Deputy Director of Audits and Compliance in 2010, and became the prison's Warden soon after. Once becoming a Warden, Toole led several prisons, including Wilcox State Prison, Ware State Prison, and Georgia State Prison. His leadership role grew again in 2015, when he was promoted and became the Regional Director of the Southeast Region, where he served until December 2018, when he assumed the role of Deputy Director of Field Operations. Toole made his last position change in June 2018, when he became the Director of Field Operations, where he served until his retirement.
"I am grateful for the opportunities, support, and camaraderie that I have experienced throughout my career with the Department of Corrections. As I step away from the daily routines and responsibilities of the agency, I look forward to having more time with my family and pursuing personal interests," Toole concluded.