Posted on
continued from page ing performance. ….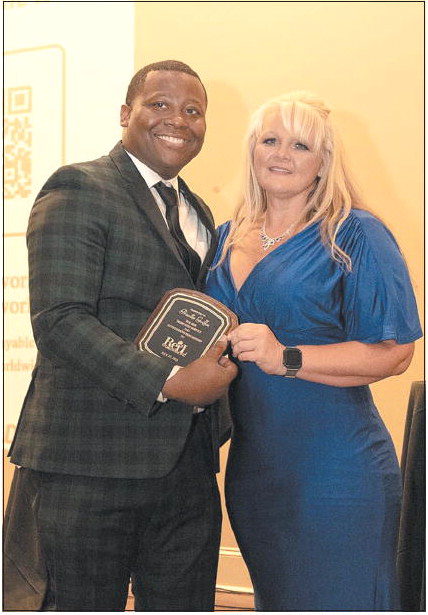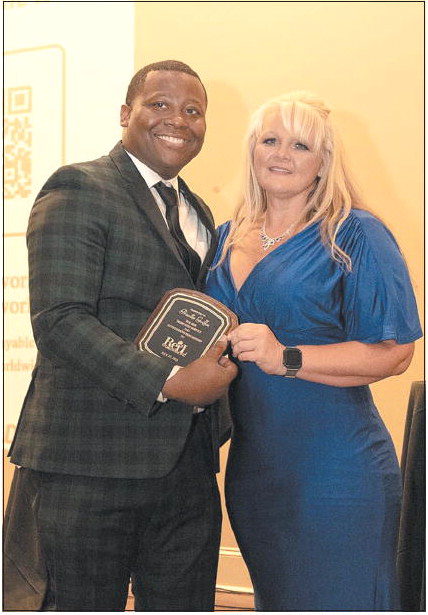 continued from page
ing performance. Guests were also entertained by the musical talents of The Wardlaw Brothers, Lyric Wardlaw, Shannon Collins, and the Fifth Avenue House Band.
The event also celebrated those who work to serve the community. The Annie Rose Jackson Humanitarian Award has been deemed a high honor and is given to those in the community who dedicate their lives to serving others, just as Jackson did. "I believe it is important to honor those in the community who have made an impact on the lives of others. I also believe it's not enough for us to only provide assistance to our clients in the Rei'L Program. I think recognizing them for their hard work and perseverance is equally important," remarked Wardlaw. "This year we have been able to help 23 formerly incarcerated individuals get keys to their own homes after being homeless, sleeping in sheds, hotels, or outdoors. Over 40 have been employed and are working daily actually helping the economy and community instead of hurting it, and that needs to be highlighted."
The honorees of the evening were Coach Anson Callaway, Debbie Griggers, Frances "Mae Lois" Day, and Coach Wilbert Snell. Department of Community Supervision Assistant Chief Priscilla Griffin also received an award for her dedicated service and outstanding partnership with Rei'L Worldwide. Along with these awardees, participants of the Rei'L Program were recognized with awards for excellence. These participants also gave testimonies of what the program had done for their lives.
"Before I met Mr. Luther I had already decided I was going to commit suicide because I didn't think I had no help. Mr. Luther started helping me in this program and changed my life around. I don't want to commit suicide. I just want to thank Mr. Luther for everything he's done for me," Rei'L Program Participant Tommy Faircloth, Jr. told the audience. One of the major highlights of the night was the unveiling of plans for a new facility that will provide housing, training, therapy, and other services for up to 12 participants of the Rei'L Program at one time. The facility will be located in the rural area of Toombs County. Wardlaw is currently trying to raise $70,025 to complete the project.
"Overall, it was a wonderful night," Wardlaw reflected. "I am very thankful for everyone who was present. Thank you for taking the time to purchase tickets and be present. Our sponsors are phenomenal. We couldn't do what we do without them. A special thanks to Coach Lee McCloud, III and the J.R. Trippe Middle School basketball team for their work and service, to Mr. Chris Henry and the Masons from the Masonic Lodge for their contribution, and to Mrs. Leslie Harrell for organizing the Queens of our area to assist. They really hit it out of the park."
Among attendees was State Representative Leesa Hagan, who commented on the importance of the work which Rei'L Worldwide does. "I appreciate Luther and Rei'L Worldwide for all the hard work and effort that went into the Gala. It's important to bring attention to the problems men and women face when coming out of the prison system," she shared. "While we should continue to be very tough on crime, we should also realize that barriers to finding a place to live and a job after doing their time greatly increases the likelihood that a person will wind up back in the prison system."
Hagan continued, "The Rei'L program is important because it focuses on helping people re-enter the community. I also appreciate the work they do to support children of the incarcerated. We know that when a child's parent is in the prison system, that child is much more likely to wind up in prison than other children. Breaking that cycle is good for families and the community."
Rei'L Ministries Worldwide Inc. is a nonprofit organization that provides services to children of incarcerated parents and formerly incarcerated individuals. To learn more about the Rei'L Program, or to donate to this cause, contact Luther Wardlaw at (912) 5857465 or visit the website at reilworldwide.org.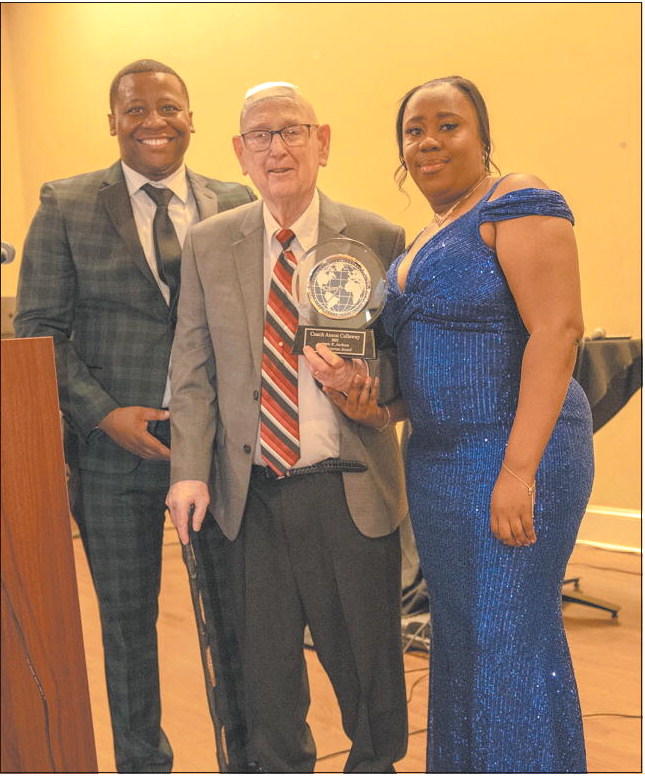 LYONS' LEGENDARY COACH – Coach Anson Callaway (center) was honored with the Annie Rose Jackson Humanitarian Award by Rei'L Worldwide Founder Luther Wardlaw (left) and Keis Testing Sponsor and President Thenelle Faison (right).Photo by Majestic Image Photography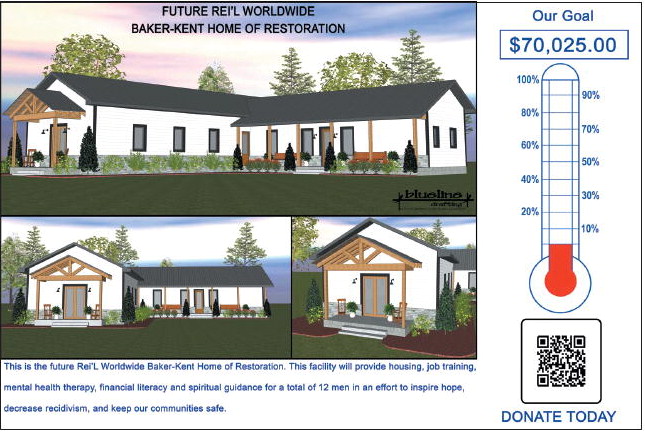 PLANS FOR THE FUTURE – At the Rei'L Worldwide Gala on July 27, Luther Wardlaw unveiled the plans for a new facility which will house 12 participants in the Rei'L Program and provide them with training, therapy, and other services.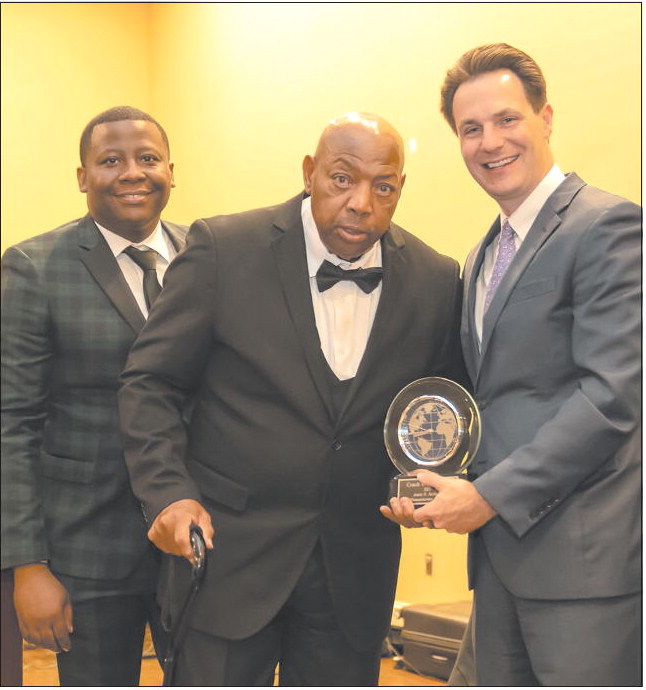 MONTGOMERY COUNTY'S FAMOUS COACH – Coach Wilbert Snell (center) was recognized with the Annie Rose Jackson Humanitarian Award by Rei'L Worldwide Founder Luther Wardlaw (left) and Memorial Health Meadows Hospital CEO Matt Hasbrouck (right).Photo by Majestic Image Photography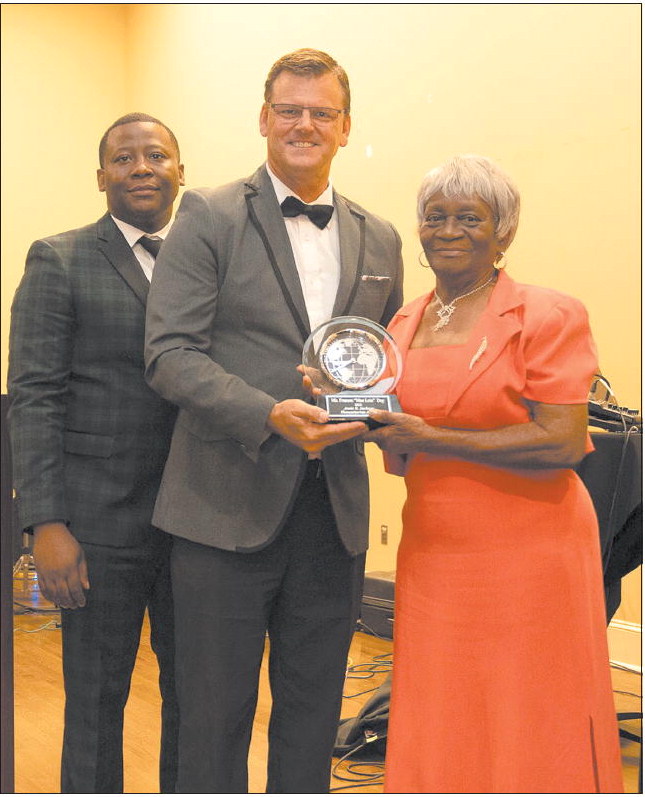 A LIFE OF SERVICE – Frances "Mae Lois" Day (right) was presented the Annie Rose Jackson Humanitarian Award by Rei'L Worldwide Founder Luther Wardlaw (left) and Georgia Power Sponsor Eric Smith (center).Photo by Majestic Image Photography