Posted on
Hyundai to Train Workers at STC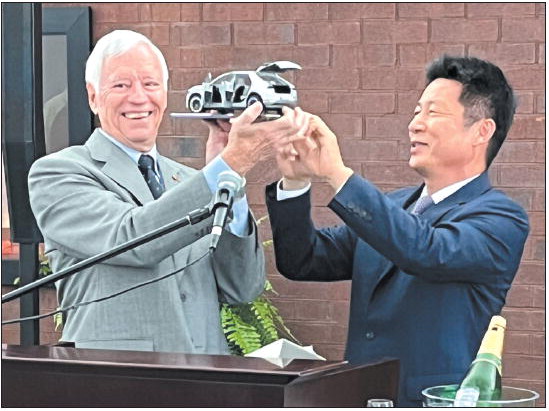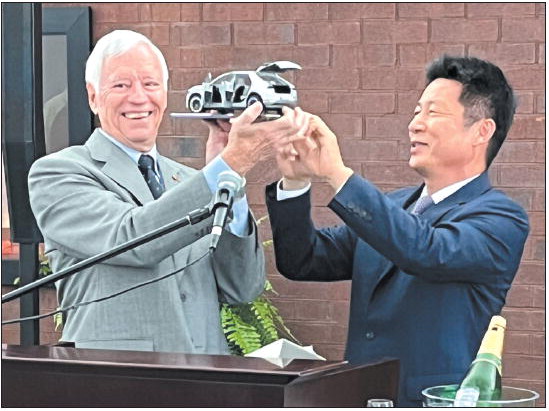 mrandolphadvance@gmail.com
Southeastern Technical College and Hyundai Motor Group Metaplant of America (HMGMA) signed a memorandum of understanding for a training partnership that will lead to automotive industry jobs at the metaplant location currently under construction in Bryan County. The signing took place at an event in the College's Tattnall Auditorium on July 11. The $5.5 billion electric car manufacturing plant is Hyundai's first electric car plant in the U.S., and is expected to be completed in 2025. It will produce 300,000 to 500,000 vehicles per year. Although the site is still under construction, Hyundai Motor Group has already begun to think about the need for employees at the plant. This led them to partner with STC to create the Electric Vehicle Professional Technical Certificate Program, which will prepare students for entrylevel employment in the electric vehicle production industry. The eight-credithour certificate includes three courses and will focus on safe and effective automotive shop operations, continued from page
automotive electrical principles, and the operation and service of electric vehicles.
Those who complete the certificate program will have the skills needed to work in subassembly shops, building components, and on the production floor to manufacture electric vehicles. "We are extremely excited to partner with Southeastern Tech for this training program," Hyundai Motor Group Metaplant of America President Oscar Kwon remarked. "This training program will give prospective employees the tools they need to start a career in the electric vehicle industry with HMGMA. The students who attend Southeastern Tech are our neighbors. We place a strong emphasis on recruiting locally and helping to create long-lasting careers for those we hire."
STC President Larry Calhoun also spoke on the development. "The signing of this MOU between Hyundai Motor Group Metaplant America and Southeastern Technical College represents a collaboration built on the foundation of mutual benefit. Hyundai gains access to a pool of talented individuals who can contribute to its growth and competitiveness, while the college gains access to real-world case studies and industry expertise, enriching the learning experience for students. This collaboration ensures that technical education remains relevant and impactful in a rapidly evolving electric vehicle landscape," he emphasized.
This new course of study will be available at the College's Vidalia campus in the coming semesters. For more information on the program or to apply, visit www.southeasterntech. edu or call 912-5383100 or 478-289-2200.

SIGNING A MOU – On July 13, administrators of Southeastern Technical College and representatives of the Hyundai Motor Group Metaplant of America signed a memorandum of understanding that will connect the new certificate program with future jobs in the automobile industry. Front Row, L to R: HMGMA President Oscar Kwon, STC President Larry Calhoun. Back Row, L to R: HMGMA Assistant Manager, Learning and Development Jason Zdunich; HMGMA Senior Manager, Head of Learning and Development Brent Stubbs; HMGMA Head of Employee Relations, Learning and Development Coordinator Charles Lee; STC Board Chair Chris Hopkins; STC Vice President for Academic Affairs Teresa Coleman; TCSG Chief of Staff Mark Peevy.