Posted on
continued from page it and ….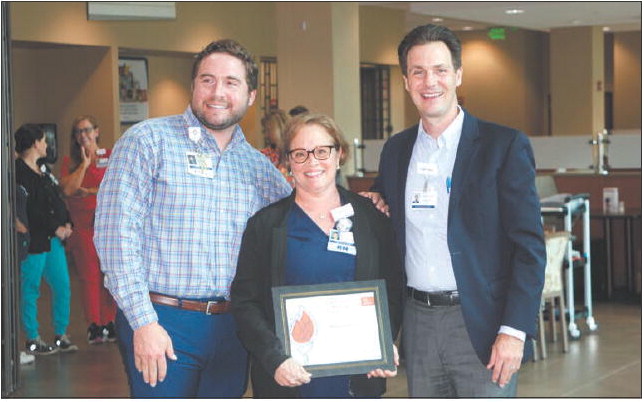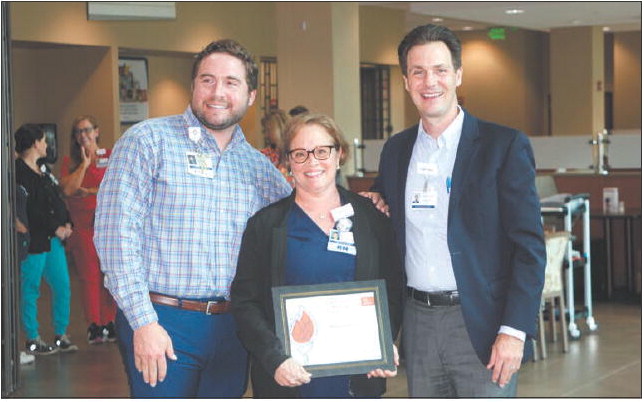 continued from page
it and very surprised." Cochran first became involved with Meadows Auxiliary after receiving support in his own time of need at the VA in Dublin. "I saw the benefit of having somebody there to work with the patients and assist them. So, when I got out [of the facility], my wife and I talked about it. So, she's an auxiliary member also."
The couple, who once owned Meridy's Uniforms, now spend their days serving others in every way they can. He primarily serves at the hospital's Cancer Center, where he works to help patients feel comfortable and supported throughout their chemotherapy treatments; prior to this, he worked at the front desk of the hospital.
Hospital CEO Matt Hasbrouck also addressed Cochran and the award. "Each hospital submits nominations [for the Frist Humanitarian Award] not only to their local hospital administration, but also to their HCA subdivisions, and HCA headquarters in Nashville. So Mike Cochran was not only a winner here at Meadows, but also for the entire South Atlantic HCA subdivision – that's 11 hospitals, and thousands and thousands of lives that are impacted daily across the southeast."
He continued, "Mike has been a volunteer at Memorial Health Meadows Hospital for over seven years. For the last two years, Mike has been a confidante and a great supporter and friend as I made the transition to Vidalia. I get the feeling that he does that for a lot of people. He spends his time mainly at the Cancer Center, where he is known for his compassionate support of patients and their families. Mike has sponsored scholarships for nursing students, is a huge supporter for the Sweet Onion Animal Protection Society, and serves as a friend and mentor to what he calls his 'Cancer Center family.'" "It is just a blessing to have Mike with us, and we want to thank him for all his service," Hasbrouck concluded.
Other Nominees
According to Hasbrouck, HCA hospitals are able to nominate three individuals — either an employee who goes beyond day-to-day responsibilities, a volunteer who gives selflessly to the community and patients within its facilities, or a physician who displays a concern for the wellbeing of others beyond their responsibilities — for the Frist Humanitarian Award, an award named for HCA Healthcare Co-Founder Dr. Thomas Frist, which honors those who share a similar value for servitude for the community and those in need, for which Frist was known.
The two remaining Memorial Health Meadows Hospital HCA Frist Humanitarian Award Nominees were also honored at the ceremony.
Hospital Director of Pharmacy Michelle Cox was nominated for the award for her kindness shown to patients. "Michelle has gone and continues to go above and beyond her job expectations taking care of patients in our community," Hasbrouck explained. "She has dedicated 28 years of retirement to Meadows. Michelle pours her heart into her service at Meadows. She has a huge heart, and we can easily agree there is no one like Michelle."
Hospital Coordinator Bonnie Brantley was also honored with a nomination for the award because of her many years of service to the facility. "Bonnie served for 25 years [at Meadows] before she retired. Then she decided to rejoin us earlier this year," Hasbrouck told attendees.
He reminisced about the stories and wisdom which Brantley had shared throughout the years. "Our 60-day meet and greet was such a ball, having her there to tell stories about the old hospital and the past. She has a wealth of knowledge," he added.
According to Hasbrouck, Brantley's greatest contribution to the community is her work for children, as she established the SafeKids program in Toombs County in 1995, and served in that organization for 20 years. "Bonnie has been recognized by the Governor's Office for Highway Safety, SafeKids Georgia, and SafeKids International. If you've grown up in Toombs County, you've likely been impacted by her service," he emphasized. Excellence in Nursing Awards Two nurses were also recognized during the ceremony for their excellence in two areas: compassionate care and professional mentoring.
Maranda Baird was recognized for her outstanding compassion in her role as a clinical nurse coordinator in radiology. "Maranda treats every patient in a way that you would want your family to be treated. She is patient and kind, even in difficult situations. Maranda is quick to offer to hold a hand [or] offer words of encouragement and provides the best care every single time. Maranda's gentle spirit brings comfort and joy to all she encounters. Thank you, Maranda, for what you do," Hasbrouck shared.
Baird responded to the honor, saying, "I'm grateful to be part of an amazing team of individuals, and appreciate the opportunity to care for the people of Toombs County and our surrounding community."
House Supervisor Etta Varnadoe was honored for the mentorship and leadership which she shares in her role at the hospital. "She has been with us at Meadows for 21 years. Etta has high energy and a huge heart. When serving as a house supervisor, Etta makes her colleagues feel her presence and support. I know administration can also feel those things from Etta, and we appreciate her. She's always eager to step up, help, and work alongside her nurses and colleagues. When Etta enters a room, her presence is known. She is a part of each department's team, and has been a strong resource of knowledge at Meadows for the last 21 years. We thank her for all that she does both at Meadows and in this community," Hasbrouck commented.
Varnadoe also spoke on the honor. "I'm speechless – I don't feel worthy of this honor," she shared. "The best part about my experience at Meadows has been just making a difference in people's lives. I've had sickness in my family – if you can just offer someone some comfort, that's just what it is all about." The awards ceremony ended with a time of fellowship between hospital employees, volunteers, and friends, as all celebrated the acts of service which the awardees give to the community.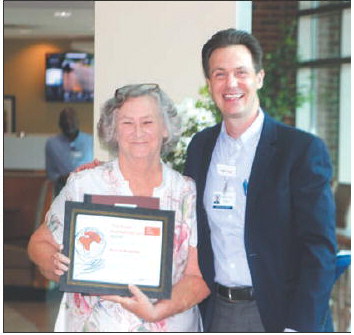 OTHER NOMINEES – Hasbrouck (left) announced that Director of Pharmacy Michelle Cox (left photo) and SafeKids Toombs County and Hospital Coordinator Bonnie Brantley (right photo) were the two other nominees for the hospital's Frist Humanitarian Award.Photo by Makaylee Randolph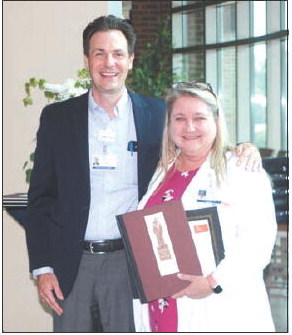 MENTOR AND LEADER – House Supervisor Etta Varnadoe was recognized for her work mentoring her colleagues through her leadership. L to R: Chief Nursing Officer Jeffrey Harden, Etta Varnadoe, CEO Matt Hasbrouck.Photo by Makaylee Randolph