Posted on
Area Counties Unite in Faith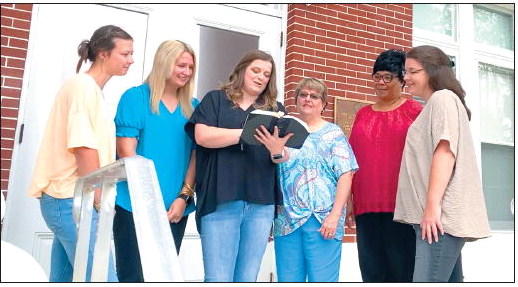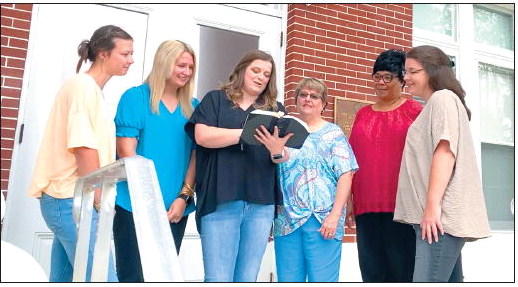 mrandolphadvance@gmail.com
On Friday, July 14, Montgomery, Toombs, and Wheeler Counties will unite with the remaining 156 counties across the state in the 5th Annual Statewide Bible Reading Day event at each county courthouse.
According to Georgia State Bible Reading Coordinator Jerri Tuck, the basis of this event – continued from page
which is held each year at 7:14 a.m. on July 14 – comes from the Biblical reference 2 Chronicles 7:14, which reads, "If My people, who are called by My name, will humble themselves and pray, and seek My face and turn from their wicked ways, then I will hear from heaven and I will forgive their sin and will heal their land."
Tuck said that these statewide events first began in 2018, as Dianne Bentley led Iowa to participate. Since then, the event has spread to 24 states and 29 nations, and continues to grow as the event nears. This year, all 159 Georgia Counties are participating, which means the entire Bible will be read in the state in less than an hour.
Montgomery County will be reading 2 Chronicles 24-30, according to County Coordinator Makaylee Randolph, who said she has had several citizens volunteer to help with the reading. "I'm grateful to all who have stepped up and volunteered to read or help out the event," she emphasized. "I'm excited and humbled to be leading the Montgomery County sector of the Georgia Bible Reading event. I've grown up in Montgomery County – it holds a place near and dear to my heart. So to be able to help bring this unifying act of faith here is a wonderful blessing."
Toombs County Coordinator Vicki Tillery said that her group will unite to read Isaiah 49-56 during the event. "I am honored to coordinate the event in Toombs County," she emphasized.
Citizens of Wheeler County will be gathering around the county courthouse to read Ezekiel 2531, according to County Coordinator Laura Brownley. "We've participated in this event for a few years now," she explained. "I think it is amazing that we live in a place where we can all come together – all different denominations, but the same God."
Brownley continued that she knew reading Ezekiel wouldn't be the easiest reading, but that she was sure that the group would enjoy fellowshipping and reading God's Word together.
These counties will begin gathering around 7 a.m. on Friday, and the reading will begin promptly at 7:14 a.m. For more information, contact your local county courthouse.