Posted on
Flagpole Dedicated To Confederate Soldiers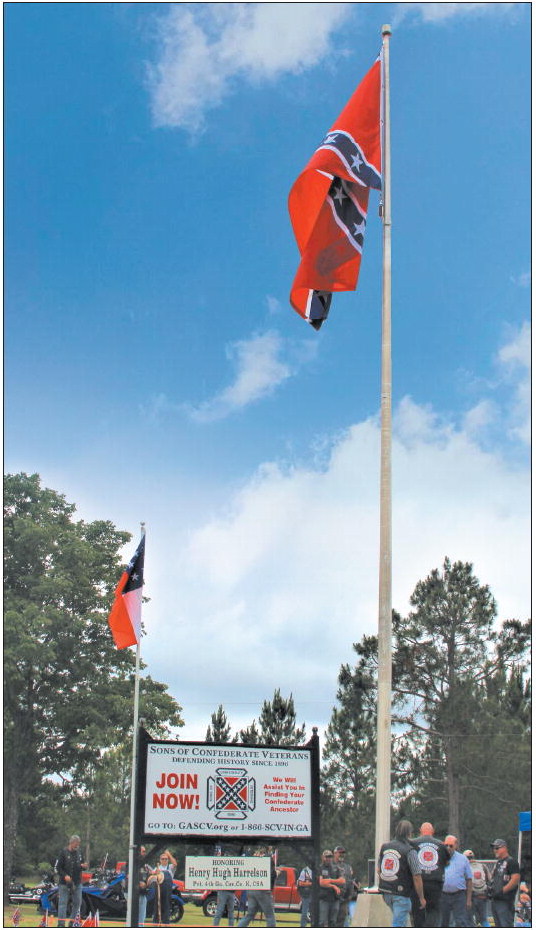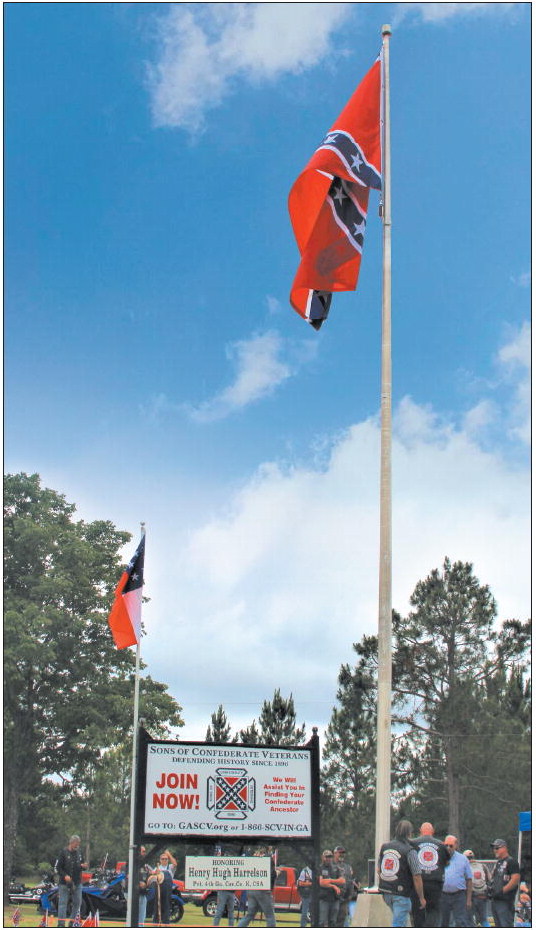 The American Civil War ended 158 years ago, but the Harrelson family has not forgotten the sacrifices of their ancestors in that conflict. In a ceremony on May 20, Harrelson descendants and others gathered in Wheeler County to dedicate a flagpole in remembrance of four Confederate soldiers who are buried in the Harrelson Family Cemetery. Two brothers who never returned from war were also honored. No matter what your sentiments are about the Civil War, it was a tragic event that devastated families on both sides of the strife. The markers in the Harrelson Cemetery tell the story.
South Georgia pioneers Elizabeth (Betsie) Clark Harrelson and John William Harrelson had 13 children. Of their five sons who went off to war, only three made it back home; two of their boys are buried in Virginia. "That's a 40% casualty rate for their family, and that is a big sacrifice," said historian, genealogist, and author Hu Daughtry of Metter, who spoke at the pre-Memorial Day event.
By the time she saw her boys join the Confederate Army, Elizabeth Harrelson was a widow. Her husband died in 1855, but she lived a long life. She passed away in continued from page
1891 and is buried in the Harrelson Family Cemetery where her tombstone reveres her as a member of the Methodist Episcopal South congregation.
Also buried in the Harrelson Family Cemetery are the soldiers who returned home after the Civil War: Private Henry Hugh Harrelson, Private Bradley Harrelson, Private Elkanah Harrelson, and Private Daniel Purvis.
Daughtry noted that the Harrelson family has been on the land where the flagpole was erected since the land lotteries of the 1820s. In those days, the site was located in Montgomery County; Wheeler County would not be created until 1912.
John William Harrelson, married Elizabeth Clark in 1826, and the couple appears on the 1830 census. Elizabeth's father was Henry Morgan Clark, and John William's father was Reuben Harrelson, who came to Georgia from Caswell County, N.C. John William's grandfather was Elkanah Harrelson, a Revolutionary patriot, who supported the Colonial cause and died at age 36.
Of the five Harrelson sons who went to war, Bradley was the oldest and was married and had a family when the war began. He fought with Company H, 47th Georgia Infantry Regiment and was wounded at a place near the Battle of Resaca in May of 1864. He came home on furlough and was home when war ended. He served as the postmaster at Eva, located at the Harrelson homestead, and died fairly young in 1885.
William Harrelson, who was also married and had a family as the war started, fought with Company G, 49th Georgia Infantry Regiment that was part of General Robert E. Lee's Army of Northern Virginia. He and his brother Reuben, who was single, went to Laurens County to enlist. Both died of disease — Reuben of pneumonia on December13, 1862, and William three weeks later, likely of typhoid fever.
Henry Hugh Harrelson, the direct ancestor of Wheeler Countian J.B "Angelo" Crowe and his cousin Cory Harrelson, rode in the 4th Georgia Calvary, which stayed in Southeast Georgia for most of the war. He enlisted after he came of age in 1863 and lived until 1920.
The youngest of the five, Elkanah, who was born in 1847, enlisted in Company C , 7th Georgia Militia out of Montgomery County. "These boys gave a good accounting of themselves during the Atlanta campaign and in the Battle of Griswoldville where they took heavy casualties," Daughtry said. Elkanah, who was named for his Revolutionary-era ancestor, survived the war, and died of pneumonia in 1900.
Daniel Purvis, another Confederate soldier buried in the Harrelson Family Cemetery, married Aquilla Harrelson, the oldest daughter of Elizabeth and John William Harrelson. He enlisted in Company E, 61st Georgia Infantry Regiment, known as the "Montgomery County Sharpshooters." This regiment was part of the Lawton- Gordon- Evans Brigade, one of the most elite units in the Army of Northern Virginia.
Daniel was captured at Fisher's Hill in September of 1864 and sent to the infamous prisoner of war camp at Elmira, New York. Called by those imprisoned there as "Hellmira," the prison was known for its brutality. Daniel survived, but like many other Confederate veterans, was forced to walk all the way back home to Georgia. He lived until 1910, but his wife Aquilla died in 1869.
As part of the May 20 ceremonies, members of area Sons of Confederate Veterans (SCV) Camps raised the Confederate Stars and Bars on the recently-erected flagpole, and performed a rifle and cannon salute.
Emcee for the event, SCV Georgia Division Adjutant Timothy Hawkins, related the history of the flagpole, which was brought from Augusta to be erected facing U.S. Highway 441 on the property of Angelo Crowe. Hawkins said a number of SCV camps across Georgia linked arms to facilitate the project. The Augusta camp made it possible to move the flagpole from its site, the Valdosta camp enabled the refitting and mounting of the pole, and area camps will maintain the new flagpole site.
Among participants in the May 20 event were SCV Camp 2164, "Montgomery County Sharpshooters," represented by David C. Moncus; SCV Camp 2039, "Pine Barrens Volunteers," represented by Kim E. Beck; and SCV Mechanized Cavalry Troop 3, represented by Cory Harreslon.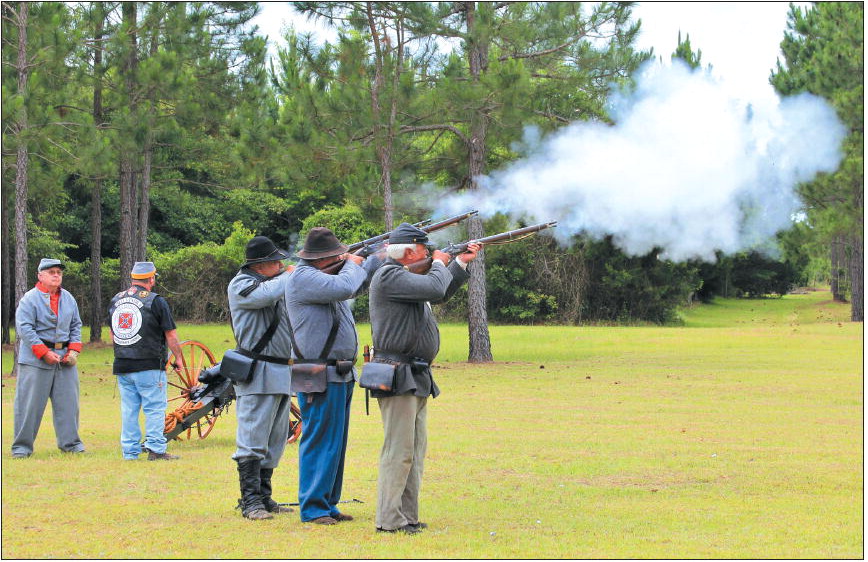 RIFLE SALUTE – Members of the "Montgomery Sharpshooters" Camp fire their rifles in a salute during the flagpole dedication.Photo by Deborah Clark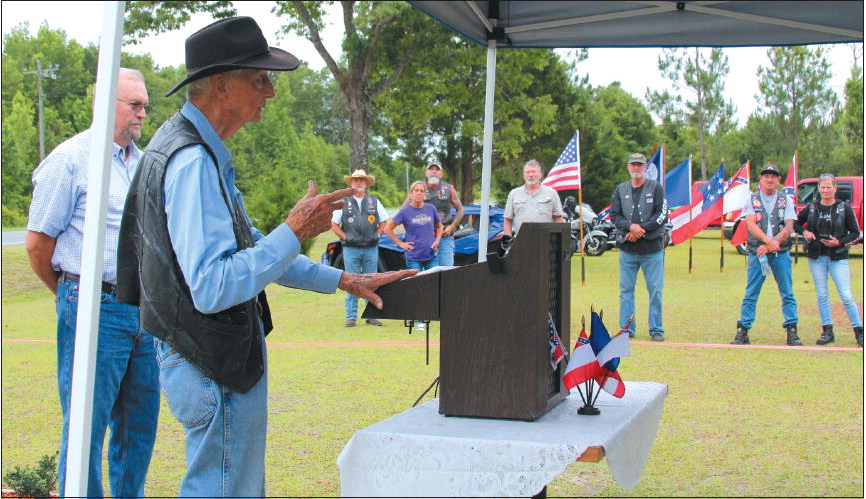 DESCENDANT SPEAKS – Descendant of Confederate Private Henry Hugh Harrelson, J.B. "Angelo" Crowe, speaks during the flagpole dedication ceremonies in Wheeler County on May 20. Standing behind him is Georgia Division Adjutant Timothy Hawkins.Photo by Deborah Clark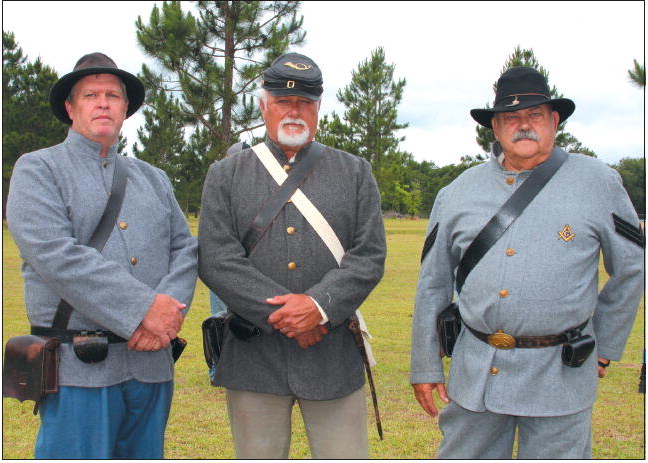 SHARPSHOOTERS – Montgomery County Sharpshooters, SCV Camp #2164, are dressed in authentic military uniforms.Photo by Deborah Clark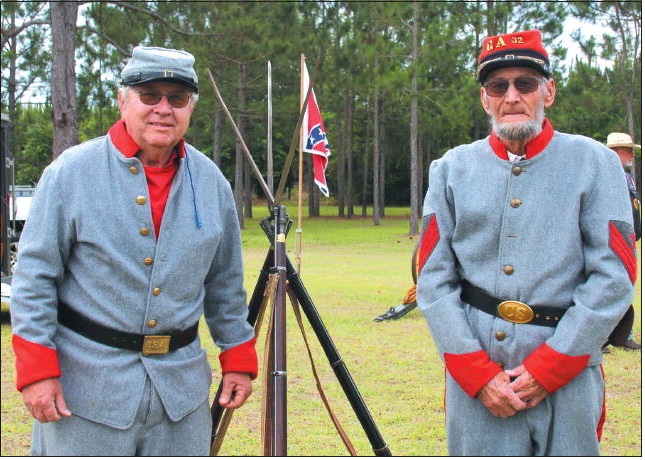 PINE BARRENS VOLUNTEERS – Among those participating in the May 20 ceremonies were SCV Camp #2039, "Pine Barren Volunteers."Photo by Deborah Clark