Posted on
Wheeler Seniors Earn Over $126,000 in Scholarships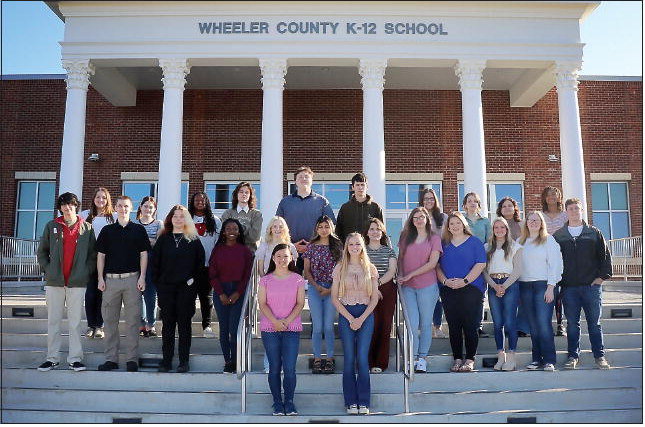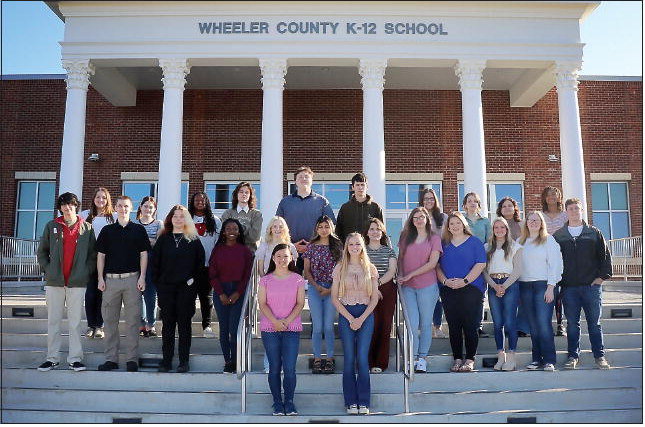 In preparation for the upcoming Class of 2023 graduation ceremony, slated to be held on the Wheeler County School's football field on Friday, May 26, seniors celebrated their last high school Honors Night on Thursday, May 11, where several students were honored with scholarships and awards.
Not only is the Class of 2023 the first graduating class that attended school in the new building, but the class is also the recipient of $126,300 worth of scholarships to help them in their quest for higher education.
Jasmine Holland Soto, Jeanette Martinez, Payton Bowman, and Marlee Veal each were given the James D. Parker Scholarship, which provides each student with $5,000 each year for up to four years. This means these students will each receive a maximum amount of $20,000 from this scholarship.
REACH Scholarships have been awarded to Payton Bowman and Miracle Wilson, as a part of the contract which the students signed in 8th grade from the Georgia REACH Foundation. These students pledged to maintain good behavior, attendance, and grades throughout their high school career in exchange for a $10,000 scholarship upon their graduation. Bowman and Wilson have honored the contract; thus, they will now receive the benefit.
The Edward & Cordelia Robbins Lamplighter Little Theatre Scholarship, which provides $2,000 for higher education, was presented to Rancelyn Evans, while the Central Valley Missionary Baptist Church Scholarship, which is worth $1,000, was awarded to Alexandria Wright. Jasmine Holland Soto and Owen Stokes also received $1,000 Coca-Cola Scholarships.
Several $500 scholarships were presented to students, including: the Alamo Lions Club Scholarship – Jasmine Holland Soto; Brandon Lawrence Scholarship – Hunter Seabolt; Christine Harris Scholarship – Marlee Veal; Delta Kappa Gamma Society Scholarship – Amber Seabolt; Lillie B. Johnson Scholarship – Sa'Niyah Clark and Jeanette Martinez; and the Telfair-Wheeler Retired Teacher Scholarship – Jeanette Martinez, and Tri-County Family Connection Scholarship – Jasmine Holland Soto.
Amber Seabolt was also presented the Hadden Insurance Scholarship, which gives Seabolt $300 toward her higher education.
Honor Graduates
Jasmine Holland Soto will finish her high school career at the top of her class, as she has been named the Wheeler County High School valedictorian, with Wheeler County High School salutatorian Amber Seabolt finishing closely behind.
Several other students were named honor graduates for the Class of 2023; these students have maintained an average of 90 or above for their cumulative high school career. Honor graduates are Jeanette Martinez, Payton Bowman, Lily Parker, Tegan Rigdon, Hannah Hughes, Caroline Conner, Marlee Veal, Sa'Niyah Clark, Jered Yarn, Rancelyn Evans, Baley Burkett, Owen Stokes, Miracle Wilson, Kolt Caldwell, Pippa Connell, Luke Foskey, Jenna Mc-Clure, Alexandria Wright, Gabriela Mendoza, Bryce Miller, Kolby Adams, Abigail Rice, and Ana Keene.
Junior Ushers
Eight students at the top of their class academically from the Wheeler County High School Class of 2024 will serve during graduation as junior ushers. Those students are Lyric Stanley, Heidi Woods, Haven Griffin, Ariel Reynolds, Kayleigh Sanders, Rhett Rodgers, Molly Bridges, and Shawn Murray.