Posted on
Mother Airlifted, Children Untouched
In Highway 1 Accident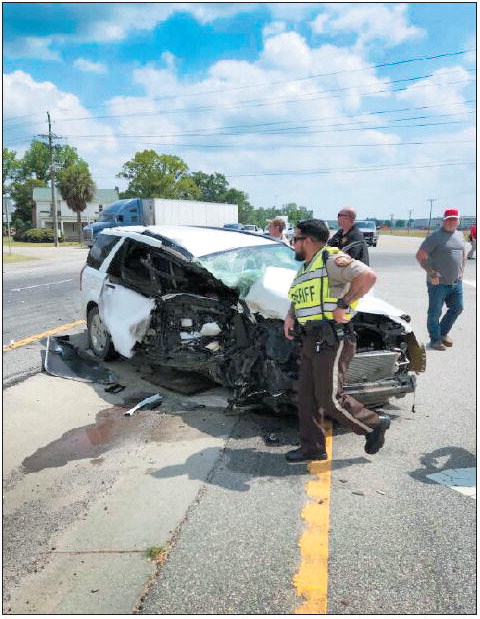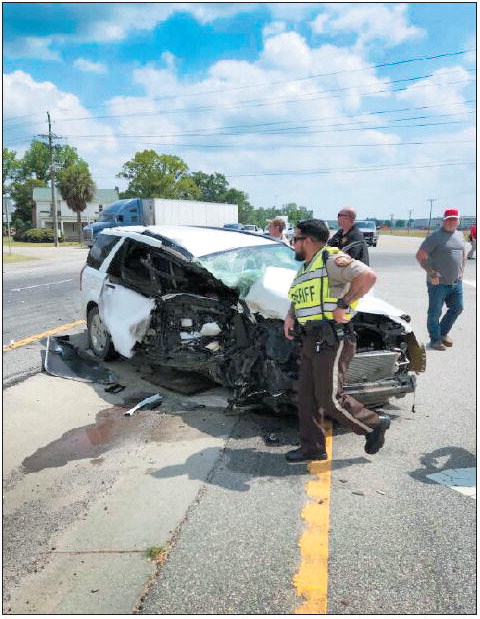 Courtesy of the Toombs County Sheriff's Office
A Wednesday afternoon crash left one mother airlifted after her SUV collided with a dump truck at the intersection of Resmondo Road and U.S. Highway 1.
On Wednesday, May 10, at approximately 3:12 P.M., the Toombs County 911 Dispatch received a call of a wreck involving a midsize SUV and a dump truck at the intersection of Resmondo Road and U.S. HWY #1. Upon arrival, deputies observed an SUV, driven by Angela Mills, 50, of Lyons, that was in the north side median of the intersection, while the dump truck, driven by Jason Handley, 34, of Jesup, landed on the side of the roadway just north of the intersection.
Handley, in the dump truck, did not sustain any in- continued from page
juries. Mills was entrapped in the front driver seat in critical condition. In the rear seat were three small children – including one child in a baby carrier safely seat belted without injuries.
Mills was extracted from the vehicle and treated in an ambulance until the Air Evac helicopter arrived on scene. Once Mills was stable enough for flight, she was transported to Memorial Hospital in Savannah. She is continuing to recover.
Based on preliminary evidence, it appears that Mills failed to yield to the oncoming dump truck that was traveling north on U.S. HWY #1. As a result, Mills, whose vehicle was traveling east onto Resmondo from Loop Road was struck on the passenger side. The accident has been turned over to Georgia State Patrol Post 18 (Reidsville) for further investigation.