Posted on
Wheeler County Honors Basketball Legends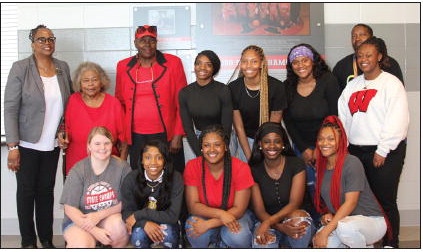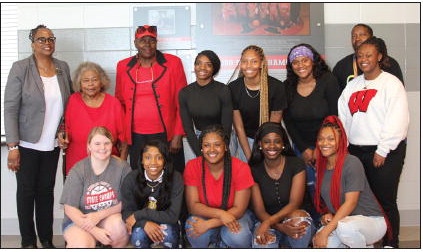 Last week, the Wheeler County Board of Education honored its basketball legends as commemorative panels were unveiled at the new school gymnasium in a tribute to Coach Angelia Wright, her winning girls' basketball team, and others who pioneered in women's basketball in Wheeler County.
Wheeler County High School Principal William Bell read a statement praising Wright, the team that won the state championship in 2020, and some of the county's legendary girls' basketball players and coaches before he and Superintendent Suzanne Couey unveiled the panels.
In opening comments Bell stated, "Basketball is more than a game. According to Wright, it is a tool that 'if played and coached correctly, will create people with character and love for others.' Sending such young people out into the world has been the central goal of Mrs. Wright's career on and off the court since its beginning in 1983.' " Bell shared that Coach Wright spent the majority of her career in the Wheeler County School System, where her influence will live on for generations to come, but she does not claim that success as her own, but rather "the favor of God on [her] life and help from some great people."
Coach Wright played basketball throughout high school and college and began her coaching career at West Laurens Middle School before coming to Wheeler County in 1998. At that time, playing the Wheeler County girls' basketball team was an assumed victory among region schools. Proving that assumption wrong and garnering local respect was a challenge Wright and her team met with determination and great success. The 2020 State Basketball Championship trophy that is displayed in Wheeler County High School is tangible evidence that Wright and her team persevered.
Bell noted that Coach Wright's high expectations for her players extended into the classroom. "All five starters of the championship team were honor graduates of Wheeler County High School, and three of the five received scholarships to play basketball at the next level."
This championship team grew up playing basketball together, both at school and in the Wheeler County Recreational Department's summer league supervised by Coach Wright. Because of her commitment to the school system's basketball program, the Wheeler County Recreation Board asked Wright to continue those efforts during the summer months and to develop a recreational basketball program. She was appointed to the recreation board and served as a county-wide representative for six years. "During that time she built what continues to be a successful program and a constructive tool in the lives of Wheeler County's youth. It was her year-long commitment to her students and community that produced the 2020 championship team," Bell said.
The principal concluded, "Coach Wright's goal throughout her career has been to build a successful program that created people of character with love for others. She has molded talented athletes, but more importantly, she has worked tirelessly to develop good citizens to send into the world beyond the court. Those who work to sustain this investment and build upon what Coach Wright has constructed during her time at Wheeler County High School will work upon a firm foundation."
The commemorative panels that hang on the walls of the gym entrance share the following information: State Champions
On March 4, 2020, the Wheeler County High School girls' team beat Central High School of Talbotton 55-50, winning the GHSA Class A Public Girls State Basketball Championship. The 2019-2020 team, coached by Coach Angelia Wright and Coach Michael ("Tweet") Wright, was made up of Keonya Mincey, Jayla Bryant, Le'La Wright, Samerria Bryant, Terriyunna Cummings, Keleiyah Harris, Chelcey Chapman, Aikeria Hobbs, Camryn McLean, Jiestazia Jackson, Kerriyunna Williams, Reanna Wooten, Summer Vann, Alexandria Wright, and Jade Floyd, The five starters of the state-winning team: Jayla Bryant, Samerria Bryant, Terriyunna Cummings, Le'La Wright, and Keonya Mincey, were all honor graduates in 2020, as well.
Coach Wright said of the team, "We worked hard during the off season and super hard during the regular season to improve our skills and basketball IQ. The bonding process was beautiful to watch. We prayed every day, and before and after every game. Even when we lost, we had to be thankful for the loss in order to know what to do for it not to happen again.
"I am thankful for this great community and the support that they have given the program and the coaches. I'm very proud of being able to lead Wheeler County Schools to a state championship win — the first state-championship win for Wheeler in over 50 years."
During the tribute, Wright thanked the school system, community, and Assistant Coach Michael Wright for supporting the team. "This would not have been possible without Michael. He had just as much to do with this and I want to make sure he receives just as much credit." Wright added, "God has blessed us throughout from day one. I want to ask for the community's continued support because this will not stop here. There will be others to come in the future."
History of Success
Also included on one of the panels is Wheeler County's history of basketball success: In 1961, 1965, and in 1967, the Wheeler County Training School won the Class B Georgia Interscholastic Association (CIA) state championship. It was another "Wright" that led the team to the state win in 1965 and 1967: Coach Julia Wright. "I am honored to follow in her footsteps," Coach Angelia Wright said.
1961 State Champions were Coach Allene Spaulding, Ruthie Mae Travis, Estelle Casey, Mildred Batten, Pansie Wilson, Elnora Troup, Loreta Worthy, Elizabeth McRae, Nettie Mae Worthy, Helen Lewis, Luvenia Burnette, Pearlene Bell, and Ruthie Mae Powell.
1965 State Champions were Coach Julia Wright, Coach Major E. Menifee, Evelyn Spencer, Marsha Griggs, Addie James, Delois Strong, Doris Troup, Orija Richardson, Mary Louise Burns, Dorothy Hopkins, and Maggie Burns.
1967 State Champions were Coach Julia Wright, Dorothy Holloway, Mary Louise Burns, Eureka Richardson, Doris Troup, Addie James, Loula Kenney, Jackie Strong, Ms. Carswell, Inez Tillman, and Pearlene Knox.
Two of these legendary players attended the event on April 17. Addie James Graham and Dorothy Holloway, who were members of the winning teams in 1965 and 1967, joined the winners' circle at the tribute.