Posted on
Arnsdorff to Join Leaders Across Nation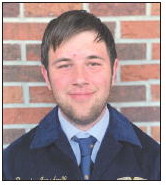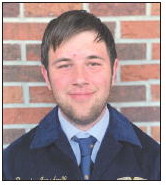 mrandolphadvance@gmail.com
A Montgomery County High School Junior will travel to the National Future Farmers of America (FFA) Washington Leadership Conference free of charge after being 1 of 24 students selected for a scholarship. Brandon Arnsdorff has been very active in his local FFA Chapter for several years, and currently serves as the Montgomery County High School FFA Secretary. He said that when his FFA Advisor Brittany Braddy told him about a chance to go on scholarship to the Leadership Conference, which provides students the opportunity to further develop their leadership skills while being surrounded by the history of the nation's capitol, on scholarship, he decided to take a chance and go for it. "I decided to apply continued from page
because it would get me out of my comfort zone and around people from across that country that are also involved in FFA and share the same passion for agriculture as me," Arnsdorff explained. "It also would give me the opportunity to see and enjoy our nation's history, which is something I always wanted to do."
The application process was simple – Arnsdorff was required to submit basic information about his FFA involvement and community service, a recommendation from Braddy, and a short narrative detailing why he desired to attend the Conference.
On March 31, the Georgia FFA Association announced 24 recipients of several scholarships for the Leadership Conference, including Arnsdorff, who along with two students from LaGrange High School and Mary Persons High School, was selected for the Larry & Gwen Corzine Scholarship. "It feels unreal and like a dream come true," he commented on the selection.
When asked what he looked forward to most about the trip, Arnsdorff shared that he hoped to learn things to improve not only himself, but also his community. "I look forward to mostly meeting new people and making new friends, while also trying to better myself and bring back ideas to help better our community," he concluded.
Arnsdorff's FFA Advisor also commented on her excitement for his opportunity to experience this Conference. "Brandon has a remarkable work ethic that influences his passion for service and embodies the last line of our FFA motto, 'Living to Serve,'" Braddy remarked. "He is a bright, hardworking student with a promising future, and this opportunity is going to help him advance his skills in leadership and service."
She added, "We are very proud of Brandon and look forward to him putting those skills to use back here in his home and community through FFA."
In June, Arnsdorff will travel to the Conference alongside FFA members from across the state, where he will join FFA members from across the country in an effort to learn more about leadership.