Posted on
Vidalia City Schools Staff Attend Active Shooter Training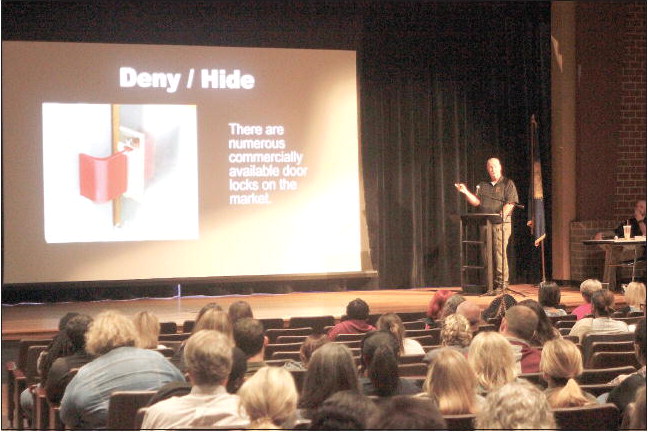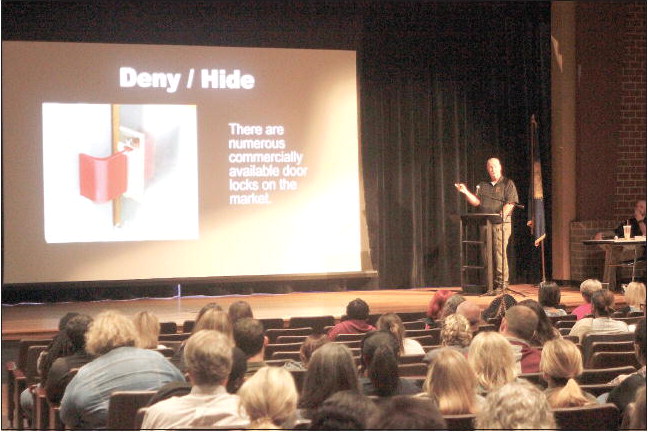 mrandolphadvance@gmail.com
As the nation turned its attention to the Covenant School shooting in Nashville, the Vidalia City Schools System worked to ensure that teachers, administration, and support staff were prepared for the worst. A system-wide active shooter training session was held on Friday, March 31. According to Superintendent Garrett Wilcox, this training, though timely, does not come as a reaction to the event in Nashville, but was previously planned to ensure the schools are as safe as possible for students. "In light of things that have gone on in other communities, we just feel like we need to prepare our teachers and staff for all situations that they may face. We are doing everything we can do to protect our kids."
Wilcox added, "We have tried to spend time looking at all of our safety protocols. This [training] has been on the books for a long time, and it goes hand-in-hand with some of the other safety upgrades we've had." Wilcox shared his gratitude to the local law enforcement. Toombs County Sheriff's Office Training Officers Lieutenant Kevin Collins and Jason McCoy shared their expertise for active shooter situations which they learned at the November 2022 ALERRT program and CRASE Training, which is specifically for citizens.
"We are actually conducting Civilian Response to Active Shooter [training] today," Collins remarked. "This is training that Corporal McCoy and I received when we went to LaGrange and got the ALERRT Level 1 Instructor Training. We came back and got the CRASE Program because the ALERRT Level 1 was so powerful; we wanted to be able to teach the schools or churches or businesses what their responses should be and a little bit of what to expect from [law enforcement] when we arrive."
McCoy added, "That seems to be the mindset of a lot of people — that it will never happen to us — however, we are not immune to that. We are a small community, but we've also seen these shootings occur in communities a lot smaller than the Toombs County area. We just have to remember to be vigilant. We are very passionate about this program, and very passionate about protecting our youth and our children. We are providing this training to the teachers and anyone else in the community who would like to have it, business- wise, just to ensure we keep our citizens, and especially our children, safe."
The training which the officers provided is considered the national standard in active shooter response training by the Federal Bureau of Investigation (FBI). It is developed through after-action lessons learned with agencies that have been involved with active shooter situations. The ALERRT program has even established a criminal justice research department to evaluate and enhance the overall understanding of active shooter events and to assist in improving law enforcement best practices.
About the Training
To be able to teach the training, the officers received techniques and methodology for delivering the course, force-onforce scenario development, safety protocols and procedures, graded participants teach backs, graded participant-led force on-force scenarios, remediation, video debriefing, course critiques, and evaluations.
CRASE Training also focuses on the "Avoid, Deny, Defend Strategy" developed by the ALERRT program in 2004, which promotes strategies, guidance, and a proven plan for surviving an active shooter event. The four-hour course surveys the history and prevalence of active shooter events, civilian response options, medical issues, and considerations for conducting drills.
Other School Safety Measures Vidalia High School also recently implemented the Centegix Alert System in its schools and central offices, which allows teachers and other staff members to communicate the need for administrative or emergency personnel assistance through the activation of a button on a nametag.
According to Assistant Superintendent Sandy Reid, these badges activate within a few pushes of a button — 3 pushes for administrative staff assistance and 8 or more pushes for emergency personnel — and help a responding team to locate the situation.
"Centegix is an emergency response system that we have been trying to get fully operational for the last few months and that is currently now fully operational," Reid commented. "The purpose is to streamline communication between an area of need in the school, whatever that area of need looks like, whether it is a medical emergency or threat to safety. It streamlines communication through that area of need and a response team, which includes administration, counselors, nurses, [and] anyone who would need to respond to any type of disruptive setting within the school day. Obviously, if there were a more serious threat such as an active shooter-type situation or any other serious threat, we also have the capability to communicate directly with 911.'
Reid said that when the badge is used to communicate with the 911 dispatch, it sends a message to dispatchers to let them know there is a lockdown situation at the school, which then allows them to dispatch all of the necessary agencies. "That is huge; it cuts down on the response time and allows us to minimize harm to life or injury to children or staff members as much as we can by cutting down the response time."
Reid thanked Toombs County Sheriff's Office Captain of Communications Darlene Smith for help, as she said Smith was instrumental in connecting the Centegix program with the local 911 dispatch. Gaining More Training
This active shooter training is free and is designed for schools, churches, businesses, etc. If your business, company, school, or law enforcement agency is interested in receiving this training, call instructors Kevin Collins or Jason McCoy at (912) 526– 6778.