Posted on
Lyons Library Open Full Time
Community Makes It Possible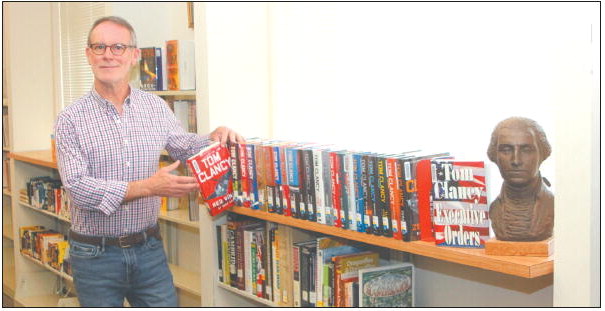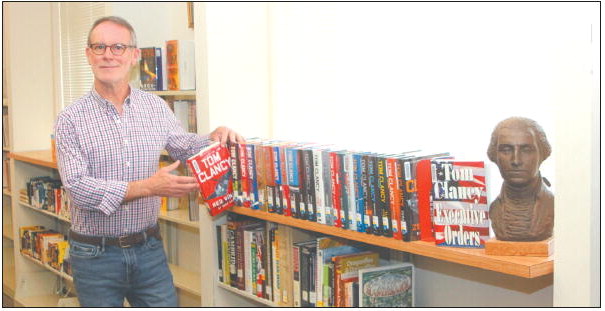 The Nelle Brown Memorial Library in Lyons is now open five days a week after the Toombs County School System and several citizens invested funding in the facility.
Ohoopee Regional Library System Board Member Howard Holman emphasized, "Toombs County Schools continued from page
Superintendent Dr. Barry Waller is really the one who kick-started this. He said, 'We want this library to be open for our kids in Toombs County.' We're supposed to do that. There are some kids in Lyons who can't make it down to Vidalia,'" Traditionally, the library was open full time, until the 2000s, when funding was decreased; the facility only received $12,000 a year to operate. "That paid for the staff, that paid for the books, that paid for everything. The city owns the building and pays utilities, but that was the funding for everything else. You can't do much with $12,000," Ohoopee Regional Library System Director Cameron Asbell explained.
It wasn't until the renovation project at the Mark and Tonya Spivey Public Library in Vidalia began to wrap up that focus and began to turn toward ensuring the library in Lyons continued to be open full time, as it had been during the Vidalia library's renovation. "Our Board really did not give a whole lot of thought to the Lyons library because we were so wrapped up in what was happening right here," Holman remarked. "All of our Board members are new for the most part — we have a few of the old ones — but as we were wrapping the Vidalia library project up, Dr. Waller called Cameron and said, 'Look, I'll give you over $7,000, but I want that money to go to keeping the library open more hours. That would fund almost another day per week. We agreed to that, but we got to thinking why is it only open 16 hours a week? Of course, it was the almighty dollar."
Upon this realization, the Library Board got to work, and began calling and searching for donations to continue to keep the library open. Soon, several large private donations from local citizens, such as State Senator Blake Tillery, Wayne Hartley, Susan McLendon, Tommy and Becky Rollins, R.T. and Diane Stanley, and Stephanie and Tommie Williams began to pour in. People's Bank also chipped in, ensuring this resource was available for the public.
"These donations gave us some wind behind our sails to help encourage further donations," Holman continued. "We raised enough money to keep it open the same amount of hours as the Vidalia Library. Our Board did a good job, but the people that wrote out the checks are really the ones who did a good job. We made it happen; we were the puppeteers, but it was the people who made it possible."
Asbell added, "Once the school and private donors offered money, we went to Jason Hall and the City of Lyons to ask for an increase in funding. They asked, 'How much do you need?' and bumped us up. There was no problem; they discussed it and approved it in their next City Council meeting."
The pair shared that these donations had increased funding from $12,000 to over $40,000, a feat which they say will greatly impact the Lyons community. "We did notice when the Vidalia Library was being built that mostly Lyons people came in. We did summer programming at Partin Park, and we would have 30-40 kids show up each week; usually, only 2 were from Vidalia and the rest were from Lyons. It showed us that there was a need for programming in the City," Asbell said.
She invited the community to visit the library and take advantage of the facility's new hours, as well as to meet the new library manager Travis McKinley, whom she said is always eager to make friends. "He's extremely outgoing. I'm sure he probably knows everyone in Lyons by now," she commented on his first month of work.
Donor Reflections
Several of the library donors spoke about their inspiration to help fund more hours at the Lyons location.
For Superintendent Waller, the goal of this increase in funding was to ensure that students of the Toombs County School System had the same access to literary resources as students in Vidalia. "The Toombs County Board of Education is excited to partner with our local library system to extend the hours of operation for the Nelle Brown Library in Lyons," he emphasized. "I want to thank our Toombs County School Board members who felt this investment in the community would give our students the same opportunities and access to books and technology that students in other areas may have."
When discussing his donation, Senator Tillery brought up the importance of both education and safe spaces. "Others in Lyons were supportive and [my wife] Ashlee Nicole and I wanted to be supportive, too," he explained. "Statewide, less than 50% of our 3rd graders are reading on grade level. We're looking for safe spaces for our children to hang out. What better place for them and our future than the library?"
People's Bank CEO Wendell Dixon said that the Bank decided to donate to both the Lyons and Vidalia library locations as an effort to ensure both cities had adequate resources for their citizens. "We made a pretty good contribution to the library in Vidalia, and we like to take care of people in Lyons, Vidalia, and all in the counties," he remarked. "I just feel like this will give the Lyons people and some who live out in the county a little closer place to go for library resources continued from page
than Vidalia. They have a lot of people who come to Lyons for the library, so we wanted to make sure to work to take care of our people throughout the county.
Susan McLendon also commented on her donation to the library. "My husband was raised in Toombs County and has lived here all of his life, and we both have used the library growing up for different things — reports, resource, etc.," she remarked. "Our kids have used the library a lot growing up, too. When they were in daycare, a lot of times the daycare would use the library as a resource, and our kids have used it for books, movies, and internet access throughout their youth. We felt it was important to make the donation because it is a community resource for learning and sharing for residents and families. The extended hours improve that access for the children and their families. We felt the donation was a strong investment in the community."