Posted on
2022 Citizens of The Year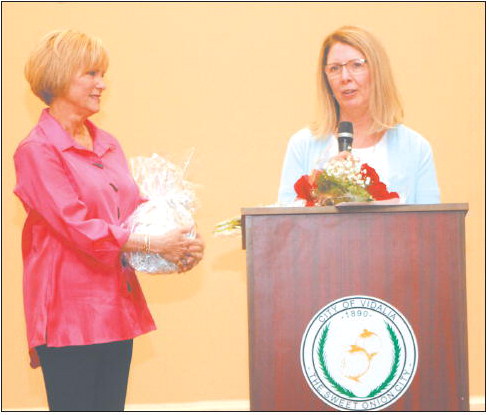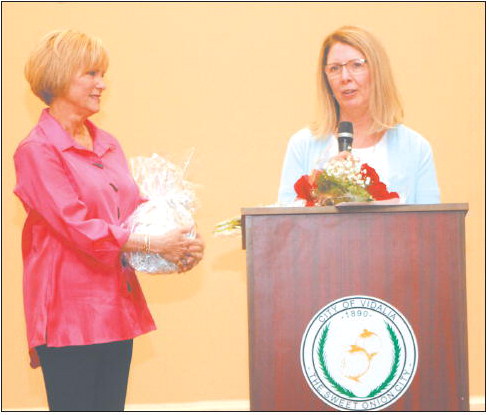 Rusty Moses and Rebekah Arnold were surprised with the opportunity of a lifetime as their hometown honored them with the 2022 Citizen and Lady of the Year Awards at the annual banquet on Thursday, March 30.
This prestigious award is sponsored through a collaborative effort of the Vidalia Lions Club, Rotary Club, and Kiwanis Club. Nominations for the award are accepted annually, and two award committees – one for the Lady of the Year and one for the Citizen of the Year – that consider the nominees to determine the recipient.
continued from page
According to the clubs, these award recipients are people of notable character, with high ideals and principles, who have contributed their God-given talents, time, and possessions to improving Vidalia. The award winners are determined on the basis of their service and benefits given to those around them, as well as excellence in their profession. These individuals have not merely accomplished a single good thing, but have consistently worked with a selfless attitude for the benefit of the community, as the past five years or more are considered when choosing a recipient.
Citizen of the Year
When beginning to announce the Citizen of the Year Award recipient, Man of the Year Committee Chairman Tom Peterson reminisced on his first introduction to the award. "I remember the first time I heard of the Citizen of the Year recognition banquet," he explained. "lt was in 1970 and the man honored that year was Mr. Roscoe Ledford, Editor and Publisher of the Vidalia Advance. I thought then — and still do — that this award is such an excellent way for a community to express its appreciation to one who has endeavored to make Vidalia a great place to live and work."
He continued his address by sharing that he felt that this year's award recipient had adopted a similar philosophy as the one depicted in Mutant Message Down Under by Marlo Morgan, which argued that to receive credit for good deeds in Heaven, these deeds should be done without drawing attention to the doer. "Once I began my research into the contributions to our community of our nominee tonight, it occurred to me that our nominee subscribed to a similar philosophy. In fact, he is so adept at avoiding publicity that I had to do some real digging to come up with some of the accomplishments which I now share with you," Peterson told the audience.
Peterson described Moses as being a "true child of Vidalia," as he was born in the city in 1949 and graduated from Vidalia High School before attending Georgia Tech and entering the Georgia National Guard from 1971-1977. Moses has been highly involved in local religious organizations, as he was born a Presbyterian, later converted to Methodism, and is currently a member of Covenant Church of Vidalia. "He has been in a leadership position in our church many times, having served on our Board of Trustees three times, and was chairman when Cornerstone Children's Center was built," Peterson added.
According to Peterson, the Vidalia Community Center would not have been built without Moses' efforts with the Sweet Onion Golf Foundation, which he helped to found, as the original funding for the construction of the Center came from the annual golf tournament.
Moses was president of the Vidalia Chamber of Commerce in 1979 and was a member and director of the Kiwanis Club. He formerly chaired the Vidalia Planning & Zoning Board and Toombs County Development Authority. "lt was under his leadership that we developed the U.S. [Highway] 1 lndustrial Park and constructed our first spec building. The industrial park currently has three tenants: Chicken of the Sea, Robin Builders, and East Jordan Plastics. Between the three companies, they have a combined investment of $94 million dollars and have approximately 500 employees," Peterson said.
Yet, Peterson emphasized that it is Moses' work with the local hospital through his time as the Toombs County Hospital Authority Chairman that has impacted the area the most, as during Moses' term, the hospital applied for and received funding to increase the size of the former hospital location by adding a third floor – a decision which Peterson said was highly controversial at the time. "This was a very controversial and expensive project which could have resulted in our county taking on a rather large debt. However, because of his brains and determination, he obtained a $5.7 million bond issue which funded this project and kept our county debt free," Peterson told the crowd. "It is fair to say that without our nominee's leadership during that critical time, we would likely not have the fine modern hospital we have in Vidalia today."
Peterson added, "It is never too late to express your appreciation or merely say, 'thank you.' Now, 37 years after he saved our hospital, join me in expressing our appreciation to our 2022 Man of the Year, Rusty Moses."
Moses took the stage to share his reaction to the award as his wife of 51 years, Charlotte, and several other family members looked on. "Most of what Tom said was true," Moses commented with a laugh. "I am certainly glad to be here, and as Tom said, our family has been here for 76 years—we're down to our third generation."
He reminisced on a conversation he had with his father when deciding to return to Vidalia after graduating from Georgia Tech. "I had just married Charlotte, and we were trying to decide what to do and which way to go with our life. I had been working in the [family] store for most of my life, so I told Daddy that I was going to come back. It's kind of funny, I couldn't quite understand it at that moment, but, he told me, 'Son, if you come back, you can't leave, the door is closed…Once you come, you're staying here for the rest of your life.' So, when my son was deciding where to go, I told him the same thing. But it all worked out great and we are very proud of our city," he told the audience.
"Vidalia has been blessed in many, many ways, and I couldn't think of living anywhere else," Moses continued. "I've had a great time doing a lot of the things that Tom talked about."
Moses shared a story about his experience securing a bond for the hospital to complete his acceptance speech. "We did an inhouse bond issue for some of the reasons which Tom said. We really had the rug pulled out from under us." He explained, "Normally, when you get a bond issued, you have to call a bondman and they come down and make it happen, but this time, we had to go to New York, to Manhattan, to get a bond rating since we were getting the bond based on the revenue of the hospital with no backing."
He told the group that a team of people, including himself, flew to New York the morning of the bond rating meeting. "They told me during a meeting before it all happened, 'Now, Mr. Moses, you're going first.' I asked them, 'What do I do?' and they said, 'You're going to tell them exactly why you're here. You have to convince them to issue a bond for the hospital,'" Moses continued. "For around 15 to 20 minutes, I just sat there and started just letting it ride in front of these two guys — one of them was about 90 and one of them was about 40 — and they just stared at me. After about 20 minutes, they cut me off."
According to Moses, the group was in the elevator leaving the building to travel back home, when the famous words were spoken by the Georgia bondsman accompanying them. "He looked at me and said, 'Rusty, I have been to a lot of these bond hearings, but that is the most bullshit I have ever heard in one of them,'" he told the audience as he chuckled. "I told him I took it as a compliment. But it worked out great, so to get to know people like that has been great."
Lady of the Year
During the Lady of the Year portion of the awards ceremony, Lady of the Year Committee Chairwoman Marsha Temples invited 2017 Lady of the Year Award recipient Patricia Dixon to introduce this year's winner, Rebekah Arnold.
"This year's Lady of the Year is the perfect example of being the hands and feet of Christ," Dixon began. "She is a fierce woman who is passionate about living with purpose. She is filled with gratitude. She is an encourager of others. Her character is strong and bold yet kind and gentle. She is honest, trustworthy, dependable, loves the Lord, her family, and her community."
Dixon continued, "She steps up to the plate to get things done in a quiet way not wanting accolades or praise. Scripture tells us without a vision people perish. This lady has vision. Some people wonder how to get things done, but she is a doer and steps up quickly to make it happen. She is not one to sit on the sidelines. This lady exemplifies all the qualities of the woman of the year. She checks off all the boxes and then some. She constantly gives of herself to others in our community."
Dixon told the audience of Arnold's involvement in the community throughout the years. Her three children, Stephen, John, and Emily, all graduated from Vidalia High School, and she continues to support the school, alongside her husband, Lee, as the couple attends many basketball and football games, and band and choir performances. She is an avid supporter of the local Fellowship of Christian Athletes (FCA) organization, and is active in the cultural aspect of the community through many events at the Altama Museum of Art and History.
According to Dixon, Arnold was a member of Leadership Toombs, and was instrumental in the creation of the local Toombs County Georgia Southern University Alumni Association. She worked to keep the community informed of the happenings around town through her work with The Advance, as she wrote about city and county affairs.
She is very active in her church, Grace Community Presbyterian Church, where she is an active member in her Sunday School class, Woman's group, and Bible study. She is a faithful volunteer for Rachel's House and the Vidalia Onion Festival, which is why Dixon said it did not surprise her to see Arnold under a tent volunteering at the recent Porchfest. Arnold has been a member of the United Way lady's leadership giving group Power of the Purse, and has served on the United way Allocations Committee. She was the Vidalia Woman's Club president, also serving on the scholarship committee, and heading up the Vidalia Onion Arts & Crafts Festival for many years. She was very instrumental in the sale of the Woman's CIub building to Forge, which is a huge benefit to many in the community as well as preserving a true landmark in Vidalia. She has served on the Ohoopee Regional Library and Friends of the Library boards, and was the Program Chair and Communications Chair for the Vidalia Kiwanis Club. She has led the local STAR Student and Teacher program for several years, and is currently working to create a scholarship in memory of Barbara Conner.
Yet, amidst all her work, Arnold is most fulfilled by her family, Dixon said. "Her soulmate and best friend is so proud of her and is thankful to have her walking alongside of him through life's journey. Her husband, Lee, would tell you that she is the wind beneath his wings," Dixon told the audience. "She is the very proud mother of Stephen, John, and Emily. She was so excited to welcome their mates, Megan, Leah, and Matthew to their family with open arms. Her grandchild calls her 'Beeba,' which is her favorite name and that makes her heart sing."
Dixon noted, "There is so much more this lady had done, things that have not been listed. She does so much in the background and in a very quiet way. She is probably blown away that she is being recognized as nothing she does is for attention, but I do know she is very humble and is very honored to be our 2022 Woman of the Year."
Arnold then took to the stage to share her gratitude for the award. "Thank you so much. I can't believe that I am counted among all of you who have been named Citizen and Lady of the Year, and even all of you who serve so well your families and our community. I do work more in the background, and it is important. As some of you lead out front and some work in the background, it takes all of us," she remarked.
She added, "I have enjoyed being a part of the Kiwanis Club, and I do want to give a shout-out to the Woman's Club ladies, as well. Thank you so much!"
Reflections
The Vidalia Lions, Rotary, and Kiwanis Clubs shared their gratitude with the audience for the entertainment during dinner provided by John Morgan, food provided by Downtown Bistro, flowers provided by Beth's Florist, servers provided by Vidalia High School FCCLA, and programs provided by McLain, Calhoun, McCullough, Clark & Co., P.C.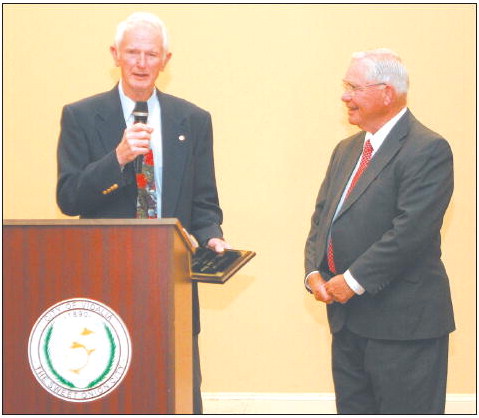 MAN WHO SAVED THE HOSPITAL – Tom Peterson (right) introduced 2022 Citizen of the Year Rusty Moses (left) as the "Man Who Saved the Hospital," and highlighted his work to secure bonds for the expansion of the facility many years ago.Photo by Makaylee Randolph