Posted on
Hollywood Comes to Toombs County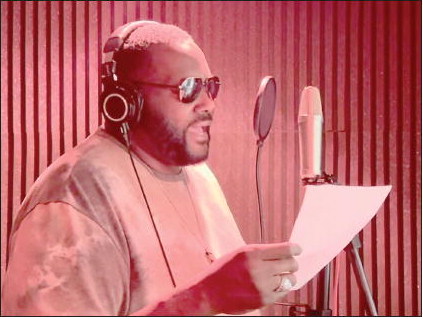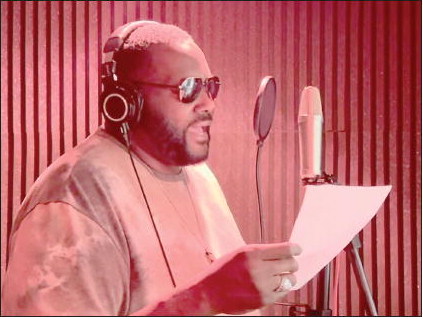 mrandolphadvance@gmail.com
You may have seen him at stores downtown or eating at The County Seat restaurant in Lyons each night – either way, Quinton Aaron, most known for his lead role in the movie, "The Blind Side," will be in the area for the next few months to record his newest album with Ascension Records.
Many people are acquainted with Aaron's work on the big screen, but few know that Aaron is also a talented singer. He recently signed with Ascension Management and Ascension Records, which are two of the five companies housed under the Luther Wardlaw Group, and plans to release his new single, "Lead with Love," and a full album with eight to 10 songs, in June.
"I started singing when I was four years old, and growing up, for some reason, I never had an idea that I wanted to be a singer – I wanted to be an actor," Aaron explained. "Part of it was I wanted to establish myself in the world of acting first so that way when I did go into singing, even if they thought 'Oh, here's another actor who thinks he can sing,' when they hear me, they realize I actually can sing instead of going from music into acting and being criticized. I wanted to establish a setting in the world of acting first and then go into music, which was something I already knew I could do. So, I'm moving the way I want to."
He explained that another challenge of creating music was to find a record producer that he felt confident working with. "Over the past 17 years of being in the industry, I've seen so much stuff that kind of deterred me from going into music because of what I knew behind the veil," Aaron shared. "I was like, 'Unless I have the right people in my corner that I can trust to take my career to the next level and put my faith in, I don't really want to go that route.'
"So when I met Luther, it all just clicked and made sense because not only finding out he is a manager, but he is an artist himself and been in the game 20+ years. When you want to do something, you want advice from people who have been doing it longer than you. You don't want advice from people who have never done it trying to tell you how to do it. So I'd listen to him because he has the skills to back it up, he has the know-how and knowledge, and he has the experience."
The pair became connected when Wardlaw produced the "Blue Lightning" movie filmed in Lyons, in which Aaron starred. Wardlaw said,"I met Quinton on the set of "Blue Lightning" when my brother Carl and I produced the movie in July 2021. He and I just stayed in touch and were on the phone one night talking about how [Quinton] was going somewhere to speak. I was asking questions about if he had anyone to set up the details of his participation in the event, and he was like, 'No, I don't have nobody to do that.' So, I said 'Wow, that's crazy.' He called me back and was like, "Well, I was thinking, why don't you do that?'" Signing Aaron to Ascension Management was not an easy decision. Wardlaw already manages others through the business — such as Recording Artist Ana Delgado Brown, 5th Avenue Music Group, model Kendall Wooten, singer Chesney Claire, and more — and has several other obligations to his other businesses. He also said he had to talk to his brothers first, because that is a common practice for the family when entering into new ventures. "If I put my name on it, everyone puts their name on it. If one Wardlaw does it, all the Wardlaws do it. So I don't do anything without talking to them first because it's just out of respect and courtesy of their name," he added.
Wardlaw's brothers were supportive of the venture, as their only concern was for the appropriate attention to be devoted to Aaron. "They wanted to make sure I gave him the time and focus he deserves," Wardlaw summarized. "From there, the relationship started and we've been working together ever since."
The Album Since Aaron began working with Wardlaw, he has moved from working in Louisiana to Tennessee to right here in Toombs County.
"We weren't going to be paying $185 an hour for a recording studio in Tennessee, when I own a recording studio here and am one of the producers on the record. So, I talked him into coming here," Wardlaw explained.
"It took some convincing," Aaron added with a laugh. "I was in Nashville! But, eventually, I agreed and here we are."
Currently, Aaron has recorded his single, "Lead with Love," which is an inspirational track that gives audiences a feel for the type of music he desires to make. "That was another big determining factor [in whether I would make music] because I want to make music that makes sense about who I am and my brand and the audiences that were inspired by what they've seen of me," Aaron emphasized.
He added, "I wanted to find out a way to make my music make sense to them and even other people. I'm all about unifying, I don't believing in segregation, I don't believe in hate, and I want to bring people together with what I do through what they can see and hear. I know that if you jump into the music industry with a lot of these industry folk, that vision gets tainted because it becomes about dollars and cents – if it's not making dollars, it isn't making sense to people. I understand that, but at the same time, I'm not willing to sell soul in order to get dollars."
Wardlaw noted, "The music really reflects the belief. It's not an R & B record talking about sex and drugs, and it's not a gospel record that kind of force feeds spirituality. It's really inspirational music with a gospel twist that is laced with the Holy Spirit. It's inspirational music that anybody can listen to and be filled. 'Lead with Love' calls for listeners to love others, when you see someone, don't look at the color of their skin, lead with love. If you see someone of different social status, don't look at the materialistic things, look at love itself and love one another. And we understand that correlates to the word of God, but is in there without it having to be written as a gospel record. [Another song on the record,]'I Will' is a song to encourage, saying that everyone is dealing with circumstances and obstacles, continued from page
but everyone will make it. That's the kind of music we're doing."
The pair was also excited to share about another track that they are creating for the album, "This One Is Mine," which they said uses the theme of sports to talk about life and encourage others to believe that adversity cannot take anything away from them. "When we hear that track, I can hear colleges playing it during halftime," he commented.
The album is set to be released in June and will be distributed by Orchard Music Distribution, which is a subsidiary of Sony Music.
Other Opportunities
Around the time of the album release, Aaron and Wardlaw are expecting several opportunities, such as a "Good Morning America" release segment, and possible segments on Kevin Hart's "Hart to Hart" show, Lebron James's talk show, and others, as well as some endorsement deals.
Aaron also recently got the green light to go forward with producing a Christmas movie, "Nothing for Christmas."
"I developed a story for a Christmas film, and it's a project [designed for] my dream cast, and my dream co-star is Kevin Hart," Aaron explained.
This past weekend, he, along with Wardlaw and other members of the movie development team, traveled to Salt Lake City to pitch the movie idea to investors, who were in the area for a film festival. The investors bought into idea and approved the movie moving forward.
According to Aaron, this film was inspired by his love of the movie, "Home Alone," and the uniqueness that he feels that film brings. "I wanted to do a movie that starred two characters like Harry and Marv from "Home Alone," because there's really not been any movie with two guys like that," he remarked.
Now that the movie has been "green lit," the group will begin developing the project.