Posted on
Toombs BOE Celebrates "Dawg" Teachers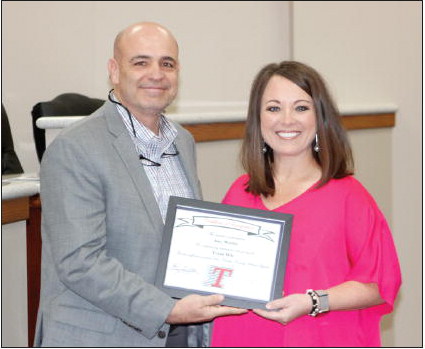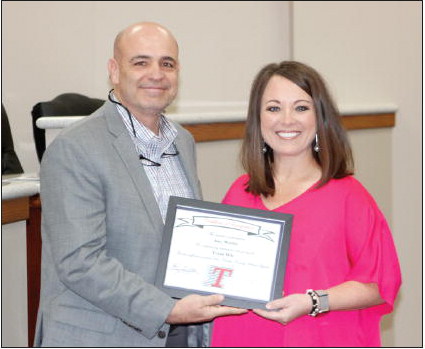 The Toombs County Board of Education celebrated two standout teachers, as well as the district's STAR Student and Teacher, at the regularly scheduled meeting on Thursday, March 9.
WOW Award
The monthly WOW Award, which is presented to the noncertified Employee of the Month, was awarded to Ashley Conner from Lyons Primary School.
During the award presentation, Superintendent Barry Waller read Conner's award nomination. "Ashley is always willing to help out wherever she is needed," the nomination read. "She is a true multitasker and positively greets visitors, directs children to the right places, answers the phone, and makes copies for teachers. On any given day, Ashley can be found helping out the school nurse, in the library counting money for fundraisers or working with students, and helping out after school with the children of faculty and staff.
"These are just a few things she does to go above and beyond her duties every day. We are all blessed to have her at Lyons Primary School, and we appreciate her hard work and positive attitude."
Extra Mile Award
Toombs County High School Special Education Teacher Amy Morris was awarded the Extra Mile Award, which honors the certified Employee of the Month in the school system.
Waller also read the nomination for Morris, which stated, "Amy Morris embodies the mission of Toombs County Schools — believing in every child every day. Mrs. Morris is a compassionate, dedicated special education teacher who truly cares about the wellbeing and success of her students. She goes above and beyond to ensure that her students have the support and resources they need to reach their full potential.
"Mrs. Morris is patient, kind, and understanding, and she creates a safe and welcoming learning environment where all students may feel valued and included. Her commitment to her students and her passion for teaching make her an exceptional educator and a true asset to Toombs County High School."
After receiving the award, Morris commented on the occasion. "Well, I'd like to take a minute to just say that I never thought I'd get an award for doing my job. I don't really feel like I go the extra mile, I just feel like I go the mile. It has been a blessing to me to work for Toombs County Schools."
STAR Student and Teacher District STAR Student Alli Waller and STAR Teacher Dana Manning were honored during the meeting, as Toombs County High School Principal Marissa Morris explained to the Board that the school had been privileged to host the local STAR Awards Ceremony in January.
The STAR Student award is given to the student who is not only within the Top 10 of their senior class, but also who has earned the highest score on the SAT. The STAR Student award recipient then selects a teacher to be awarded the STAR Teacher award. Both awards are sponsored by the Professional Association of Georgia Educators (PAGE).
Allison "Alli" Waller is the daughter of Barry and Angie Waller. She has spent her entire educational career at Toombs County schools and has become well known as she has participated in Beta Club and Game Day Cheerleading. She plans to attend Mercer University after graduation to pursue a degree in the medical field.
"I cannot say enough great things about Alli Waller. You cannot ask for a better student than Alli. She is very, very motivated. She tries to excel in everything that she does, she always answers her email — probably more than adults do in their lives — she is very studious, and she wants everything to be done well," Principal Morris remarked. "We are very, very proud of Alli and all the great things we know she will go out and do in the world."
Waller selected her high school science teacher Dana Manning as her STAR Teacher. Manning is known widely throughout Toombs and Tattnall Counties, as she began teaching in 1991 at Tattnall County High School, and has taught in the Toombs County School System since 1996. Currently, Manning teaches chemistry to sophomores and human anatomy and physiology to seniors.
Waller has had many years to get to know Manning, as she was in Manning's class for her 8th and 10th grade years, and has returned to Manning's instruction for one final class this year.
"I can't say enough about Mrs. Manning, either," Principal Morris added. "If you go in Mrs. Manning's room, every single day, you will see great instruction. I can speak for that from the bottom of my heart, and I can speak to that every day without walking in the door, just from passing by. She does labs that are beyond this world. I can't ask for a better teacher who plans lessons like she does and who prepares these students, like Alli, to go far in this world."
Manning also spoke on the occasion. "I have to agree with what Amy [Morris} said. "Why am I getting an award for doing what I am supposed to do? I feel like I was born to do it. I love my job, I love my students. I do try to give 100% every day," she said.
She also complimented Waller. "I told [Alli] the other day, when she walks into that Mercer [University] class — hopefully, an anatomy class — I hope all that she learned here just comes back and that she has a great foundation. That is my goal, to get students like her ready to soar higher than they ever have."
AP Honor School
Principal Morris also informed the Board that Toombs County High School has been named an Advanced Placement (AP) Honor School.
AP courses allow students to take rigorous courses to prepare them for their future colleges and universities. Students have an opportunity to take the AP exam at the conclusion of the course, and are rated on their proficiency in the subject on a scale from 1 to 5. Students who receive a 3, 4, or 5 on an AP exam may receive college credit. These exams are administered by the College Board which also administers the SAT.
According to Morris, 273 schools in the state were named as an Advanced Placement (AP) Honor School by state Superintendent of Schools Richard Woods on February 16. Toombs County received this honor for their designation as an AP Challenge School and an AP Expansion School.
An AP Challenge School is a school with enrollments of 900 or fewer students and students testing in all four core areas — English, math, science, and social studies — and an AP Expansion School is an AP school with 25% growth in AP student participation from May 2021 to May 2022 and a minimum of 25 students testing in May 2020. Currently, 257 students are involved in AP curriculum.
"We offer several AP courses and are excited to add more next year," Morris told the Board. "We are very busy with our AP program and are looking to add AP precalculus and AP computer science."
These additions bring the possibility of Toombs County High School being named an AP STEM School next year, as AP courses will be available in all four STEM subjects – science, technology, engineering, and math. "It may take two years to receive, but that is a goal we have set for ourselves with AP because you always want to get better every day," Morris said.
Morris also shared with the group that the school was ahead of the rest of the area. "In our area, we were one of the few [schools] to receive this honor, especially in comparison to rural schools throughout Georgia. A lot of the schools on this list are in metropolitan areas, so we were honored to be on the list," she emphasized.
Superintendent Waller also commented on the school's AP program. "Many schools have discontinued or stopped offering these courses because it runs into a little bit of competition with dual enrollment, and in a lot of smaller, rural areas, when students can take dual enrollment and get those free college credits, that's the avenue they take," he explained.
"We have decided to offer more of the AP courses for our 9th and 10th graders. The AP courses are the most rigorous courses that you can take in high school. When you take that AP exam, if you score a 3 or a 4, you can get college credit or exempt college classes. So, kudos to Mrs. Morris and the high school staff for continuing to push to get as many rigorous courses as we can to prepare our kids for the future," Waller said.
Gratuity Stipend
All full-time staff members of Toombs County Schools will receive a onetime $2,000 gratuity stipend from the Board of Education, which will be paid out on Friday, March 17. This stipend was unanimously approved by the Board.
Policy Amendment The first reading of a policy amendment occurred at the meeting, as Superintendent Waller explained that auditors from the recent project had recommended that the district allow items not owned, but merely rented, to be added to the financial list of assets. This policy will be available for review and public comment on the school system's website for 30 days, and a public hearing will be held during the next meeting of the Board, which is set for April 13, prior to the official vote.
SPLOST Update
Superintendent Waller also informed the Board that the current Special Local Option Sales Tax (SPLOST) collections were continuing to rise, as $600,000 has already been collected in 2023. This is an 8% increase from last year's collection rate.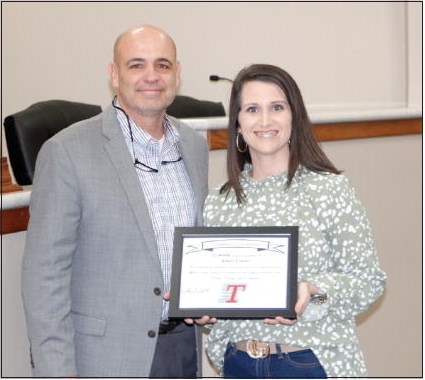 MARCH WOW AWARD – Ashley Conner (right) of Lyons Primary School was honored with the WOW Award at the Toombs County Board of Education Meeting on March 9. Superintendent Barry Waller (left) presented her with the award.Photo by Makaylee Randolph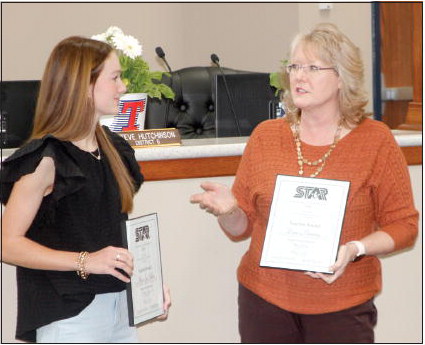 STAR DAWGS – Toombs County STAR Student Alli Waller (left) and STAR Teacher Dana Manning (right) were recognized for their award during the meeting. Manning spoke on her appreciation for the award, and her dedication to ensuring that students, like Alli, were prepared for their futures.Photo by Makaylee Randolph